Just Another Missing Person: A Novel (Hardcover)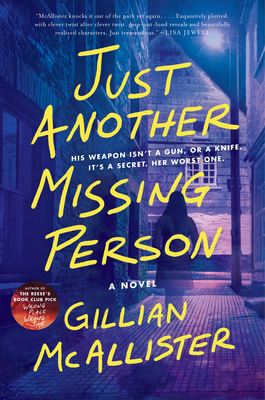 Staff Reviews
---
When a young woman goes missing, seemingly by disappearing into thin air down a dead-end alley, DCI Julia Day is reminded of a similar missing persons case, one she never solved. When she is suddenly blackmailed into framing someone for the crime in order to protect her daughter, that other cold case and all the events surrounding it come to light as Julia is in a race to find the missing girl, outwit her blackmailer, and keep her superiors off her trail. Another twisty mystery from McAllister that will leave you guessing until the very end.
— Aerie
Description
---
From the author of the Reese's Book Club Pick and the New York Times bestseller Wrong Place Wrong Time comes a new heart-stopping thriller in which a missing-person case unravels deeper, darker secrets that lead a detective to an impossible moral choice.
Not everyone who is lost should be found…
Twenty-two-year-old Olivia has been missing for one day…and counting. She was last seen on CCTV, entering a dead-end alley. And not coming back out again.
Julia, the detective heading up the search for Olivia, thinks she knows what to expect. A desperate family, a ticking clock, and long hours away from her husband and daughter. But she has no idea just how close to home this case is going to get.
Because the criminal at the heart of the disappearance has something she never expected. His weapon isn't a gun, or a knife: it's a secret. Her worst one. And her family's safety depends on one thing: Julia must NOT find out what happened to Olivia - and must frame somebody else for her murder.
If you find her, you will lose everything. What would you do?
This clever and endlessly surprising thriller is laced with a clever look at family and motherhood, and cements Gillian McAllister as a major talent in the world of suspense and a master of creating ethical dilemmas that show just how murky the distinction between right and wrong can be.
About the Author
---
Gillian McAllister is the New York Times bestselling author of Reese's Book Club Pick Wrong Place Wrong Time, Just Another Missing Person, Everything but the Truth, The Choice, The Good Sister, The Evidence Against You, How to Disappear, and the Richard & Judy Book Club pick That Night. She graduated with an English degree before working as a lawyer. She lives in Birmingham, England, where she now writes full-time. She is also the creator and co-host of the popular Honest Authors podcast. 
Praise For…
---
"There was a point during Just Another Missing Person where I sat up and shouted in shock. Gillian McAllister stunned me . . . and she will stun you too. I dare you to not ingest this in one sitting."
— Jodi Picoult, #1 New York Times bestselling author
"Gillian McAllister knocks it out of the park yet again with this exquisitely plotted, seamlessly constructed police drama filled with clever twist after clever twist, gasp out loud reveals and beautifully realized characters. Just tremendous."
— Lisa Jewell, #1 New York Times bestselling author
"Just Another Missing Person is so much more than its dazzling plot."  — Marian Keyes, internationally bestselling author 
"[A] twist-a-minute thriller. Fans of Alice Feeney and Ruth Ware will be glued to the pages." — Booklist (starred review)
"A twisty exploration of professional and familial responsibility, the anonymity of the internet, and the slippery slope to criminality." — Kirkus Reviews
"Gillian McAllister is that rare thing: a thriller writer who blends breath-taking plotting and suspense with real emotional depth. Just Another Missing Person is my favorite thriller of the year." — Lucy Clarke, Sunday Times bestselling author
"A heart-racing game of cat and mouse, horrifying puzzles and a jaw-dropping series of twists." — Woman's World
"McAllister piles twist on startling twist, but always in the service of carefully drawn characters with real human problems. A first class thriller"
— The Mail on Sunday

"The new queen of the what-would-you-do crime thriller is back with a tightly-plotted and twist-packed tale which will send your head spinning."  — Ellory Lloyd, author of The Club
"Starts with an impossible, irresistible premise - a woman who vanishes into thin air - and takes the reader on a thrilling journey of blind alleys and audacious twists. This is McAllister at the height of her powers."  — Erin Kelly, author of The Skeleton Key
"Another masterpiece from the queen of the emotional thriller. This book has one of the best twists I've ever come across." — Beth O'Leary, author of The No-Show
"A gripping new novel about a missing person case and what happens when it begins to unravel…Another fantastic McAllister read, ideal for the summer weeks ahead." — Glamour (UK)
"Absolutely AMAZING. The plot is astonishing—original and ingenious. But it's much more than that; the love Jen has for her son and her husband is beautiful. The stakes are so high because they're so meaningful."  — Marian Keyes, internationally bestselling author, on Wrong Place Wrong Time
"It's perfection, every word, every moment. A masterpiece . . . One of the best books I've ever read."  — Lisa Jewell on Wrong Place Wrong Time
"A brilliantly genre-bending, mind-twisting answer to the question How far would you go to save your child?"  — Ruth Ware, #1 New York Times bestselling author, on Wrong Place Wrong Time
"A high-concept mash-up of different genres that transcends its wackadoodle premise with an affecting portrayal of a family careening toward crisis… But the science isn't the point of this twisty book by a writer with a fine grasp of the subtleties of familial dysfunction. The story becomes unexpectedly tender as Jen moves further back in time, in awe of the youth she let slip by so easily, and shocked by how much she did not know." — New York Times on Wrong Place Wrong Time
"Another ingeniously plotted genre-bender… McAllister succeeds in making us care, and the result is a tour de force."  — The Guardian (UK) on Wrong Place Wrong Time