An Impossible Thing to Say (Hardcover)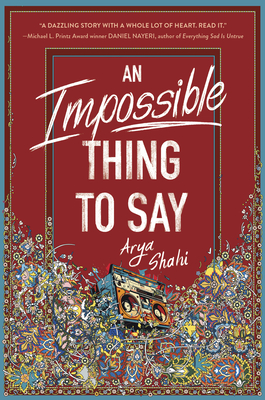 Description
---
The Poet X meets A Very Large Expanse of Sea in a bold novel-in-verse starring a Persian American teen navigating his first crush, his family's post-9/11 dynamics, and the role of language in defining who we are.
"A dazzling story with a whole lot of heart. Read it." —Michael L. Printz Award winner Daniel Nayeri, author of Everything Sad Is Untrue 
Omid needs the right words to connect with his newly met grandfather and distant Iranian heritage, words to tell a special girl what she means to him and to show everyone that he truly belongs in Tucson, Arizona, the only home he's ever known. Neither the school play's Shakespearean English nor his parents' Farsi seems up to the task, and it's only when Omid delves into the rhymes and rhythms of rap music that he starts to find his voice. But even as he does so, an act of terrorism transforms familiar accents into new threats.
Then a family member disappears, and it seems everyone but Omid knows why. When words fail altogether and violence takes their place, what will Omid do next? 
Praise for An Impossible Thing to Say:
"Funny on one page, poignant on the next, and often both at the same time, this beautiful tale of a tender, bewildered, and generous teen will find its way into readers' hearts." —#1 New York Times bestselling writer and Newbery Medalist Linda Sue Park, author of A Long Walk to Water
"An Impossible Thing to Say is tender, honest, and unforgettable, filled with characters that delight, verses that shine, and moments that took my breath away. Few books have ever made me feel so seen." —Adib Khorram, award-winning author of Darius the Great Is Not Okay
"Arya Shahi just blew the door down on how we are allowed to tell our stories. Words are clearly his jam." —Firoozeh Dumas, New York Times bestselling author of Funny in Farsi and It Ain't So Awful, Falafel
About the Author
---
Arya Shahi is an Iranian-American playwright, poet, and rapper. He is the co-founder of PigPen Theatre Co., an award-winning theatre company and band. With PigPen, Arya has written, directed, and performed in original plays (including The Old Man and the Old Moon) as well as books adapted for stage (including Kate DiCamillo's The Tale of Despereaux). PigPen's album Bremen was released in 2012, followed by Whole Sun in 2015. Arya lives in Los Angeles. www.aryashahi.com
Praise For…
---
"An Impossible Thing to Say is tender, honest, and unforgettable, filled with characters that delight, verses that shine, and moments that took my breath away. Few books have ever made me feel so seen." — Adib Khorram, award-winning author of Darius the Great Is Not Okay
"A unique and thoughtful coming-of-age story that masterfully takes advantage of its unconventional narrative to reveal the truths that we all—no matter what our age—are often unable to say out loud." — Booklist (starred review)
"Arya Shahi just blew the door down on how we are allowed to tell our stories. Words are clearly his jam." — Firoozeh Dumas, New York Times bestselling author of Funny in Farsi and It Ain't So Awful, Falafel
"A beautiful love story brimming with painful historical truths. It is also the best introduction to the rhythms of rap music that I've ever read. This book is one of my favorite verse novels of 2023." — Margarita Engle, Newbery Honor-winning author of The Surrender Tree and national Young People's Poet Laureate Emeritus
"A compelling coming-of-age story about finding your own voice and holding on to hope in the face of uncertainty and doubt." — Horn Book (starred review)
"Sensitively felt, beautifully rendered, and expertly crafted. A story that is at once nostalgic and universal, viscerally specific and yet completely timeless, like a pocket universe where every first-generation American kid gets to feel seen. This is on my shortlist of books I feel grateful to have read during my lifetime." — Alexene Farol Follmuth, author of Twelfth Knight
"Shahi gives readers embarking on a path toward agency an insightful, eloquent companion in Omid." — Bulletin of the Center for Children's Books (starred review)
"A heartfelt and nuanced depiction of what it's like to straddle different cultures and the critical need to understand oneself. [And] a love letter to words and their ability to not only define us, but shape who we are." — Kirkus Reviews
"[The first-person narrator's] voice leaps off the page; Shahi employs Shakespearean dialogue and original rap to kinetic effect." — Publishers Weekly