Dictator Lunches: Inspired Meals That Will Compel Even the Toughest of (Tyrants) Children (Hardcover)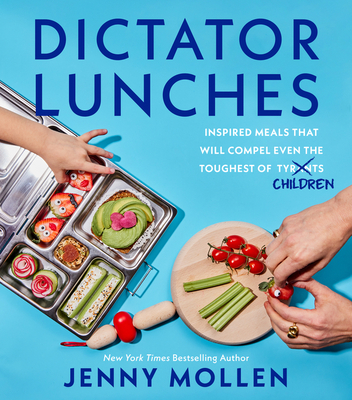 Description
---
Pack lunch with this fun and creative cookbook of lunchbox ideas and healthy recipes to please even your pickiest eater—from Jenny Mollen, the Instagram personality behind @dictatorlunches!
"Jenny makes all of us moms wanna be more creative! Her humor and inventiveness are such a winning combination. I love this amazing method of edible food art she has brought to life. It makes us all smile and cheer." — Drew Barrymore
Lighthearted cooking with a heavy dose of love
Any parent will tell you that raising dictators… errr, children … can be challenging. Thankfully Jenny Mollen of @dictatorlunches takes the power struggle out of mealtime with this inspired collection of 40 recipes, from filling breakfasts to healthy snacks, dinners, and desserts—with a special emphasis on solving the age-old problem of school lunch.
Dictator Lunches will soon become your secret weapon in the kitchen. Mollen shares her foolproof method for packing winning lunches along with easy-to-master techniques that will transform ordinary ingredients into adorable edible art, like Strawberry Actresses, Cucumber Penguins, and Rice Pandas. With her trademark playfulness and whimsy, Mollen turns meals into feasts fit for any autocrat, no matter how demanding, featuring:
Insta-ready Avocado Toast
Better Than Alphabet Cookies
Logs. They Aren't Just for Ants Anymore
Fruit-juiced Gummy Worms in Granola soil
Healthy Chocolate-Peanut Butter Cups on a Stick
Complete with international dishes for your jet-setting tyrant like Amateur Hour Japchae, Curry Chicken, and Coconut Rice and Beans, and holiday-themed boxes with Reindeer Celery Sticks, Baruch Atah Adon-Applesauce, and Spinach Frankenstein Quesadillas, Dictator Lunches has you covered for every meal, every holiday, and any dictator's whim. 
About the Author
---
JENNY MOLLEN is a writer, actor, Instagram personality and New York Times bestselling author of the essay collections I Like You Just the Way I Am and Live Fast Die Hot. Her digital series, "I Like You Just the Way I Am," which she wrote and in which she stars, currently streams on ABC Digital. Heralded by The Huffington Post as one of the funniest women on both Twitter and Instagram and named one of "Five to Follow" by T Magazine, Jenny wrote a standing column for Parents magazine and has contributed to Cosmopolitan, Glamour, New York, Elle.com, Grub Hub, and Wake Up Call with Katie Couric.
Her debut novel City of Likes is set to publish June 2022 and Dictator Lunches, a cookbook inspired by her Instagram account @dictatorlunches is set to publish September 2022.
Praise For…
---
"Jenny makes all of us moms wanna be more creative! Her humor and inventiveness are such a winning combination. I love this amazing method of edible food art she has brought to life. It makes us all smile and cheer." — Drew Barrymore
"Jenny's innovative and tasty recipes are a gift to parents and little ones, wrapped up lovingly in sardonic humor. Her approach to nourishing her kids is relatable and clever, and I can't wait to try her tricks to broaden my own little dicta - tors' culinary horizons! Wish me luck!" — Kristen Bell
"With her signature cool-mom vibes and boundless wit, Jenny spares us the daily struggles and tackles our most tyrannically tough customer's taste buds with meals that are inventive, easy, and will actually be eaten! As a mom of four, I love Dictator Lunches for the way it approaches nutritious, delicious food with plenty of creativity and laughs—so that even if we lose a few I-hate-broccoli battles, we may ultimately win the (happily adventurous, healthy eater) war!"  — Daphne Oz