The Half of It: A Memoir (Hardcover)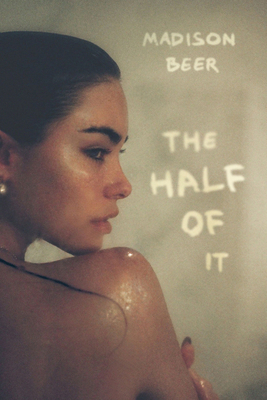 Description
---
A memoir from singer-songwriter Madison Beer, chronicling the past decade of her life spent in the spotlight—the ups, the downs, and the in-betweens that you won't see on social media.
Discovered at twelve years old, Madison Beer was one of the first artists to have her entire life documented online. Over the past decade, she has navigated the spotlight as a child, through her teenage years, and now as a young woman in her twenties.
In The Half of It, Madison pulls back the curtain to show the behind-the-scenes of her journey, from reckoning with mass hate online and the time her private pictures were leaked, to battling suicidal thoughts while making her highly acclaimed debut album, Life Support, and her recovery since then. This memoir is an honest and unflinching account of self-love, mental health, and advocacy from one of the fastest-rising musical voices and most influential social media presences of her generation. It hammers home the point, more striking and urgent than ever, that no matter how close the internet may make us feel to people, we truly don't know the half of it.
About the Author
---
After going viral at just twelve years old, Madison Beer publicly navigated the transition from childhood star to global entertainer, undergoing a record-breaking run as an independent artist before signing with Epic Records and releasing her long-awaited debut album, Life Support, in 2021. Known for her vulnerability and authenticity both inside and outside of the music industry, Beer has built her platform on speaking openly about her experiences with being in the public eye at such a young age. Through sharing the highs and lows of her journey, Beer resonates deeply with an audience that looks to her as more of a friend than as an untouchable celebrity. Beer is now the master of her own creative domain, from inception to realization, including writing and producing her own music to conceptualizing and directing her music videos. In addition to her art, Beer also provides her work as a mental health advocate and philanthropist, with hopes of returning to school to study psychology. She currently resides in Los Angeles.