A Long Stretch of Bad Days (Hardcover)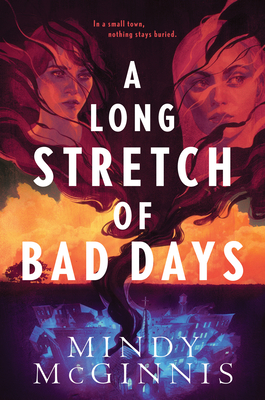 Staff Reviews
---
In small town Henley, the high school guidance counselor drank booze better than he kept track of student credits. As a result, privileged Lydia and badly behaved Bristal miss an important credit that allows them to graduate. To make up the credit, the girls host a podcast about a stretch of bad days following a tornado that struck Henley many years ago… which is coincidentally the timeframe for an unsolved murder. Lydia and Bristal uncover details about the case and reveal many other secrets that the town's history holds. Fast paced and twisty — will keep you turning pages till the end!
— Liz
Description
---
From award-winning author Mindy McGinnis comes a thrilling and gripping YA mystery about a small town's past and the secrets unearthed by way of two teen girls—and a podcast. Perfect for fans of Sadie, The Cheerleaders, and A Good Girl's Guide to Murder.
A lifetime of hard work has put Lydia Chass on track to attend a prestigious journalism program and leave Henley behind—until a school error leaves her a credit short of graduating.
Bristal Jamison has a bad reputation and a foul mouth, but she also needs one more credit to graduate. An unexpected partnership forms as the two remake Lydia's town history podcast to investigate the Long Stretch of Bad Days—a week when Henley was hit by a tornado, a flash flood, as well as its first, only, and unsolved murder.
As their investigation unearths buried secrets, some don't want them to see the light. When the threats escalate, the girls have to uncover the truth before the dark history of Henley catches up with them.
About the Author
---
Mindy McGinnis is the author of Not a Drop to Drink and its companion, In a Handful of Dust, as well as This Darkness Mine, The Female of the Species, Given to the Sea, Heroine, and the Edgar Award–winning novel A Madness So Discreet. A graduate of Otterbein University with a BA in English literature and religion, Mindy lives in Ohio. You can visit her online at www.mindymcginnis.com.
Praise For…
---
"McGinnis's ability to take readers on an emotional rollercoaster is on full display here . . . Another incredibly wild ride from McGinnis; a first purchase for all teen collections." — School Library Journal (starred review)
"A Long Stretch of Bad Days uses humor and poignant emotion to build a well-crafted murder mystery that is hard to put down and even harder to forget." — BookPage
"McGinnis can be counted upon for delivering gritty truths wrapped in compelling stories, and readers love her for it." — Booklist
"Wickedly comic dialogue and interesting characters—particularly wonderfully lewd feminist Bristal—will keep readers engaged through the many twists and turns." — Kirkus Reviews
"Lydia and Bristal's wry banter, their polar opposite characterizations, and their evolving, convoluted friendship lend a refreshing and dark joviality to this cleverly realized feminist thriller." — Publishers Weekly
Praise for The Last Laugh: "The overall effect this time ups the mystery, intensity, and horror (emphasis on the latter!), with a satisfying ending delivering answers about ongoing family questions and clashes. Masterfully modernizing the gothic horror genre, McGinnis outdoes herself."  — Kirkus Reviews (starred review)
"A sequel that is just as thrilling and dark, if not as cohesive, as its predecessor. Definitely hand over to readers of the first book."  — School Library Journal
Praise for The Initial Insult: "A gripping modern retelling of 'The Cask of Amontillado.' Gritty and heart-rending. Well-versed Poe fans will gobble this up, but the heartache, revenge, and ­anger that ooze from these pages should ­entice any reader."  — School Library Journal (starred review)
"An intricate, duology-opening story of mystery and revenge by McGinnis with significant nods to Edgar Allan Poe's macabre work. An engaging tale."  — Publishers Weekly
"If Edgar Allan Poe came back to write the scariest high school murder story ever, it probably wouldn't be half as good as Mindy McGinnis's The Initial Insult. You must read this book!"  — James Patterson
"Expertly crafted and absolutely chilling. Mindy McGinnis holds nothing back in this twisty, ruthlessly compelling story of a friendship gone wrong."  — Karen M. McManus, #1 New York Times bestselling author of One of Us is Lying
"Lush, dangerous, and deliciously twisty, The Initial Insult is an Appalachian Gothic for the ages. A smart and vital reworking of one of Poe's most chilling stories."  — Brittany Cavallaro, New York Times bestselling author of the Charlotte Holmes Series 
Praise for The Female of the Species: "[A] gripping story that should be read and discussed by teens, as well as those who work with them."  — Booklist
"Each word has been specifically chosen, each character superbly and humanly sculpted, the plot line masterfully completed. McGinnis plays with the readers and they are at her mercy."  — Voice of Youth Advocates (VOYA) (starred review)
"McGinnis gracefully avoids the pitfalls of creating a teenage vigilante, instead maintaining a sense of piercing realism."  — Publishers Weekly (starred review)
"An unflinching look at rape culture and its repercussions."  — Kirkus Reviews (starred review)
"This is an astoundingly dark but beautifully written tragedy."  — School Library Journal (starred review)
"[I]t's raw. Not "raw for YA." Real-deal raw. And violent. And unforgettable. McGinnis explores both and she goes there in a way no one really has before in YA."  — Globe and Mail (Toronto)
"Your heart may still be pounding after you've finished this book."  — New York Times Book Review
Praise for Heroine: "[A] realistic portrayal of how easy it is to develop an opiate addiction and the very real consequences of addiction. A timely and important message for teens everywhere."  — Booklist
"A compassionate, compelling, and terrifying story about a high school softball player's addiction to opioids. The writing is visceral, and following Mickey as she rationalizes about her addiction is educative and frightening. A cautionary tale that exposes the danger of prescription medications by humanizing one victim of America's current epidemic."  — Kirkus Reviews (starred review)
Praise for Be Not Far From Me: "McGinnis' visceral and emotional tale features a strong, stubborn, and alarmingly capable protagonist with unwavering respect for the natural world... Impossible to put down."  — Kirkus Reviews
"McGinnis is known for writing tough female protagonists and gritty realism, and she holds nothing back in this latest novel. Ashley is angry, vulnerable, smart, and compelling, and her journey is marked by setbacks, terror, and plenty of gross-out moments. This captivating, fast-paced novel is Hatchet for an older crowd. Highly recommended where adventure and survival fiction are popular."  — School Library Journal
Praise for This Darkness Mine: "Rich imagery and a ruthless protagonist propel the novel forward to its shocking, ominous conclusion."  — Booklist
Praise for A Madness So Discreet: "McGinnis excels at rich character development; every person readers meet makes a dramatic impact on the story and on Grace."  — School Library Journal
"McGinnis can surely tell a story."  — USA Today