Are You Sara?: A Novel (Paperback)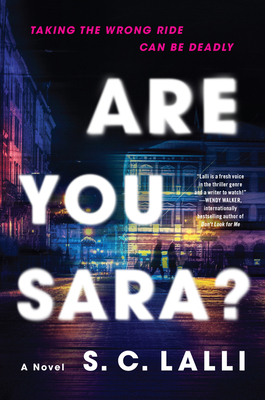 $16.99

Usually Ships in 4-7 Days
Staff Reviews
---
Saraswati "Sara" Bhaduri is struggling to make it through her last year of law school. While bartending at the local bar, Sara is instructed to take care of the drunk girl passed out in the bathroom, who she learns shares the same name. By the end of their night, the two girls have ordered a ride home. But what happens when they get into the wrong ride and Sarah Ellis' body is discovered. Sara cannot help but suffer from survivor's guilt and wonders if she was meant to die that night. She begins to immerse herself in the investigation while doing her best to stay on top of her own problems. This is a twisty thriller that will keep you engaged until the end!
— Ayah
Description
---
INTERNATIONAL BESTSELLER
Called One of the Best Books of the Year by NPR
"Dynamic women with complicated lives take center stage in this twisty mystery about a rideshare mix-up which results in murder. Lalli is a fresh voice in the thriller genre and a writer to watch!" —Wendy Walker, internationally bestselling author of Don't Look For Me
Two women named Sara each get into a rideshare. . . but only one makes it home alive. Which Sara was the real target?
Law student Saraswati "Sara" Bhaduri holds down two jobs in order to make her way through school, but it's still a struggle. She's had to do things to pay the bills that most people wouldn't expect from "a nice Indian girl." It seems like an ordinary busy Tuesday night at the local dive bar until her boss demands Sara deal with a drunk girl in the bathroom.
The two become fast friends. Why? Because they both have the same name. And despite their different circumstances, the two connect. When they both order rideshares home, they tumble in the back of the cars and head out into the night.
But when Sara awakes in her rideshare, she finds she's on the wrong side of town—the rich side—and she realizes: she and Sarah took the wrong cars home.
With no money, Sara walks back to her apartment on the shady side of town only to discover police lights flashing and a body crumpled on her doorstep: Sarah.
Was Sarah Ellis or Sara Bhaduri the target? And why would anyone want either of them dead?
In this smart, twisty novel about ambition, wealth, and dangerous longing, the layers are peeled back on two young women desperate to break out of the expectations placed on them, with devastating results.  
About the Author
---
An author of Punjabi and Bengali heritage, S. C. LALLI writes romance and women's fiction novels under her full name, Sonya Lalli. She studied law in her hometown of Saskatoon and at Columbia University in New York. She has worked in law, legal journalism and book publishing. Sonya Lalli lives in Vancouver with her husband.
Praise For…
---
"I love this premise: Sara accidentally gets into Sarah's Uber and vice versa, and the mistake turns out to be deadly. So clever!" — Alafair Burke, New York Times bestselling author
"Dynamic women with complicated lives take center stage in this twisty mystery about a rideshare mix-up which results in murder. Lalli is a fresh voice in the thriller genre and a writer to watch!" — Wendy Walker, internationally bestselling author of Don't Look For Me
"A gripping, immersive read, S.C Lalli has written a tightly woven thriller featuring my new favorite complicated female protagonist. Sara – Saraswati Bhaduri – is riveting as a struggling, savvy law student who becomes embroiled in a gritty murder mystery, while also tackling issues of race, class and identity at her Ivy-league college. I couldn't put this book down, and neither will you!" — Uzma Jalaluddin, bestselling author of Hana Khan Carries On
"Are You Sara? is a crackling spit-fire of suspense. I read it in two sittings! And that delicious little twist at the very end is a brilliant depiction of just how cunning women can be." — Wanda M. Morris, award-winning author of All Her Little Secrets
"Deliciously dark and twisted, Are You Sara? hits the ground running and never loses momentum. This book embraces the often messy, sometimes misguided, and always difficult compromises universally made on the path to success, weaving an un-put-downable story that is the perfect propulsive page turner for summer." — Erica Katz, author of The Boys' Club and Fake
"It starts off with a nightmarishly riveting conceit: Two women with the same name accidentally switch cabs and one of them gets murdered at her wrong drop-off location... Are You Sara? cogently navigates the duality of identity, what it says about social hierarchy, and the things people will do to survive... S.C. Lalli's debut thriller is punchy and an introspective reminder that money and power always come with dangerous strings attached."   — NPR, Books We Love
"It'll make you think twice the next time a car arrives to whisk you from day drinking to your next summer adventure." — Paste Magazine
"Romance author Lalli (A Holly Jolly Diwali as Sonya Lalli) ventures into thriller territory with exhilarating results… The twisty plot upsets conventional expectations while shining a light on casual sexism and racism. Readers will hope to see a lot more in this line from the versatile Lalli." — Publishers Weekly (starred review)
"A twisty, ambitious thriller where taking the wrong rideshare leads to murder." — Fresh Fiction
"Two women desperate to break away from expectations leads to devastating results in this smart novel about wealth and ambition." — Indigo