The Decomposition of Jack (Hardcover)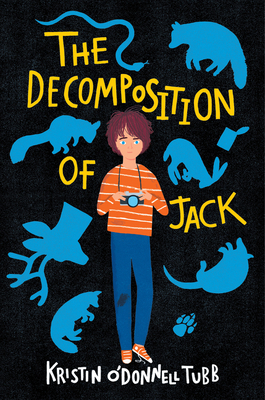 Description
---
Award-winning author Kristin O'Donnell Tubb delivers a funny and poignant middle grade contemporary novel about family and friendship as Jack deals with his parents' divorce while also searching for a mysterious cougar in the Tennessee hills. Perfect for fans of Leslie Connor and Lynda Mullaly Hunt. A Junior Library Guild Selection!
Middle school is always hard, but when you're known as the Roadkill Kid, well, it's even harder. Jack's mom collects roadkill—it's her job, and she's very good at it. Ever since Jack's mom and dad got divorced, Jack has stepped into the role of Mom's co-scientist.
One day while tending to the roadkill garden, Jack believes he spots a cougar in the wilderness beyond his backyard. A cougar in Tennessee? They're supposed to be extinct. So, when Jack has to choose an animal to research for his Earth Science class, he picks cougar.
As pressure mounts on Jack to complete his project and to be Mom's business partner, the mystery of the cougar feels too big to solve. Jack knows what the decomposition of an animal—and a family—looks like, so can he figure out how to bring them back to life?
About the Author
---
Kristin O'Donnell Tubb is the author of The Story Collector and The Story Seeker, the award-winning A Dog Like Daisy, John Lincoln Clem: Civil War Drummer Boy (written as E. F. Abbott), The 13th Sign, Selling Hope, and Autumn Winifred Oliver Does Things Different. Kristin lives near Nashville, Tennessee, with her bouncy-loud family. Just like her two dogs, she can be bribed with cheese. You can visit her online at www.kristintubb.com.
Praise For…
---
"A moving narrative with a distinct point of view. Laugh-out-loud moments balance the heavy with the humorous. Niche but surprisingly fascinating." — Kirkus Reviews
"An engaging coming-of-age tale for the environmentally minded tween." — School Library Journal
"A self-aware seventh grader with a roadkill researcher mother ruminates on life, maturation, and decomposition in this jam-packed observational novel from O'Donnell Tubb." — Publishers Weekly
"Roadkill is an unconventional basis for a novel, but it turns out to be the perfect jumping-off point for a poignant, playful exploration of deep family ties, the joy of kindred spirits, and the importance of conservation. [A]ll readers will be rewarded with a frank and funny examination of decay—and the new life it encourages." — Booklist Online
"The Decomposition of Jack is a delightful romp through rot, roadkill, and human healing."  — Heather L. Montgomery, author of Something Rotten: A Fresh Look at Roadkill 
"The Decomposition of Jack is full of heart and humor and big questions to ponder. I absolutely loved it!"  — Lisa Greenwald, author of Dear Friends and the TBH series
"This book is disgusting—and I mean that as a compliment! It's also hilarious, heartfelt and hopeful. The Decomposition of Jack guarantees that readers will never look at roadkill the same way again!" — Margaret Peterson Haddix, New York Times bestselling author of the Greystone Secrets series
Praise for Zeus, Dog of Chaos: "Readers who have always wondered what their pets are really thinking will love this cleverly written story from the perspective of Zeus, a German Shepherd service dog. Young readers who love dogs, play an instrument in band, or have experience with invisible illness will relate to Madden and his desire to just be a regular middle-school kid."  — School Library Journal
Praise for A Dog Like Daisy: "Daisy's wry comments on human foibles and eccentricities...combine to paint a moving picture of suffering and, ultimately, redemption. Daisy is distinctive and memorable, and this depiction of PTSD is useful, making this a fine, compelling tale." — Kirkus Reviews
"Avid canine lovers will surely appreciate the intimate look at Daisy's yearning for purpose. The focus on . . . service dogs should enlighten readers about the ways our four-legged companions function as more than just pets. A poignant animal tale, and a strong addition to most collections." — School Library Journal
"Daisy's voice is strong, painting a world with canine synesthesia: happy days are yellow, untruths taste like turkey bacon. With joint appeal to children of soldiers and dog-lovers, this is likely to find a broad audience." — Booklist Online