The Last Queen: A Novel of Courage and Resistance (Paperback)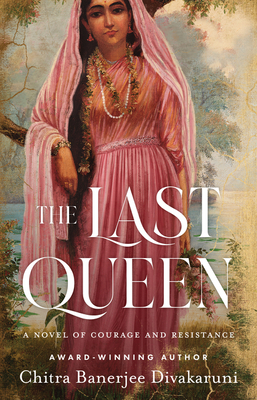 Staff Reviews
---
Divakaruni's latest novel is based on a true story of a young woman of low birth who married the aging Sikh Maharajah of Punjab in mid-19th century India, when the British were consolidating their power in the Indian subcontinent. Jindan was the last of several wives, and was widowed in her early 20s. When violent internecine conflicts brought Jindan's 6-year old son to the throne, she acted as regent, exerting significant power within the Punjab and against enemies outside the province. Divakaruni adheres closely to actual events as she imagines Jindan's conflict-ridden life — making alliances, having alliances betrayed, making decisions that eventually lead to her downfall.  Don't try to skim this novel. Every paragraph is packed with historical detail. 
— Alice
Description
---
WINNER of the 2022 INTERNATIONAL ASSOCIATION OF WORKING WOMEN AWARD for BEST FICTION OF THE YEAR!
LONGLISTED for 2022 DUBLIN LITERARY AWARD!
She rose from commoner to become the last reigning queen of India's Sikh Empire. In this dazzling novel, based on true-life events, bestselling author Chitra Banerjee Divakaruni presents the unforgettable story of Jindan, who transformed herself from daughter of the royal kennel keeper to powerful monarch. 
Sharp-eyed, stubborn, and passionate, Jindan was known for her beauty. When she caught the eye of Maharaja Ranjit Singh, she was elevated to royalty, becoming his youngest and last queen—and his favorite. And when her son, barely six years old, unexpectedly inherited the throne, Jindan assumed the regency. She transformed herself from pampered wife to warrior ruler, determined to protect her people and her son's birthright from the encroaching British Empire.
Defying tradition, she stepped out of the zenana, cast aside the veil, and conducted state business in public, inspiring her subjects in two wars. Her power and influence were so formidable that the British, fearing an uprising, robbed the rebel queen of everything she had, but nothing crushed her indomitable will.
An exquisite love story of a king and a commoner, a cautionary tale about loyalty and betrayal, a powerful parable of the indestructible bond between mother and child, and an inspiration for our times, Chitra Banerjee Divakaruni's novel brings alive one of the most fearless women of the nineteenth century, one whose story cries out to be told. 
About the Author
---
Chitra Banerjee Divakaruni is an award-winning and bestselling author, activist, and professor. Her work has been published in over fifty magazines, including The Atlantic and The New Yorker, and included in The Best American Short Stories and The O. Henry Prize Stories. Her books have been translated into twenty-nine languages, including Dutch, Hebrew, Bengali, Russian, and Japanese. Several have been used for campus-wide reads and made into films and plays. She teaches at the University of Houston.
Praise For…
---
 "For those of us who read to escape the banalities of daily life, Chitra Divakaruni's books are oxygen. She writes about India in a way that makes the rest of the world disappear around you." — Chicago Tribune
"Chitra Banerjee Divakaruni's latest novel, The Last Queen, demonstrates the power of unrepentant ambition, unabashed assertiveness and unapologetic resolve as a means for realizing one's birthright—whether presumed or ordained. — Khabar Magazine
"The Last Queen provides a glimpse of a little-known historical figure in Rani Jindan. The author's meticulous details take readers into the 19th-century, where they have a front-row seat." — Novels Alive
"In this dazzling novel, based on true-life events, bestselling author Chitra Banerjee Divakaruni presents the unforgettable story of Jindan, who transformed herself from daughter of the royal kennel keeper to powerful monarch." — Hasty Book List
"Emotionally accessible…Divakaruni balances the ache of separation with the thrills of independence and self-discovery…her characteristic passion, nerve and insight into the troubled soul are here in full." — Wall Street Journal on Before We Visit the Goddess
"A novel about female strength and ambition and how one mother's decision can affect the lives of her family for generations to come." — Bustle on Before We Visit the Goddess
"Divakaruni proves herself adept with all the tools in the writer's toolbox…Divakaruni makes use of two major writerly tools that seldom go together—tragic drama, and screwball comedy. What's more, she finds entirely fresh ways to mete out the tropes of the South Asian immigrant story…hilarity deepens and clarifies the story's dark tones…an heirloom tapestry." — Miami Herald on Before We Visit the Goddess
"Collapses the walls dividing characters and cultures; what endures is a chorus of voices in one single room." — Jhumpa Lahiri on One Amazing Thing
"Affecting." — New York Times on Before We Visit the Goddess