The Enigma of Room 622: A Novel (Paperback)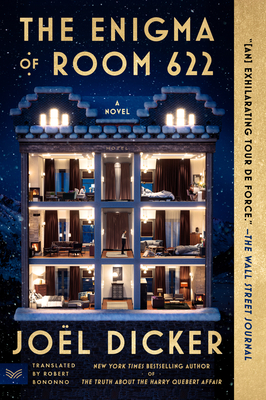 $19.99

Coming Soon - Available for Pre-Order Now
Staff Reviews
---
574 pages of twists and turns to reveal an ending that will make readers smile. Joël, an author, is at a crossroads in life after his editor and dear friend Bernard passes away and his new love, Sloane, dumps him. Obsessed with writing a book to pay tribute to Bernard, he disappears into the story, escaping his day-to-day life and everyone included. He decides to take an impromptu vacation, and this is when the book begins… in Verbier, in a famous hotel. Years ago, a murder took place in room 622 that was never solved. Joël and his new friend staying at the hotel decide to solve this mystery, and readers travel back in time for clues. Cleverly done, with an unexpected ending!
— Christina
Description
---
A Wall Street Journal "Best Mystery of 2022"
A September 2022 Amazon Best of the Month Pick
"Dicker salutes Agatha Christie even as he drops the reader through one trapdoor into another, so that by the end, we doubt we've ever read another novel quite like it. (We haven't.) Fans of Ruth Ware and Lucy Foley will hug this book in between chapters; the many readers who love Anthony Horowitz's mysteries will celebrate. And me? I'll be reading it again."—A. J. Finn, #1 New York Times bestselling author of The Woman in the Window 
"[The Enigma of Room 622 is an] exhilarating tour de force"–The Wall Street Journal
A burnt-out writer's retreat at a fancy Swiss hotel is interrupted by a murder mystery in this metafictional, meticulously crafted whodunit from the New York Times bestselling author of The Truth About the Harry Quebert Affair.
A writer named Joël, Switzerland's most prominent novelist, flees to the Hôtel de Verbier, a luxury resort in the Swiss Alps. Disheartened over a recent breakup and his longtime publisher's death, Joël hopes to rest. However, his plans quickly go awry. It all starts with a seemingly innocuous detail: at the Verbier, there is no room 622. 
Before long, Joël and fellow guest Scarlett uncover a long-unsolved murder that transpired in the hotel's room 622. The attendant circumstances: the succession of Switzerland's largest private bank, a mysterious counterintelligence operation called P-30, and a most disreputable sabotage of hotel hospitality. A European phenomenon, The Enigma of Room 622 is a matryoshka doll of intrigue–as precise as a Swiss watch–and Dicker's most diabolically addictive thriller yet.
Translated from the French by Robert Bononno
About the Author
---
JOEL DICKER was born in Geneva in 1985, where he later studied Law. His first novel was awarded the Prix des Ecrivains Genevois. The Truth About the Harry Quebert Affair (La Verite sur l'Affaire Harry Quebert) was shortlisted for the Prix Goncourt and won the Grand Prix du Roman de l'Academie Française and the Prix Goncourt des Lyceens.
SAM TAYLOR is a novelist and journalist who has lived in France for more than a decade. His first literary translation was Laurence Binet's HHhH, which was longlisted for the Independent Foreign Fiction Prize.
Praise For…
---
"Joël Dicker's innovative page-turner ... weds the allure of a jigsaw puzzle with the split-second timing of an Agatha Christie mystery.... [The Enigma of Room 622 is an] exhilarating tour de force" — Wall Street Journal
"This astonishingly smart, emotionally satisfying, and strangely intimate novel is not to be missed." — Publishers Weekly (starred review)
"A tale of romance, masterful duplicity, and... [a] cleverly jigsawed plot, [The Enigma of Room 622 is both]... homage to Agatha Christie, and ... a touching farewell to Dicker's late publisher." — Booklist
"How is the latest Joël Dicker? …Tension crackles on every page. Melodrama veers to suspense … [Dicker] has mastered the genre." — Le Figaro
"A new meta-mystery from the Swiss author unfolds with uncanny precision and evolves from a hotel whodunnit into something more nebulous. The elegant surroundings bring to mind classic mysteries, with notes of subversion peppered throughout." — CrimeReads
Praise for previous title: "Joël Dicker is a bright . . . star of suspense." — Lisa Gardner
Praise for previous title: "Unimpeachably perfect.... It's [Dicker's] light touch and engaging voice that make [his] writing so infectious." — The New York Times Book Review
[Dicker] stages his drama as masquerade and, at curtain call, finally takes off the mask. In a novel where the clues are interwoven with such precision, Dicker's true loyalties are pronounced loud and clear: paternal love..., writing, his mentor Bernard,... Albert Cohen, Tolstoy, and García Márquez, and attachment to his city, Geneva. — La Tribune de Genève
In short... [The Enigma of Room 622 is] a simmering concoction that even Agatha Christie would find irresistible, ...[taking the reader] along for a dizzying ride. — Le Parisien
With The Enigma of Room 622, Dicker's strengths as a storyteller resurface once again ... we are caught in a fascinating assembly of clues –constructing and reconstructing scenes during which the characters disappear into an elaborate game of charades. — Le Journal du Dimanche
Even if means writing another page-turner, Jöel Dicker gives us his all, having as much fun playing with conventions as ever, and, in turn, elevating the detective novel to new heights — Le Soir
One of the most widely read Francophone authors in the world... [Dicker] knows how to captivate readers ... twist and turns ... meticulous investigations, he jumps back and forth in time, all the better to lose us yet drive us impatient for the final denouement. Pure reading pleasure. — Lire