Being Texan: Essays, Recipes, and Advice for the Lone Star Way of Life (Hardcover)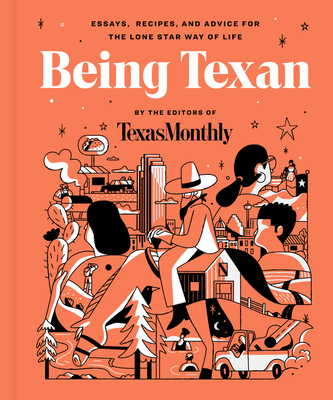 Description
---
The editors of Texas Monthly explore what it means to be a Texan in this anthology packed with essays, reportage, recipes, and recommendations from their renowned list of contributors.
Big hats, big trucks, big oil fortunes—Texas clichés all. And while those elements do flourish throughout Texas, they alone hardly define the place. The Lone Star State is and has always been a great melting pot, home to sprawling cities, trailblazing innovators, and treasured traditions from all over, many of which become ingrained in popular culture and intertwined with the American ideal. 
In this collection, the editors of Texas Monthly take stock of their multifaceted, larger-than-life state, including the people, customs, land, culture, and cuisine that have collided and comingled here. Featuring essays, reportage, recipes, and recommendations from the magazine's legendary roster of contributors, and accompanied by original drawings, Being Texan explores the landscapes that are home to more than 29 million people; the joys and idiosyncrasies of Texan life; underappreciated episodes of Texas history; and distinctive strains of Texan arts and culture. 
Illuminating, surprising, and entertaining, Being Texan reveals the Lone Star State in all its beauty, vastness, and complexity. 
About the Author
---
Texas Monthly is one of the most respected publications in the nation and has won fourteen National Magazine Awards. Since 1973, its legendary roster of contributors has chronicled life in contemporary Texas, publishing long-form literary storytelling alongside in-depth analysis on vital issues and indispensable advice on Texas living.
Praise For…
---
"Texas contains multitudes, and so must a book that hopes to explain the Lone Star State. Being Texan is as full of itself as any Texan must be, but what other state could pull off such a glorious self-examination?"  — Lawrence Wright, author of God Save Texas 
"Blending traditions, memories, reflections, and discoveries, Being Texan is an expansive and inclusive love letter to an ever-changing, infinitely surprising state. There's an entire world inside of each of these narratives, provoking and celebrating Texas's overflowing culture; this book magnifies and challenges the question of who a Texan can be, while paying homage to the many different ways that we come to belong." — Bryan Washington, author of Lot and Memorial
"From the awe of a star-filled west Texas sky to the romance of a long road trip to the coziness of a backyard barbecue, Being Texan invites readers on a journey through the good ol' state with some of its greatest storytellers. A collection as diverse as the state itself." — Aaron Franklin, owner of Franklin Barbecue
"Texas is part of who I am, and every word of Being Texan brings to life what is so special about this place. We are a land of dreamers and go-getters with a rich history and an exciting future. I will treasure this collection for many years to come." — Kendra Scott, founder of Kendra Scott Jewelry
"Texas is the most interesting state in the country, and Being Texan is one of the most compelling books I've read about being Texan. There are sentences in it that I'm certain you won't agree with, and also there are sentences in it that feel like they were written specifically for you. That's also a good way to think about Texas itself." — Shea Serrano, author of The Rap Year Book and Basketball (and Other Things)
"I've been in Texas for decades but still find my chosen state a mystery and a marvel. This collection of writing by Texas's very best is cause for celebration. What a hopeful, fascinating, beautiful book." — Amanda Eyre Ward, author of The Jetsetters and The Lifeguards
"This entertaining compendium captures the allure of the Lone Star state." — Publishers Weekly