VenCo: A Novel (Hardcover)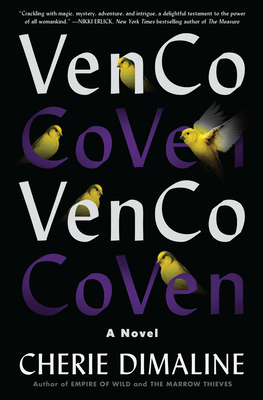 $32.00

Usually Ships in 4-7 Days
Description
---
"Once I opened VenCo, I was propelled through an entire night of charmed reading. Cherie Dimaline creates a world utterly fantastical, yet real. VenCo is funny, tense, and cracking with a dark, divine energy."  ---Louise Erdrich, New York Times bestselling author of The Sentence
For fans of The Once and Future Witches and Practical Magic, comes an incredibly imaginative, highly anticipated new novel featuring witches, magic, and a road trip across America—from Cherie Dimaline, the critically acclaimed author of Empire of Wild.
Métis millennial Lucky St. James is barely hanging on when she learns she'll be evicted from the tiny Toronto apartment she shares with her cantankerous but loving grandmother Stella. But then one night, something strange and irresistible calls out to Lucky. She burrows through a wall to find a tarnished silver spoon, humming with otherworldly energy, etched with a crooked-nosed witch and the word SALEM.
Lucky is familiar with the magic of her indigenous ancestors, but she has no idea that the spoon connects her to a teeming network of witches across North America who have anxiously awaited her discovery.
Enter VenCo, a front company fueled by vast resources of dark money (its name is an anagram of "coven.") VenCo's witches hide in plain sight wherever women gather: Tupperware parties, Mommy & Me classes, suburban book clubs. Since colonial times, they have awaited the moment the seven spoons will come together and ignite a new era, returning women to their rightful power.
But as reckoning approaches, a very powerful adversary is stalking their every move. He's Jay Christos, a roguish and deadly witch-hunter as old as witchcraft itself.
To find the last spoon, Lucky and Stella embark on a rollicking and dangerous road trip to the darkly magical city of New Orleans, where the final showdown will determine whether VenCo will usher in a new beginning…or remain underground forever.
A wildly imaginative and compulsively readable fantasia of adventure, history, Americana, feminism, and magic, VenCo is a novel only the supremely gifted Cherie Dimaline could write.
"Crackling with magic, mystery, adventure, and intrigue, VenCo is a captivating tribute to the bonds of families we are born into and the ones that we create, and a delightful testament to the power of all womankind."— Nikki Erlick, New York Times bestselling author of The Measure
About the Author
---
Cherie Dimaline is a Canadian Métis author and editor whose award-winning fiction has been published and anthologized internationally. Her young adult novel, The Marrow Thieves, won numerous awards, has been a perennial bestseller, and is being made into a television series, which Cherie is writing and producing. Her first novel for adults was the critically acclaimed Empire of Wild. An enrolled and claimed member of the Historic Georgian Bay Métis community, Cherie lives with her family in her traditional territory in Ontario, Canada.
Praise For…
---
"Crackling with magic, mystery, adventure, and intrigue, VenCo is a captivating tribute to the bonds of families we are born into and the ones that we create, and a delightful testament to the power of all womankind." — Nikki Erlick, New York Times bestselling author of The Measure
"An absolute thrill ride of a book, a page-turner of the highest order. VenCo is a powerful and unique reading experience, threaded through with humour and peril. It's a perfect novel for a winter's day, because sometimes, our reading life needs a touch of magic." — Toronto Star
"Spellbinding and utterly original, VenCo shows the power women can wield when we join forces."   — Kirsten Miller, author of The Change
"A gripping, witchy romp of a novel. It's impossible not fall in love with Stella and Lucky." — Buzzfeed
"Once I opened VenCo, I was propelled through an entire night of charmed reading. Cherie Dimaline creates a world utterly fantastical, yet real. VenCo is funny, tense, and cracking with a dark, divine energy."   — Louise Erdrich, New York Times bestselling author of The Sentence
"Fast, fun, full of charms...A propulsive read full of intriguing detail, this novel is well-written, engaging, and, more than anything, enjoyable. The reader will feel genuine affection for Dimaline's irreverent, badass witches as they battle for the future of their family and the future of the world, one and the same in Dimaline's inclusive vision." — Kirkus Reviews
"Empire of Wild is doing everything I love in a contemporary novel and more. It is tough, funny, beautiful, honest and propulsive—all the while telling a story that needs to be told by a person who needs to be telling it. The book feels like now, and we need more stories from Native communities to feel that way. Cherie Dimaline is a voice that feels both inevitable and necessary." — Tommy Orange, author of There There
"Deftly written, gripping and informative. Empire of Wild is a rip-roaring read!" — Margaret Atwood, from Instagram
"Close, tight, stark, beautiful…Dimaline has crafted something both current and timeless, mythic but personal." — NPR on Empire of Wild
"Inventive, passionate… Smartly written with believable characters, a tight plot, and breathtaking sentences, this is a must-read literary thriller."  — Publishers Weekly, starred review, on Empire of Wild
"Electrifying."  — Harper's Bazaar, best books to read this year, on Empire of Wild