Rust in the Root (Hardcover)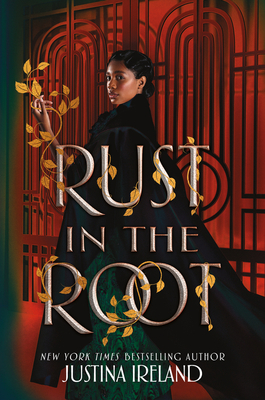 $18.99

Usually Ships in 4-7 Days
Staff Reviews
---
Rust In The Root is a blend of history, fantasy, and horror that takes place in 1937 and is the story of a seventeen year old girl, Laura, who is trying to achieve her slightly mundane dreams — but instead is getting something far beyond what she could possibly imagine. It's a gripping novel that envelopes you in its world, making you feel like you're really there. With mystery embedded in every plot point, the story keeps you on your toes, constantly guessing what's going to happen next. The characters are fun and well-written, especially Laura, whose sassy inner thoughts keep you entertained throughout. Laura's world is mystical, with magic unlike anything I've read before. I would recommend it to fans of Harry Potter or Keeper of the Lost Cities.
— Alana, Teen Advisory Board
Description
---
The author of the visionary New York Times bestseller Dread Nation returns with another spellbinding historical fantasy set at the crossroads of race and power in America.
It is 1937, and Laura Ann Langston lives in an America divided—between those who work the mystical arts and those who do not. Ever since the Great Rust, a catastrophic event that blighted the arcane force called the Dynamism and threw America into disarray, the country has been rebuilding for a better future. And everyone knows the future is industry and technology—otherwise known as Mechomancy—not the traditional mystical arts.
Laura disagrees. A talented young queer mage from Pennsylvania, Laura hopped a portal to New York City on her seventeenth birthday with hopes of earning her mage's license and becoming something more than a rootworker.
But four months later, she's got little to show for it other than an empty pocket and broken dreams. With nowhere else to turn, Laura applies for a job with the Bureau of the Arcane's Conservation Corps, a branch of the US government dedicated to repairing the Dynamism so that Mechomancy can thrive. There she meets the Skylark, a powerful mage with a mysterious past, who reluctantly takes Laura on as an apprentice.
As they're sent off on their first mission together into the heart of the country's oldest and most mysterious Blight, they discover the work of mages not encountered since the darkest period in America's past, when Black mages were killed for their power—work that could threaten Laura's and the Skylark's lives, and everything they've worked for.
About the Author
---
Justina Ireland is the New York Times bestselling author of Dread Nation and its sequel, Deathless Divide, as well as Vengeance Bound and Promise of Shadows. She is also one of the authors creating the next generation of Star Wars novels entitled the High Republic and is the author of the middle grade Star Wars adventures Lando's Luck, Spark the Resistance, and A Test of Courage. She lives with her family in Maryland, where she enjoys dark chocolate and dark humor and is not too proud to admit that she's still afraid of the dark. You can visit her online at www.justinaireland.com.
Praise For…
---
"The bold narrative eerily echoes many of the issues that presently plague the country, describing the destructive nature of capitalism and the impact its oppression wreaks on a nation. Insightful, admirable, and well executed." — Kirkus Reviews (starred review)
"Delivers a knockout punch. Ireland mingles an in-depth understanding of human nature with a wildly ambitious reimagining of the Depression era, balancing matters of race, gender, and sexuality in this thoroughly unique perspective of historical magical fantasy." — Publishers Weekly (starred review)
"Complex world-building rooted in dark events of American history is leavened by humor and a pace that rarely lags. The sheer breadth of imagination on display is extraordinary." — Booklist (starred review)
"Tackles important social issues while providing an ­exciting and fast-paced adventure that's hard to put down."  — School Library Journal (starred review)
"Ireland has confidently merged the historical and the mystical into a fast-paced, complex, and entertaining read." — The Horn Book