The Brilliant Life of Eudora Honeysett: A Novel (Hardcover)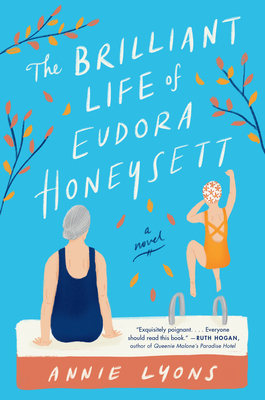 Staff Reviews
---
Eudora Honeysett is an 85-year-old woman living alone in her childhood home in southeast London. She keeps a regular routine of swimming in the local pool and avoiding interaction with other people as much as possible. Given her age, death is never far from her thoughts, but Eudora is taking a proactive approach. She has no intention of slowly fading away into nothingness in the hands of the well-meaning NHS, thank you very much. Instead, Eudora has contacted a clinic in Switzerland, determined to have a choice in how her story ends before the ravages of old age can claim her. As her application process begins, a young family moves into the home next door, introducing into Eudora's life the instantly endearing whirlwind lifeforce that is her new neighbor, 10 year old Rose. Quite against Eudora's best intentions, Rose immediately claims a prominent place in Eudora's life, opening her world up to friendship and family at exactly the time Eudora intended to close those chapters for good. Exploring the essence of aging, what it might mean to live a good life and how best to bid a final farewell, Eudora Honeysett comes to learn that no amount of past sadness and loss should preclude the present possibility of belonging and joy.
— Jennifer K
Description
---
It's never too late to start living.
Infused with the emotional power of Me Before You and the irresistible charm of Eleanor Oliphant Is Completely Fine and Be Frank with Me, a moving and joyous novel about an elderly woman ready to embrace death and the little girl who reminds her what it means to live.
Eudora Honeysett is done with this noisy, moronic world—all of it. She has witnessed the indignities and suffering of old age and has lived a full life. At eighty-five, she isn't going to leave things to chance. Her end will be on her terms. With one call to a clinic in Switzerland, a plan is set in motion. 
Then she meets ten-year-old Rose Trewidney, a whirling, pint-sized rainbow of color and sparkling cheer. All Eudora wants is to be left alone to set her affairs in order. Instead, she finds herself embarking on a series of adventures with the irrepressible Rose and their affable neighbor, the recently widowed Stanley—afternoon tea, shopping sprees, trips to the beach, birthday celebrations, pizza parties. 
While the trio of unlikely BFFs grow closer and anxiously await the arrival of Rose's new baby sister, Eudora is reminded of her own childhood—of losing her father during World War II and the devastating impact it had on her entire family. In reflecting on her past, Eudora realizes she must come to terms with what lies ahead. 
But now that her joy for life has been rekindled, how can she possibly say goodbye? 
About the Author
---
After a career in bookselling and publishing, Annie Lyons published five books in the U.K., including the bestselling Not Quite Perfect. When not working on her novels, she teaches creative writing. She lives in south-east London with her husband and two children.
Praise For…
---
"The Brilliant Life of Eudora Honeysett is an exquisitely poignant tale of life, friendship and facing death. In the latter, the author dares to explore a subject that many shy away from, but she does so with touching sensitivity, gentle humour and absolute honesty. Eudora's courage, dignity and wry sense of fun are beautifully drawn as she takes the reader on the heart-breaking yet ultimately uplifting journey of her life and death. Everyone should read this book."
— Ruth Hogan, author of Queenie Malone's Paradise Hotel

"Lyons' characters are unique and wonderful, portrayed with a depth that allows readers to understand their motivations and empathize with them. . . . And yet the trio's unlikely camaraderie has the power to rejuvenate them all, showing that good friendship makes life worth living. A sensitive examination of human connections that can both damage and heal."
— Kirkus Reviews

"Witty, endearing . . . Lyons strikes a winning balance, reaching deep feelings while avoiding the traps of sentimentality."
— Publishers Weekly

"Lyons' touching tale of intergenerational friendship is reminiscent of Frederik Backman's A Man Called Ove . . . this is a thoroughly enchanting feel-good read."
— Booklist

"The Brilliant Life of Eudora Honeysett is filled with personable characters, witty dialogue and relatable moments. It's a vibrant and humorous celebration of being alive and learning to say goodbye."
— Bookpage

"A charming, thought-provoking story about the healing powers of friendship and love."
— Shelf Awareness