Excuse Me While I Ugly Cry (Hardcover)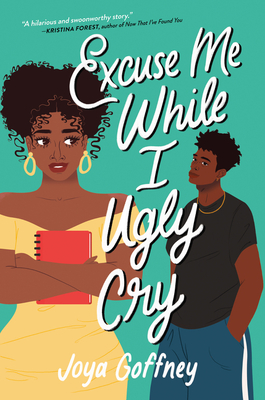 $19.99

Usually Ships in 4-7 Days
Description
---
Excuse Me While I Ugly Cry by debut author Joya Goffney is a story of an overly enthusiastic list maker who is blackmailed into completing a to-do list of all her worst fears. It's a heartfelt, tortured, contemporary YA high school romance. Fans of Jenny Han's To All the Boys I've Loved Before and Kristina Forest's I Wanna Be Where You Are will love the juicy secrets and leap-off-the-page sexual tension.
"A hilarious and swoonworthy story." —Kristina Forest, author of Now That I've Found You
"A fun, emotionally rich romance with a sweet, imperfect character who will win your heart." —Liara Tamani, author of All the Things We Never Knew
Quinn keeps lists of everything—from the days she's ugly cried, to "Things That I Would Never Admit Out Loud" and all the boys she'd like to kiss. Her lists keep her sane. By writing her fears on paper, she never has to face them in real life. That is, until her journal goes missing . . .
Then an anonymous account posts one of her lists on Instagram for the whole school to see and blackmails her into facing seven of her greatest fears, or else her entire journal will go public. Quinn doesn't know who to trust. Desperate, she teams up with Carter Bennett—the last known person to have her journal—in a race against time to track down the blackmailer.
Together, they journey through everything Quinn's been too afraid to face, and along the way, Quinn finds the courage to be honest, to live in the moment, and to fall in love.
A Junior Library Guild Gold Standard Selection
Epic Reads Recommended Pick at Target
A Kirkus Children's Best Book of 2021
About the Author
---
Joya Goffney grew up in New Waverly, a small town in East Texas. In high school, she challenged herself with to-do lists full of risk-taking items like "hug a random boy" and "eat a cricket," which inspired her debut novel, Excuse Me While I Ugly Cry. With a passion for Black social psychology, she moved out of the countryside to attend the University of Texas in Austin, where she still resides.
Praise For…
---
"At its heart, this is a story about finding the courage to be honest and take risks and the freedom that follows from embracing authenticity. A perfect mix of humor and romance—and a source of inspiration for being brave."  — Kirkus Reviews (starred review)
"With the help of some of her classmates, Quinn unpacks what it means to be Black and creates lasting relationships that help her flourish... This authentic look at the teen years will undoubtedly delight readers."  — Booklist (starred review)
"Filled with compelling conversations about race, friendship, honesty and the importance of authenticity, this book is a wonder, and is perfect for readers of all ages." — Today Show
"A fun, emotionally rich romance. Alongside the thrills and messiness of young love, Joya Goffney explores themes of bravery, friendship, and race. In Quinn, she creates a sweet, imperfect character who will win your heart." — Liara Tamani, author of All the Things We Never Knew
"Joya Goffney paints a hilarious and swoon worthy story about friendship, family, overcoming your fears and falling in love. The chemistry between Quinn and Carter is electric, and this debut left me completely charmed." — Kristina Forest, author of Now That I've Found You