City of a Thousand Gates: A Novel (Hardcover)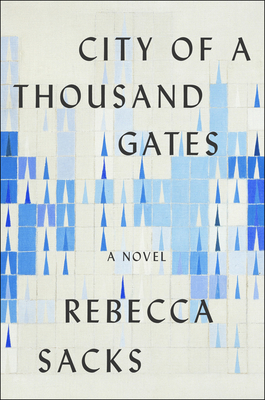 $27.99
Email or call for price
Staff Reviews
---
In this debut novel, the author describes with equal empathy and compassion the conflicted and complicated lives of more than a dozen characters who live side by side but separately in modern Israel, aka occupied Palestine: Ori and his mates who are doing their compulsory military service for Israel, Emily and Rachel, young Jewish Americans who have emigrated to Israel, Samar, a Muslim professor at Bethlehem University, Mai, a university student from a wealthy Palestinian family, Vera, a German journalist, and several more. Their lives intersect in serendipitous ways during a tense period in Palestinian-Israeli relations after the deaths of two young teenagers, one Israeli and one Palestinian. This is a story of walls and barbed wire, of checkpoints and guns, of the legacy of dispossession, and of the irony of a previously subjugated people now subjugating another group of people to ensure their own safety. 
— Alice
Description
---
WINNER OF THE JANET HEIGINGER KAFKA PRIZE FOR FICTION
"The novel showcases the humanity, tragedy, and complexity of life in the West Bank. . . . The characters' interwoven lives will stay with you long after the book's denouement."  —Entertainment Weekly
"Sacks is an extraordinarily gifted writer whose intelligence, compassion and skill on both the sentence and tension level rise to meet her ambition. She keeps us constantly on edge. . . . City of a Thousand Gates makes a convincing case for a literature of multiplicity, polyphonic and clamorous, abuzz with challenges and contradictions, with no clear answers but a promise to stay alert to the world, in all its peril and vitality."  —Washington Post
Brave and bold, this gorgeously written novel introduces a large cast of characters from various backgrounds in a setting where violence is routine and where survival is defined by boundaries, walls, and checkpoints that force people to live and love within and across them.
Hamid, a college student, has entered Israeli territory illegally for work. Rushing past soldiers, he bumps into Vera, a German journalist headed to Jerusalem to cover the story of Salem, a Palestinian boy beaten into a coma by a group of revenge-seeking Israeli teenagers. On her way to the hospital, Vera runs in front of a car that barely avoids hitting her. The driver is Ido, a new father traveling with his American wife and their baby. Ido is distracted by thoughts of a young Jewish girl murdered by a terrorist who infiltrated her settlement. Ori, a nineteen-year-old soldier from a nearby settlement, is guarding the checkpoint between Bethlehem and Jerusalem through which Samar—Hamid's professor—must pass. 
These multiple strands open this magnificent and haunting novel of present-day Israel and Palestine, following each of these diverse characters as they try to protect what they love. Their interwoven stories reveal complicated, painful truths about life in this conflicted land steeped in hope, love, hatred, terror, and blood on both sides.
City of a Thousand Gates brilliantly evokes the universal drives that motivate these individuals to think and act as they do—desires for security, for freedom, for dignity, for the future of one's children, for land that each of us, no matter who or where we are, recognize and share. 
About the Author
---
Rebecca "Bee" Sacks (they/she) holds an MFA from the Programs in Writing at the University of California, Irvine. Their debut novel, City of a Thousand Gates, was awarded the Janet Heidinger Kafka Prize for fiction in 2023. A former journalist, they worked at Vanity Fair for several years before moving to Israel/Palestine to study sacred Jewish texts. Bee now lives in Los Angeles with their dog, Pupik.
Praise For…
---
"Reads devastatingly true…A novel that resists offering a false sense of hope in the face of conflict." — New York Times Book Review
"Intersecting lives in modern-day Israel and Palestine overlap in a tapestry of tales in this compelling, rich novel that delves into universal themes of homeland, freedom, and true security." — GMA.com Best Books
"Sacks deftly zooms in on the perspectives of a broad cast of characters…She reveals with startling intimacy what it's like to live in the center of one of the world's most divisive conflicts." — Real Simple Top Picks
"An American novel manages, for once, to get Israel right…I loved it. By the end of the novel, I was emotionally exhausted but also deeply appreciative of the care and nuance on every page, and the plot's purposeful irresolution." — Los Angeles Times
"Employs a large cast of characters with interwoven stories that represent the many ideologies and truths at the heart of the Israeli-Palestinian conflict. As these characters fight for the future they believe in, a common humanity reveals itself in heart-wrenching ways." — Elle Magazine Best Books of 2021
"A novel of panoramic ambition, scope and complexity . . . whose characters can never entirely escape the undertow of the region's conflicts, which shape their most intimate interactions. Sacks writes with a generosity and gentleness at odds with her troubling subject matter. . . . It is thrilling is to see how cleverly she fits the puzzle pieces of her narrative together, linking all those lives with far fewer than six degrees of separation between them." — Jewish Forward
"Ambitious and expansive. . . . A poignant humanizing of the story as characters battle for security and dignity…But there is beauty, too, the beauty we all deserve to have—in matters of family or love or marriage." — Texas Public Radio
"A stunning first novel . . . imbued with foreboding at every turn. . . . Through her vibrant characters, Sacks paints a moving and powerful portrait of those who love the region passionately despite its many tensions and dangers." — Booklist (starred review)
"In her enthralling kaleidoscope of a first novel, Rebecca Sacks coldly, hotly, deftly, examines the violence that can underpin solidarity, and the vice grip of history on our present. CITY OF A THOUSAND GATES reminded me what fiction can do that ideology and religion cannot: Show us our paradoxes." — Danzy Senna
"This beautiful novel manages to inhabit the experience of multiple characters across the Israel/Palestine divide. It is fascinating, compelling, and propulsive, building to a conclusion that is as inevitable as it is shocking." — Ayelet Waldman