All the Feels: A Novel (Spoiler Alert #2) (Paperback)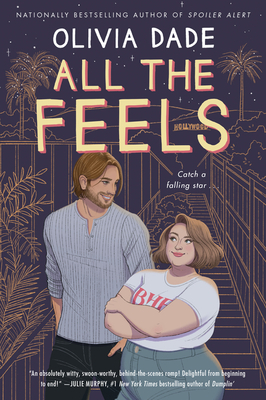 $16.99

Usually Ships in 4-7 Days
Other Books in Series
This is book number 2 in the Spoiler Alert series.
Staff Reviews
---
When actor Alex Woodroe gets into trouble one time to many, his producer assigns him a minder to keep an eye on him until the show's final season is released. Alex and Lauren appear to be total opposites, but they have great chemistry and more things in common than not. This story has some of the best banter I've read in a while, and the emotional depth that comes from discussions of body positivity, abuse and mental health issues elevate this steamy romance into something very special. Do not miss this rom-com!
— Cathy
November 2021 Indie Next List
---
"A famous 'troublesome' actor is saddled by his showrunners with a minder to keep him out of trouble. But the more time they spend together, they less they want to be apart. This slow-burn romance will especially appeal to fans of nerdy pop culture."
— Stefani Kelley, The Book Nook (TX), Brenham, TX
Description
---
Following Spoiler Alert, Olivia Dade returns with another utterly charming romantic comedy about a devil-may-care actor—who actually cares more than anyone knows—and the no-nonsense woman hired to keep him in line.
"An absolutely witty, swoon worthy behind the scenes romp! Delightful from beginning to end!"--Julie Murphy, #1 New York Times bestselling author of Dumplin'
Alexander Woodroe has it all. Charm. Sex appeal. Wealth. Fame. A starring role as Cupid on TV's biggest show, Gods of the Gates. But the showrunners have wrecked his character, he's dogged by old demons, and his post-show future remains uncertain. When all that reckless emotion explodes into a bar fight, the tabloids and public agree: his star is falling.
Enter Lauren Clegg, the former ER therapist hired to keep him in line. Compared to her previous work, watching over handsome but impulsive Alex shouldn't be especially difficult. But the more time they spend together, the harder it gets to keep her professional remove and her heart intact, especially when she discovers the reasons behind his recklessness…not to mention his Cupid fanfiction habit.
When another scandal lands Alex in major hot water and costs Lauren her job, she'll have to choose between protecting him and offering him what he really wants—her. But he's determined to keep his improbably short, impossibly stubborn, and extremely endearing minder in his life any way he can. And on a road trip up the California coast together, he intends to show her exactly what a falling star will do to catch the woman he loves: anything at all. 
About the Author
---
Olivia Dade grew up an undeniable nerd, prone to ignoring the world around her as she read any book she could find. Her favorites, though, were always, always romances. As an adult, she earned an M.A. in American history and worked in a variety of jobs that required the donning of actual pants: Colonial Williamsburg interpreter, high school teacher, academic tutor, and (of course) librarian. Now, however, she has finally achieved her lifelong goal of wearing pajamas all day as a hermit-like writer and enthusiastic hag. She currently lives outside Stockholm with her delightful family and their ever-burgeoning collection of books.
Praise For…
---
"An absolutely witty, swoon worthy behind the scenes romp! Delightful from beginning to end!" — Julie Murphy, #1 New York Times bestselling author of Dumplin'
"All the Feels leaves you swooning and eager for more!" — Denise Williams, author of How to Fail at Flirting
"Joyful, clever, and full of heart, with two irresistible characters whose connection is both gorgeously sweet and wildly hot. Mixing riotous humor and aching tenderness, All the Feels is all the things I love about romance. Olivia Dade has jumped to the top of my auto-buy list!"  — Rachel Lynn Solomon, national bestselling author of The Ex Talk
"If you're a fan of romances that feature nuanced protagonists, whip-smart dialogue, scorching chemistry, and sidesplitting humor, look no further than Olivia Dade's books. This author is an absolute gem!" — Mia Sosa, USA Today bestselling author of The Worst Best Man
"Olivia Dade is so gentle with her characters, giving them each the space to become their best selves while also being loved for all their flaws. All the Feels is hilarious and poignant at the same time." — Cat Sebastian, author of The Queer Principles of Kit Webb
"I adore All the Feels. This slow burn romance had me falling in love every step of the way." — Meryl Wilsner, author of Something to Talk About
"Olivia Dade once again delivers a book as sexy and charming as it is cathartic. Dade's books speak to my soul as she deftly tackles complicated subjects with humor, heart, and infinite kindness. I adored All the Feels and can't wait to see what Dade writes next. Olivia Dade is an auto-buy author!" — Jessie Mihalik, author of Chaos Reigning
"Dade's charming, sexy contemporary romance will be hard to put down. Alex and Lauren are likable, well-developed characters with emotional depth and relatable backstories that deal with body positivity, mental health, and abuse. While these heavy topics are major plotlines, they enhance rather than overshadow the friends-to-lovers?/?opposites-attract romance. The writing is excellent, with witty, banter-filled dialogue." — Library Journal (starred review)
"[All the Feels] weaves in sharp wit and dry humor even as it tugs at the reader's heartstrings with its exploration of the far-reaching repercussions of trauma...Dade's ironic awareness of popular romance tropes adds another layer of interest and fun. A consistently entertaining and often insightful romance." — Kirkus Reviews (starred review)
"All the Feels is a tender, slow burn romance... Alex and Lauren's progression toward romance is rooted in their friendship, which blossoms into a mutual care and compassion that is stunning to behold. Their romance is one to cry over and cheer for." — BookPage (Starred Review)
"Dade delivers and then some. This book frolics through fields of fannish allusion and metatext… It takes a skillful writer to juggle so many elements, yet the emotional through-line shines clear and strong at every point." — New York Times Book Review on Spoiler Alert
"Olivia Dade writes with such compassion and kindness for her characters, and in the process, makes you want to live in the world she creates." — Jenny Holiday, USA Today bestselling author
"With richly drawn characters you'll love to root for, Olivia Dade's books are a gem of the genre--full of humor, heart, and heat." — Kate Clayborn, author of Love Lettering