The Murder of Roger Ackroyd: A Hercule Poirot Mystery (Hercule Poirot Mysteries) (Paperback)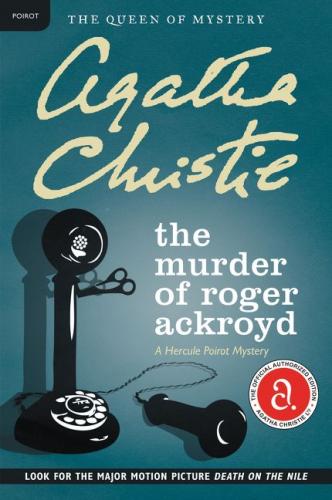 Description
---
"Agatha Christie's indelibly etched characters have entertained millions across the years and a love of her work has brought together generations of readers—a singular achievement for any author and an inspiration to writers across the literary landscape."—Jacqueline Winspear, New York Times bestselling author of the Maisie Dobbs novels
In this official edition featuring exclusive content from the Queen of Mystery, Hercule Poirot comes out of retirement in one of Agatha Christie's ten favorite novels, which was also voted by the British Crime Writers' Association as the "Best Crime Novel of all Time."
Roger Ackroyd knew too much. He knew that the woman he loved had poisoned her brutal first husband. He suspected also that someone had been blackmailing her. Then, tragically, came the news that she had taken her own life with an apparent drug overdose.
However, the evening post brought Roger one last fatal scrap of information, but before he could finish reading the letter, he was stabbed to death. Luckily one of Roger's friends and the newest resident to retire to this normally quiet village takes over—none other than Monsieur Hercule Poirot . . .
Not only beloved by generations of readers, The Murder of Roger Ackroyd was one of Agatha Christie's own favorite works—a brilliant whodunit that firmly established the author's reputation as the Queen of Mystery.
About the Author
---
Agatha Christie is the most widely published author of all time, outsold only by the Bible and Shakespeare. Her books have sold more than a billion copies in English and another billion in a hundred foreign languages. She died in 1976, after a prolific career spanning six decades.