One True Loves (Hardcover)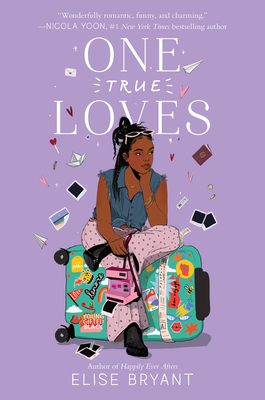 Staff Reviews
---
Lenore Bennett is creative -dabbling in photography, art, and dressing quirky-but really doesn't know what she wants to do in the future. Assuming "undecided" is good major choice at NYU will have to be good enough-but her parents disagree. The pressure is building for her to decide on what she wants to "be" and her parents put the pressure on her that they have worked hard for her to be successful. Not only is she getting this type of pressure from her parents, socially she is "secretly dating" a boy from school that stood her up for the prom. He can only see her on the sly because his parents want him to date a better suited girl-or do they? Learning she is basically a booty call breaks her heart. Lenore is boiling over with issues and not knowing what to do. A graduation Greek cruise with her family isn't the relaxing trip she hoped for. Meeting Alex and trying to decide if he genuinely likes her or is it a repeat of past relationship woes, and the deadline to determine a major and make a life plan from her parents make for a stressed out week at sea. Will she please everyone and do the right thing? or do what is right for her?
— Christina
January/February 2022 Kids Indie Next List
---
"The perfect book to read on vacation, or at home while you dream of vacation. Lenore is honest, relatable, and funny — and that makes her an amazing protagonist. This book is proof that our 'one true love' can find us when we least expect it."
— Martha Laramore-Josey, Nicola's Books, Ann Arbor, MI
Description
---
From the author of Happily Ever Afters comes another irresistible YA romantic comedy full of self-discovery and Black love—and a dreamy European cruise. Perfect for fans of Nicola Yoon and Jenny Han, with crossover appeal for readers of Jasmine Guillory and Talia Hibbert romances.
Lenore Bennett has always been a force. A star artist and style icon at her high school, she's a master in the subtle art of not giving a . . . well, you know what. But now that graduation is here, she's a little less sure.
She's heading to NYU in the fall with a scarlet U (for "undeclared") written across her chest. Her parents always remind her that Black kids don't have the luxury of figuring it out as they go—they have to be 110 percent prepared. But it's a lot of pressure to be her ancestors' wildest dreams when Lenore's not even sure what her dreams are yet.
When her family embarks on a post-graduation Mediterranean cruise, her friend Tessa is sure Lenore's in for a whirlwind romance. But Lenore knows that doesn't happen to girls like her.
Then she meets Alex Lee. After their parents bond over the Cupid Shuffle, she ends up stuck with him for the remainder of the cruise. He's a hopeless romantic and a golden boy with a ten-year plan. In short, he's irritating as hell.
But as they get to know each other during the picturesque stops across Europe, Alex may be able to help Lenore find something else she's been looking for, even if she doesn't want to admit it to herself: love.
About the Author
---
Elise Bryant was born and raised in Southern California. For many years, Elise had the joy of working as a special education teacher, and now she spends her days writing swoony love stories and eating dessert. She lives with her husband and two daughters in Long Beach. Happily Ever Afters is her debut novel. You can visit her online at www.elisebryant.com.
Praise For…
---
"One True Loves is a fantastic tale full of shenanigans, escapades, and lighthearted banter, while also delving into deeper issues of race and the perception of the successful futures of young people of color." — NPR
"The narrative does so much more than tick the enemies-to-lovers box. Lenore shines as a compelling female lead searching as much for a sense of self as for a soul mate, and her broader family story gives a depth and sensitivity to her struggles. Alex, meanwhile, as handsome and charming as a leading man should be, is likewise flawed, honest, and supportive. Thoughtful commentary on race throughout stands as an essential part of the story, as Lenore reflects on how being Black affects her decisions, her friendships, her love life, and the future she thinks she should have. A companion novel to Bryant's previous Happily Ever Afters, this novel will delight earlier fans and garner new ones. " — Bulletin of the Center for Children's Books
"This summer romance seamlessly packs vacation fun alongside serious discussions of race and mental health….Supportive relationships, even in unexpected places, and flawed characters coming into their own make this novel especially compelling. With its twists on beloved tropes, this a clear pick for fans of Sandhya Menon and Stephanie Perkins." — ALA Booklist
"In this companion novel to Happily Ever Afters, Bryant maintains her contemporary yet timeless authorial style that is a breath of fresh air for the genre. The dynamic characters and relationships and authentic tone make for an engaging read. Charm and humor balance the portions of the novel that delve into more serious topics like race, the pressures of familial and societal expectations, and mental health. A sweet love story for the realistic romantics of the world." — Kirkus Reviews
"One True Loves is not only wonderfully romantic, funny and charming—it has genuine depth. I loved watching Lenore learn to open herself up to love and to the wider world around her." — Nicola Yoon, #1 New York Times bestselling author
"I love this book! One True Loves is laugh-out-loud funny, and every character is so tenderly drawn. Elise Bryant manages something quietly revolutionary in giving us Black love and Black joy on a European cruise, while also deftly and thoughtfully examining the burdens of representation and the beauty of the Black family." — Christina Hammonds Reed, New York Times bestselling author of The Black Kids
Praise for HAPPILY EVER AFTERS: "This well-written, page-turning romance is packed with smart dialogue, powerful insights, and a lovable cast of characters. Highly recommended for all high school libraries." — School Library Journal (starred review)
"Caught between pursuing a tale-worthy love and slowly losing herself, Tessa must learn to tell a story that's uniquely hers. Debut author Bryant creates a wholly genuine protagonist in Tessa; readers will surely root for her as she finds her voice." — Publishers Weekly (starred review)
"Nimbly blends bubbly, will-they-won't-they teen romance with a frank look at issues ranging from impostor syndrome and identity to race and mental health. Bryant treats the tough stuff with nuance and compassion through conversations among a richly drawn cast of diverse and appealing characters…. [and] delightful examples of strong, healthy friendships." — BookPage (starred review)
"A captivating, complicated, angst-y, and beautiful love story of a teenage girl trying to grow into and embrace herself. For romantics of all ages, especially those who seldom see themselves in lead roles." — Kirkus Reviews
"Bryant's debut will charm readers from the start…. Bryant seamlessly captures a broader view of the high-school experience through Tessa's eyes, including such complications as pressure from her parents to be a better sibling and an uneasy long-distance friendship that seems to be floundering. While skillfully and realistically portraying Tessa's many challenges, Bryant never loses sight of the love story at the book's heart. Hand to fans of Jenny Han's To All the Boys I've Loved Before or Maurene Goo's I Believe in a Thing Called Love." — ALA Booklist
"Happily Ever Afters is sweet, smart, and utterly charming. Following Tessa as she navigates friendship, romance, and family dynamics was an absolute joy." — Brandy Colbert, author of The Voting Booth
"Happily Ever Afters is the warm, nerdy, big-hearted rom-com of my dreams and I dare you to read it without grinning your face off." — Becky Albertalli, bestselling author of Simon vs the Homo Sapiens Agenda
"Happy Ever Afters is an absolute delight to read, and put a smile on my face from beginning to end. Elise Bryant's charmer of a debut is an unapologetic love letter to every black and brown girl who's ever dared to imagine herself at the center of her favorite romance. My heart is full knowing young romance lovers will get to read about a heroine like Tessa." — Adriana Herrera, author of American Dreamer