Empire of Wild: A Novel (Hardcover)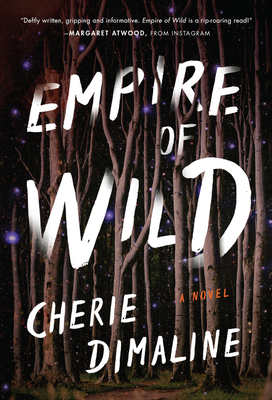 $27.99

Usually Ships in 4-7 Days
Staff Reviews
---
Set in Arcand, Canada, a "halfbreed" town where the people are part First Nation, part Settler. Joan's husband, Victor, has vanished. Eleven months later the search parties have long been called off, but Joan is still searching. One morning, after a night commiserating with her cousin, still drunk, Joan wanders into a mission tent and sees Victor. Only he tells her he isn't Victor, the police and an ambulance are called, and when the hospital releases her the Mission has gone. So begins the quest of Joan, and her nephew Zeus, to recover Victor and remind him who he is. Drawing on the legend of the werewolf-like Rogarou, Empire of the Wild tells the story of a love that will not give up, and the story of the intersection of mining rights and First Nation communities.
— Caroline
August 2020 Indie Next List
---
"Cherie Dimaline's latest novel packs a wallop of a story. Absolutely stunning in every way, this latest offering follows the story of Joan, whose husband has disappeared, and her courage when confronted with truths and lies. She and her husband, Victor, live in a Métis community, close and tight knit. As Joan deals with the fallout of her emotions after Victor disappears, she comes across another man, Eugene Wolff, who bears her husband's face. He does not carry Victor's memories and insists he has no idea who Joan's husband is. Turning over rocks to find the truth, Joan reaches out to whomever she can in her community for help. What waits for her at the end of her quest is incredible. This novel will have you at the edge of your seat!"
— Annie Carl, The Neverending Bookshop, Edmonds, WA
Description
---
"Deftly written, gripping and informative. Empire of Wild is a rip-roaring read!"—Margaret Atwood, From Instagram

"Empire of Wild is doing everything I love in a contemporary novel and more. It is tough, funny, beautiful, honest and propulsive—all the while telling a story that needs to be told by a person who needs to be telling it."—Tommy Orange, author of There There
A bold and brilliant new indigenous voice in contemporary literature makes her American debut with this kinetic, imaginative, and sensuous fable inspired by the traditional Canadian Métis legend of the Rogarou—a werewolf-like creature that haunts the roads and woods of native people's communities.
Joan has been searching for her missing husband, Victor, for nearly a year—ever since that terrible night they'd had their first serious argument hours before he mysteriously vanished. Her Métis family has lived in their tightly knit rural community for generations, but no one keeps the old ways . . . until they have to. That moment has arrived for Joan.
One morning, grieving and severely hungover, Joan hears a shocking sound coming from inside a revival tent in a gritty Walmart parking lot. It is the unmistakable voice of Victor. Drawn inside, she sees him. He has the same face, the same eyes, the same hands, though his hair is much shorter and he's wearing a suit. But he doesn't seem to recognize Joan at all. He insists his name is Eugene Wolff, and that he is a reverend whose mission is to spread the word of Jesus and grow His flock. Yet Joan suspects there is something dark and terrifying within this charismatic preacher who professes to be a man of God . . . something old and very dangerous.
Joan turns to Ajean, an elderly foul-mouthed card shark who is one of the few among her community steeped in the traditions of her people and knowledgeable about their ancient enemies. With the help of the old Métis and her peculiar Johnny-Cash-loving, twelve-year-old nephew Zeus, Joan must find a way to uncover the truth and remind Reverend Wolff who he really is . . . if he really is. Her life, and those of everyone she loves, depends upon it.
About the Author
---
Cherie Dimaline is a Canadian Métis author and editor whose award-winning fiction has been published and anthologized internationally. Her young adult novel, The Marrow Thieves, won numerous awards, has been a perennial bestseller, and is being made into a television series, which Cherie is writing and producing. Her first novel for adults was the critically acclaimed Empire of Wild. An enrolled and claimed member of the Historic Georgian Bay Métis community, Cherie lives with her family in her traditional territory in Ontario, Canada.
Praise For…
---
"Deftly written, gripping and informative. Empire of Wild is a rip-roaring read!" — Margaret Atwood, From Instagram
"…close, tight, stark, beautiful…Dimaline has crafted something both current and timeless, mythic but personal." — NPR
"Recalls Neil Gaiman's American Gods in its grittiness and humor as well as its depiction of gods and legendary creatures interfering in the lives of contemporary humans."  — Library Journal
"Inventive, passionate… Smartly written with believable characters, a tight plot, and breathtaking sentences, this is a must-read literary thriller."  — Publishers Weekly, starred review
"Electrifying."  — Harper's Bazaar, best books to read this year
"An emotionally complex, at times mysterious, always enthralling book that skillfully weaves threads of colonialist legacy and trauma, familial bonds, human resilience and fallibility, and so much heart."  — Book Marks