The Trackers: A Novel (Hardcover)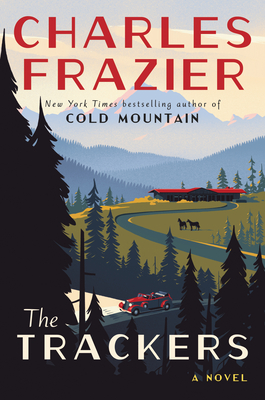 Staff Reviews
---
During the fog of the Great Depression, artist Val stays at the vast Long Ranch in Dawes, Wyoming, while being commissioned to paint a mural at the town's local post office. This is the era when New Deal art and structures emerge alongside the lasting hobo camps and suffering. While living at the ranch, Val becomes captivated with the lives of the ambitious future politician and ranch owner, John Long and his maybe legal wife, Eve. Eve's enchanting, yet complicated, past attracts many in her campfire circle. When Eve abruptly leaves home with one of John's valuable paintings, John persuades Val to travel around the country in search of answers. Val's tracking hopscotches around the country — from Seattle to swampy Florida to San Francisco — where unique bits of Eve's story alongside natural beauty, desperation, power, and brutality show up. With history and adventure from sea to shining sea, this masterful story is a special find. 
— Liz
Description
---
From the New York Times bestselling author of Cold Mountain and Varina, a stunning new novel that paints a vivid portrait of life in the Great Depression
Hurtling past the downtrodden communities of Depression-era America, painter Val Welch travels westward to the rural town of Dawes, Wyoming. Through a stroke of luck, he's landed a New Deal assignment to create a mural representing the region for their new Post Office.
A wealthy art lover named John Long and his wife Eve have agreed to host Val at their sprawling ranch. Rumors and intrigue surround the couple: Eve left behind an itinerant life riding the rails and singing in a western swing band. Long holds shady political aspirations, but was once a WWI sniper—and his right hand is a mysterious elder cowboy, a vestige of the violent old west. Val quickly finds himself entranced by their lives.
One day, Eve flees home with a valuable painting in tow, and Long recruits Val to hit the road with a mission of tracking her down. Journeying from ramshackle Hoovervilles to San Francisco nightclubs to the swamps of Florida, Val's search for Eve narrows, and he soon turns up secrets that could spark formidable changes for all of them.
In The Trackers, singular American writer Charles Frazier conjures up the lives of everyday people during an extraordinary period of history that bears uncanny resemblance to our own. With the keen perceptions of humanity and transcendent storytelling that have made him beloved for decades, Frazier has created a powerful and timeless new classic.
About the Author
---
Charles Frazier is the author of Cold Mountain, an international bestseller that won the National Book Award and was adapted into an Academy-Award winning film by Anthony Minghella. He is also the author of the bestselling novels Thirteen Moons and Nightwoods.
Praise For…
---
"Frazier is in top form…. Period-authentic, and the writing hums with spectacular word-images…. [A] propulsive tale of individualistic characters striving to beat the odds." — Booklist (starred review)
"The book's continental scope proves that the lavishly talented Charles Frazier is not just a regional novelist. "The Trackers" is a novel of suspense with an all-American sting."
— Washington Post
"Frazier deftly blends an historical perspective throughout his fictional tale…Even though it's set 86 years ago, there are moments that are eerie in their echoes of the present…There's a lot more worth savoring in "The Trackers," including reflections on the meaning of art, the mythos of the American West, and what it really takes to start again. But Val is our narrator and after a transcontinental adventure, the book satisfyingly ends where it began, with Val working on his mural in Dawes, Wyoming, adding a couple final details to complete the painting."
— Associated Press