Take No Names: A Novel (Paperback)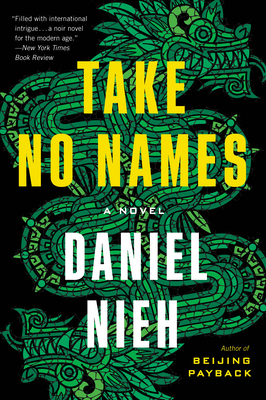 $18.99

Coming Soon - Available for Pre-Order Now
Description
---
A riveting thriller about a fugitive in search of a quick payday in Mexico City who finds himself in the crosshairs of a dangerous international scheme
Victor Li is a man without a past. To his new employer, Mark, he's just an anonymous hired hand to help with the dirty work. Together, they break into storage units that contain the possessions of the recently deported, pocketing whatever is worth selling. Only Victor and his sister, Jules, know that he's a wanted man.
Amid the backpacks and suitcases, Victor makes the find of a lifetime: a gem rare and valuable enough to change his fortunes in an instant. But selling it on the sly? Nearly impossible. Thankfully, its former owner, a woman named Song Fei, also left a book of cryptic notes—including the name of a gemstone dealer in Mexico City.
When Victor and Mark cross the southern border, they quickly realize that this gem is wrapped up in a much larger scheme than they imagined. In Mexico City, shadowy international interests are jockeying for power, and they may need someone with Victor's talents—the same ones that got him in trouble in the first place.
On the heels of his knockout debut Beijing Payback, Daniel Nieh delivers Take No Names, a white-knuckled and whip-smart thriller that races to an electrifying finish.
About the Author
---
DANIEL NIEH is a writer and translator. He grew up in Oregon and has also lived in China, Japan, the United Kingdom, Mexico, and the Netherlands. His writing has appeared in the Washington Post and the New York Times. His first novel, Beijing Payback, was published by Ecco in 2019.
Praise For…
---
"A thriller for the global age, with characters tangled in cross-border conflicts and international intrigues…. The action is brisk, the dialogue snappy…. The story crackles, feeling nicely plugged in to the overheated power grid of an interconnected world." — New York Times Book Review
"Take No Names is a blast from start to finish…Nieh maintains a steady balance of humor, action and thrills while making some barbed commentary on American capitalism and Chinese globalization. Halfway through, what starts as a Joe R. Lansdale-esque crime thriller morphs into an espionage caper à la Mission Impossible. If it sounds a bit over the top, it is—but that's what makes Take No Names such an irrepressibly fun read." — BookPage
"Combines biting humor, breathless action scenes, a clever presentation of mixed languages, and dark geopolitical commentary, including an indictment of America's own duplicity. It's a lot of fun. A cutting thriller with nonstop action and twisty consequences." — Kirkus Reviews
"Gripping heist planning, loads of near-deaths, and a shot at reconciliation…. A juggernaut of a sequel." — Booklist
"Fasten those seatbelts and hold on tight. From the first page to the last of this puzzling thriller, Daniel Nieh keeps readers guessing with unanticipated twists and hairpin curves taken at breakneck speed." — Asia by the Book
"I blasted through this novel in one night! Take No Names combines striking characters, edgy prose, and a riveting plot that kept me guessing. Daniel Nieh skillfully blends his characters' personal journeys with geopolitical tension and drama. Victor Li is one of the most memorable characters in years, and this gripping novel is a worthy successor to Nieh's fantastic debut, Beijing Payback. Don't miss this one."   — David Heska Wanbli Weiden, author of Winter Counts 
"Take No Names is a smart, captivating thriller about desperate characters caught up in the lies and machinations of the global power game. Daniel Nieh writes convincingly about both international intrigue and the personal relationships between reluctant outlaw Victor Li and his merry band of co-conspirators. Their hopes and loyalties anchor a story of greed and destruction, the mercenary battle for cold hard money and world domination." — Steph Cha, author of Your House Will Pay