Burn (Hardcover)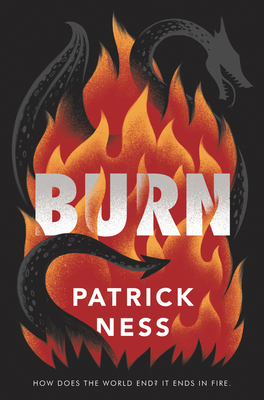 $18.99

Usually Ships in 4-7 Days
Staff Reviews
---
"The dragon was late." So begins this wonderful novel by Patrick Ness in which a farmer hires a dragon to clear a field for planting (paying him in gold of course!) It soon transpires that the dragon has an ulterior motive besides the gold. An assassin from a mysterious dragon-worshiping cult, following a prophecy, is on his way believing that the farmer's daughter will prevent the end of the world and must be stopped at all costs!
— Caroline
Description
---
On a cold Sunday evening in early 1957, Sarah Dewhurst waited with her father in the parking lot of the Chevron gas station for the dragon he'd hired to help on the farm…
Sarah Dewhurst and her father, outcasts in their little town of Frome, Washington, are forced to hire a dragon to work their farm, something only the poorest of the poor ever have to resort to.
The dragon, Kazimir, has more to him than meets the eye, though. Sarah can't help but be curious about him, an animal who supposedly doesn't have a soul but who is seemingly intent on keeping her safe.
Because the dragon knows something she doesn't. He has arrived at the farm with a prophecy on his mind. A prophecy that involves a deadly assassin, a cult of dragon worshippers, two FBI agents in hot pursuit—and somehow, Sarah Dewhurst herself. 
About the Author
---
Patrick Ness is the author of ten novels, including his New York Times bestselling The Rest of Us Just Live Here, the Chaos Walking trilogy, More Than This, A Monster Calls, which was made into a major motion picture with a screenplay adaptation by Patrick himself, Release, and And The Ocean Was Our Sky. Born in Virginia, Patrick lives in London. www.patrickness.com
Praise For…
---
 Ness has never been afraid to push boundaries when it comes to genre exploration, but this is a truly magnificent piece of fiction.... The concept is striking, the characters compelling, and the story enthralling. Even for Ness, this is a singular effort." 
— Booklist (starred review)

"The densely layered, expertly paced plot builds and twists while revealing an alternate universe that cunningly echoes our world and its history."
— Publishers Weekly (starred review)

"Ness brings together history, fantasy, and science fiction in one masterful stroke, interweaving the tropes of each genre to create a unique blend that offers readers an unpredictable but impeccably paced mind trip."
— Bulletin of the Center for Children's Books (starred review)

"Exciting, nonstop action and gloriously varied twists in the narrative will keep readers guessing all the way through to the breathless ending."
— School Library Journal (starred review)

"This fast-paced narrative has elements of alternate history, fantasy, multiverse, and apocalyptic literature. The many plot twists and multiple perspectives create an intensity that makes this a page-turner...A gripping, powerful novel of courage and resilience."

— Kirkus Reviews

"A wild ride of fanaticism, redemption, assasins and dragon-worshippers. Mind-bending in the best possible way."
— The Observer (London)

"Ness brilliantly juggles these multi-layered themes and twisting plot lines while creating a world where dragons are as richly imagined as humans and engage our emotions just as forcefully. He is a remarkable talent."
— Daily Mail (UK)

"Ness's engrossing historical-fantasy adventure is at once accessible and complex, tackling both human issues—racism...war, religion—and grand fantasy action with skill."
— Horn Book Magazine