The Lady's Guide to Petticoats and Piracy (Montague Siblings #2) (Paperback)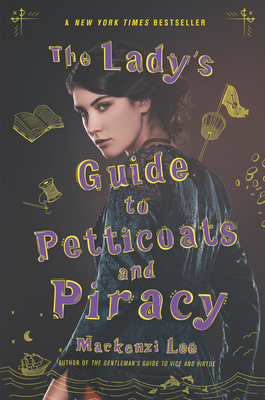 Other Books in Series
This is book number 2 in the Montague Siblings series.
Staff Reviews
---
One year after the disastrous Tour of her older brother Monty, Felicity Montague finds herself in Edinburgh, stressing under the threat of the life of a housewife before her.  Her wishes to become a physician are laughed at, in spite of her relentless self-education in human anatomy and medical practices - all because she is a female. . After reuniting with Monty and Percy in London and another scoffed-at proposal to the hospital board, Felicity learns that her idolized doctor, Alexander Platt, is looking for apprentices to take on a voyage with him. Felicity escapes from her brother and races to catch Platt and beg him to take her on, as he will be leaving directly after his wedding--where he will be marrying none other than Felicity's former friend, Johanna Glass, with whom she did not part on good terms. What could go wrong? Lee's trademark wit and humor makes Felicity's story every bit as strong as its predecessor. 
— Madeline
Description
---
In this highly anticipated sequel to the New York Times bestselling The Gentleman's Guide to Vice and Virtue, Felicity Montague must use all her womanly wits and wiles to achieve her dreams of becoming a doctor—even if she has to scheme her way across Europe to do it. A must-have for fans of Mackenzi Lee's extraordinary and Stonewall Honor-winning novel.
A year after an accidentally whirlwind grand tour with her brother Monty, Felicity Montague has returned to England with two goals in mind—avoid the marriage proposal of a lovestruck suitor from Edinburgh and enroll in medical school. However, her intellect and passion will never be enough in the eyes of the administrators, who see men as the sole guardians of science.
But then a window of opportunity opens—a doctor she idolizes is marrying an old friend of hers in Germany. Felicity believes if she could meet this man he could change her future, but she has no money of her own to make the trip. Luckily, a mysterious young woman is willing to pay Felicity's way, so long as she's allowed to travel with Felicity disguised as her maid.
In spite of her suspicions, Felicity agrees, but once the girl's true motives are revealed, Felicity becomes part of a perilous quest that leads them from the German countryside to the promenades of Zurich to secrets lurking beneath the Atlantic.
About the Author
---
Mackenzi Lee holds a BA in history and an MFA from Simmons College in writing for children and young adults. Her short fiction and nonfiction have appeared in Atlas Obscura, the Boston Globe, Crixeo, and the Newport Review, among others. Her debut novel, This Monstrous Thing, won the PEN New England–Susan P. Bloom Children's Book Discovery Award. Her second book, The Gentleman's Guide to Vice and Virtue, was a New York Times bestseller and an ABA bestseller, earned five starred reviews, was a #1 Indie Next Pick, and received a 2018 Stonewall Book Award Honor and a New England Book Award. She loves Diet Coke, sweater weather, and Star Wars. On a perfect day, she can be found enjoying all three. She currently calls Salt Lake City home.
Praise For…
---
★ "[Lee] develops a world rich in historical detail, crafts a plot wild with unexpected turns, and explores complex topics like colonization and identity. An empowering and energetic adventure that celebrates friendship between women." — Kirkus Reviews (starred review)
★"An incredible, must-have follow-up full of old characters and new, blood and guts, and a delightful barrage of sarcasm." — School Library Journal (starred review)
★ "This action-driven adventure is a joy." — ALA Booklist (starred review)
"A beautifully brilliant story about feminism, female friendship, privilege, sexism in the 17th century, and doing all you can to fulfill your passion and dreams." — Buzzfeed
"A feminist feast that challenges societal norms and forgoes all romance, which is unconventional, albeit refreshing, in young adult literature." — BookPage
"[A] strong feminist credo." — The Horn Book
"The Lady's Guide to Petticoats and Piracy is fun while still being thoughtful, feminist, and an ode to female friendship." — Bustle
PRAISE FOR THE GENTLEMAN'S GUIDE TO VICE AND VIRTUE: ★ "Tongue-in-cheek, wildly entertaining, and anachronistic in only the most delightful ways, this is a gleeful romp through history. Monty is a hero worthy of Oscar Wilde." — Booklist (starred review)
★ "The book's exquisite, bygone meter and vernacular sit comfortably on a contemporary shelf. And the friction of racism, tyrannical entitled politicians, and misguided disapproval of homosexuality also have a relevance rooted in current culture's xeno- and homophobia. Austen, Wilde, and Indiana Jones converge in this deliciously anachronistic bonbon." — Kirkus Reviews (starred review)
★ "This is a witty, romantic, and exceedingly smart look at discovering one's place in the world. A stunning powerhouse of a story for every collection." — School Library Journal (starred review)
★ "A gloriously swashbuckling affair." — Publishers Weekly (starred review)
★Mackenzi Lee (This Monstrous Thing) combines her knowledge of European history with a contemporary, comic sensibility to create an over-the-top romantic adventure complete with cliff-hanging chapter endings and sometimes outrageous narration. Monty is a licentious, flawed and engaging 18th-century hero. — Shelf Awareness (starred review)
"Monty is pitch-perfect as a yearning, self-destructive, oblivious jerk of a hero who inspires equal parts sympathy, frustration, and adoration from reader. A genre tribute, satire, and exemplar in one." — The Horn Book
"Gentleman's Guide to Vice and Virtue is the queer teen historical you didn't know was missing from your life." — Teen Vogue ("Best Queer Books to Celebrate Pride 2017")
"A rollicking ride that also turns a keen eye to issues like class, racism, homosexuality, and identity." — Brightly
"Careening from fete to fiasco on a Grand Tour of 18th century Europe, THE GENTLEMEN'S GUIDE TO VICE AND VIRTUE is a dizzying, dazzling, and roguishly romantic romp. This book makes me want to unrequite my own love so I can requite him all over again." — Heidi Heilig, author of The Girl From Everywhere
"Don't read this book unless you like adventure, hijinks, and forbidden romance, and if you do, then read it twice." — Stacey Lee, author of The Secret of a Heart Note and Under a Painted Sky
"An outrageously fun, witty, fascinating, and romantic adventure, starring a memorable trio I'd happily travel with for ages. Lee is a definite force in diverse historical YA." — Dahlia Adler, founder of LGBTQ Reads and author of Under the Lights
"The Gentleman's Guide to Vice and Virtue is a Grand Tour all its own. Hilarious and romantic, adventurous and scandalous, Monty's adventures are just as delightful as Monty himself. I adored this book!" — Rachel Hawkins, author of the Rebel Belle series
"Sweet, smart, and powerful, Gentleman's Guide tackles timely topics that will resonate profoundly with readers--all wrapped up in a truly epic road trip. Prepare to laugh, gasp, swoon, and cheer." — Claire Legrand, author of the Winterspell series
"A delightful romp of a road-trip through eighteenth century Europe, packed with witty dialog, razor-sharp pacing, and the perfect amount of swoon. You should abso-bloody-lutely read this book." — Erin Bowman, author of Vengeance Road
"A swashbuckling, fantastical coming-of-age adventure that quite simply swallowed me whole." — Audible Editor's Pick