Bearskin: A Novel (Hardcover)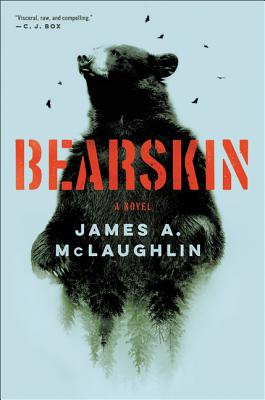 $26.99

Usually Ships in 4-7 Days
Staff Reviews
---
Rice Moore has taken a job as the caretaker of a nature preserve in the Appalachian Mountains. He leads a solitary existence, and by all appearances, Moore is trying to be left alone, possibly due to bad guys looking for him. On one of his forays into the preserve, Moore finds a bear carcass that has been skinned and de-pawed. Other carcasses are found, and Moore becomes obsessed with finding out who is doing this dirty work. He learns that gall bladders are often taken and sold on the black market.
In the process of his investigation, Rice encounters bikers, rednecks, and many good ol' country boys, many of whom think the protected land is theirs for the hunting. Getting beat up becomes a regular occurrence as he does his not-so-subtle sleuthing. He also has flashbacks of his time in Arizona with Mexican drug runners and cartel members. Just what went on there, and who might be after him?
Author McLaughlin writes beautifully and descriptively of Rice Moore's connection with the land, his haunting memories of the past, and his transformation as he connects with the nature around him--aided only once by hallucinogenic mushrooms.
— Cynthia
July 2018 Indie Next List
---
"This powerful debut is a novel of terrible beauty. Using evocative prose, the author perfectly describes the lush landscape of the Virginia Appalachians while juxtaposing them against a world of primal violence. The caretaker at a private preserve is hiding from a Mexican drug cartel but finds himself drawn back into a life of conflict when he encounters bear poachers. A world of pristine beauty is altered by the intrusion of man-made violence, and the caretaker has no choice but to become part of it himself. The clash of nature and humanity is portrayed brilliantly."
— Bill Cusumano, Square Books, Oxford, MS
Description
---
WINNER OF THE 2019 EDGAR FOR BEST FIRST NOVEL
"Bearskin is visceral, raw, and compelling—filled with sights, smells, and sounds truly observed.  It's a powerful debut and an absolute showcase of exceptional prose.  There are very few first novels when I feel compelled to circle brilliant passages, but James McLaughlin's writing had me doing just that." —C.J. Box, #1 NYT bestselling author of The Disappeared
Rice Moore is just beginning to think his troubles are behind him. He's found a job protecting a remote forest preserve in Virginian Appalachia where his main responsibilities include tracking wildlife and refurbishing cabins. It's hard work, and totally solitary—perfect to hide away from the Mexican drug cartels he betrayed back in Arizona. But when Rice finds the carcass of a bear killed on the grounds, the quiet solitude he's so desperately sought is suddenly at risk.
More bears are killed on the preserve and Rice's obsession with catching the poachers escalates, leading to hostile altercations with the locals and attention from both the law and Rice's employers. Partnering with his predecessor, a scientist who hopes to continue her research on the preserve, Rice puts into motion a plan that could expose the poachers but risks revealing his own whereabouts to the dangerous people he was running from in the first place.
James McLaughlin expertly brings the beauty and danger of Appalachia to life. The result is an elemental, slow burn of a novel—one that will haunt you long after you turn the final page.
About the Author
---
James A. McLaughlin holds law and MFA degrees from the University of Virginia. His fiction and essays have appeared in The Missouri Review, The Portland Review, River Teeth, and elsewhere. He grew up in rural Virginia and lives in the Wasatch Range east of Salt Lake City, Utah.
Praise For…
---
"One of the year's most buzzy, fascinating thrillers. . . . A suspenseful, emotionally resonant journey into one man's dark past."
— Entertainment Weekly

"Gruesomely gorgeous. . . . McLaughlin writes about the natural world with a casual lyricism and un-self-conscious joy. . . . Remarkable. . . . The kind of writing that makes me shiver."
— New York Times Book Review

"Exciting. . . . McLaughlin skillfully breaks down the actions of hunter and hunted into their constituent parts. . . . Some of the best action writing in recent fiction."
— Washington Post

"A powerful and often profound debut. . . . Bearskin constructs a riveting narrative, set within a natural world that, should it vanish, McLaughlin suggests, might take part of us with it."
— USA Today

"Fast-paced and evocative. . . . A genuine page-turner. . . . [Bearskin] emerges from some darker place, a creature of undeniable power."
— New York Journal of Books

"Part thriller, part crime novel, part dreamscape, James A. McLaughlin's Bearskin refuses to be contained. . . . Smart and sophisticated, with animals both wild and domestic acting as metaphors, [it] is a gritty, down-home tale told with brute force."
— BookPage

"[A] near-perfect first novel. . . . [A] carefully crafted tale of mystery, ecology, backwoods mysticism and downright evil."
— Shelf Awareness

"One of the year's most buzzy, fascinating thrillers. . . . A suspenseful, emotionally resonant journey into one man's dark past."
— Entertainment Weekly

"A journey into the wilds of Appalachia. . . . Tightly plotted and beautifully written, Bearskin marks an auspicious debut."
— Nylon Magazine

"Taut as a crossbow and as sharp as an arrowhead. . . . Smoothly orchestrated. . . . A thrilling, thoroughly satisfying debut."
— Publishers Weekly (starred review)

"[A] hard-edged thriller. . . . An intense, visceral debut equal to the best that country noir has to offer."
— Kirkus Reviews (starred review)

"[A] twisty, knuckle-gnawing thriller. . . . Remarkable. . . . Terrifying."
— Jonathan Segura, Publishers Weekly (Staff Pick—Best of Summer 2018)

"Haunting. . . . Rendered in remarkable prose. . . . [An] edgy tale, with human greed and wildlife exploitation at its heart."
— Booklist

"Explored in vivid and often dreamlike prose. . . . Successfully [straddles] the line between the evocative erudition of Gabriel Tallent's My Absolute Darling, Tom Franklin's Poachers, and page-turning suspense of C.J. Box."
— Library Journal

"Bearskin—a gripping tale written in spare, beautiful prose—tells the tale of Rice Moore, a reluctant hero, competent, resilient, and utterly engaging.  McLaughlin is a gifted storyteller, and Bearskin is a remarkable debut."
— Scott Smith, NYT Bestselling author of A Simple Plan and The Ruins

"Bearskin is visceral, raw, and compelling—filled with sights, smells, and sounds truly observed.  It's a powerful debut and an absolute showcase of exceptional prose.  There are very few first novels when I feel compelled to circle brilliant passages, but James McLaughlin's writing had me doing just that." 
— C.J. Box, #1 NYT bestselling author of The Disappeared

"A secret past, old foes, bloodthirsty locals, and the destruction of the natural world converge in McLaughlin's debut novel. An intricately written thriller that explores the darkest parts of human nature against the beauty of unspoiled American wilds."
— Ace Atkins, New York Times bestselling author of Robert B. Parker's Old Black Magic and The Sinners

"At once brutal and beautiful, Bearskin is a tense, haunting thriller brought to life by McLaughlin's deft and vivid rendering of the rugged mountain landscape and the beasts that dwell within. A powerful debut."
— Laura McHugh, author of The Weight of Blood and Arrowood