Violet and Jobie in the Wild (Paperback)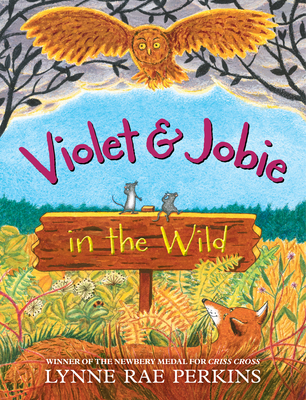 $9.99

Coming Soon - Available for Pre-Order Now
Staff Reviews
---
The tale of mouse siblings Violet and Jobie, who were caught by humans and taken to live in the wild. Seeing the woods for the first time and learning how to stay safe was much harder than these two, who grew up watching TV inside a human home, expected. New friends teach them how to be safe — and ultimately how to live apart from those they love. Vivid illustrations help tell this sweet story.
— Christina
Description
---
"A gem of a story. "—Booklist (starred review)
"A marvelous heroic journey. "—Kirkus Reviews (starred review)
"A narrative centering family bonds and new experiences. "—Publishers Weekly (starred review)
Newbery Medal winner Lynne Rae Perkins introduces Violet and Jobie, two house mice exiled to the wilderness, in an exceptional read-aloud and read-alone for fans of Skunk and Badger, Nuts to You, and classic animal stories such as Stuart Little. This thrilling—and funny!—animal adventure explores themes of friendship, family, bravery, and the meaning of home. Violet & Jobie in the Wild is illustrated in black-and-white throughout by the author.
Brother and sister mice Violet and Jobie live a cozy and comfortable life in a humans' house, where food is plentiful, and the television is both educational and entertaining. In fact, Violet, tucked safely behind a book in the bookcase, loves to watch nature programs along with the young boy of the family. The boy's mother, however, isn't the biggest fan of mice.
When Violet and Jobie are caught in a trap, the young boy pleads with his mother to release them, and she agrees. Now Violet and Jobie find themselves in tall grasses, under tall trees, surrounded by all kinds of unfamiliar scents and sounds and creatures. In short, they find themselves in the wild. How will they survive?
This short, generously illustrated novel is packed with action, humor, heart, friendship, and surprises. Award-winning author Lynne Rae Perkins's Violet & Jobie in the Wild will resonate with readers who love books about animals.
About the Author
---
Lynne Rae Perkins was awarded the Newbery Medal for Criss Cross. She is the author of four other novels—All Alone in the Universe, As Easy as Falling Off the Face of the Earth, Nuts to You, and Secret Sisters of the Salty Sea. Lynne Rae Perkins has also written and illustrated several acclaimed picture books, including Frank and Lucky Get Schooled; The Broken Cat; Snow Music: Pictures from Our Vacation; and The Cardboard Piano. The author lives with her family in northern Michigan. www.lynnerae.com
Lynne Rae Perkins was awarded the Newbery Medal for Criss Cross. She is the author of four other novels—All Alone in the Universe, As Easy as Falling Off the Face of the Earth, Nuts to You, and Secret Sisters of the Salty Sea. Lynne Rae Perkins has also written and illustrated several acclaimed picture books, including Frank and Lucky Get Schooled; The Broken Cat; Snow Music: Pictures from Our Vacation; and The Cardboard Piano. The author lives with her family in northern Michigan. www.lynnerae.com
Praise For…
---
"When mouse siblings Violet and Jobie are trapped and rehomed from their comfortable human habitat to the state park, they are completely out of their element. . . . Fortunately, older, wiser mouse Zolian offers key advice and expands their appreciation of the wild world with a sense of fun. . . . As with all good survival stories, the mice learn by trial and error and by paying attention to their environment. . . . A marvelous heroic journey." — Kirkus Reviews (starred review)
"Indoor mice accustomed to cushy conditions learn to survive outdoors in this endearing novel by Perkins. . . . When they are captured one day and left at a nearby state park, they're thrust into a life that Violet has seen only on TV program Nature Magnificent. They fumble mightily, and often humorously, in their naivete . . . Balancing funny notes with a newfound sense of wonder, nimble text cleverly imagines the details of moving through the natural world in a mouse's body. . . . A narrative centering family bonds and new experiences." — Publishers Weekly (starred review)
"Mouse siblings Violet and Jobie have spent their entire lives in a comfortable human house, watching nature documentaries on television, enjoying plentiful snacks, and napping in cozy drawers. But when they're finally outwitted by a clever trap, the mice find themselves unceremoniously dumped into the woods . . . an absolute charmer, punctuated by adorable artwork and imbued with chatty, cozy camaraderie and frequent funny asides. . . . A gem of a story that will leave readers eager to embrace a bigger life." — Booklist (starred review)
"The fast-paced plot keeps this gentle survival story moving." — Horn Book (starred review)
"As Violet and Jobie try to survive in the wild, they make rookie mistakes like sleeping in a fox's den, until they meet an old mouse named Zolian who teaches them survival skills . . . Short chapters, straightforward storylines, and intermittent illustrations make this a solid bridge between beginning chapter books and more advanced novel[s]." — Bulletin of the Center for Children's Books
"Violet and Jobie are mouse siblings who have become accustomed to their cushy life indoors. . . . However, when they are outsmarted by a trap and relocated to the woods, the pair suddenly needs to learn to survive—finding food, shelter, and safety from predators. . . . Infused with humor and touching character depth, this book provides a nuanced look at what it means to be home and to grow up. Readers who are drawn to the charming black-and-white sketch illustrations and the animal story will be in for a pleasant surprise at the heart."  — School Library Journal