Odd Child Out: A Novel (Paperback)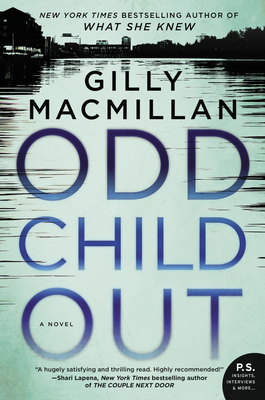 $15.99
Usually Ships in 1-5 Days
Staff Reviews
---
Noah is found floating unconscious in the canal.  Was this a horrible accident, a dare or a prank gone very wrong?  Abdi can't or won't tell anyone what happened.  
Noah Sadler and Abdi Mahad are best friends. They are both fifteen years old and very clever.  They couldn't be more different .  They are ostracized by many of their peers and that makes their relationship even stronger.   Noah has terminal cancer and comes from a privileged white family.  Abdi is a black Muslim Somalian refugee. They both attend a prestigious school.  Noah's parents pay the hefty fee and Abdi is on a full scholarship.
Detective Jim Clemo is assigned to the case. He is just off a mandatory leave from his last case.  We quickly wonder how Detective Clemo can continue on because his empathy for people will ultimately be the end of him. His inability to maintain perspective and distance from his work makes him a prime candidate for burnout.
The press goes to great lengths to get the story, embellishing details and preying on families already suffering from intense grief.  Racial bias, social tension and how people will believe anything they read if it reinforces their own opinions play a hand in the events surrounding this tragedy in Bristol.  We see and feel this tension rise as the families suffer from their sadness and shock.  We all want the answers.  Their loss is heartbreaking and the reader feels this pain.
PAGE TURNER!  
— Julia
Description
---
From New York Times Bestselling Author of WHAT SHE KNEW
"A hugely satisfying and thrilling read. Highly recommended!" -Shari LaPena, New York Times bestselling author of The Couple Next Door
"Literary suspense at its finest."—Mary Kubica, New York Times bestselling author of Pretty Baby
How well do you know the people you love…?
Best friends Noah Sadler and Abdi Mahad have always been inseparable.  But when Noah is found floating unconscious in Bristol's Feeder Canal, Abdi can't--or won't--tell anyone what happened.
Just back from a mandatory leave following his last case, Detective Jim Clemo is now assigned to look into this unfortunate accident.  But tragedy strikes and what looked like the simple case of a prank gone wrong soon ignites into a public battle.  Noah is British.  Abdi is a Somali refugee.   And social tensions have been rising rapidly in Bristol.  Against this background of fear and fury two families fight for their sons and for the truth.  Neither of them know how far they will have to go, what demons they will have to face, what pain they will have to suffer.
Because the truth hurts.
About the Author
---
Gilly Macmillan is the internationally bestselling author of What She Knew, The Perfect Girl, Odd Child Out, I Know You Know, and The Nanny. She resides in Bristol, England.
Praise For…
---
"A mother and son spend an ordinary Sunday at a park near Londontown. Until the boy goes missing. Cue dramatic music. This read's basically The Changeling meets an episode of Law and Order: Special Victims Unit but set in the UK."
— The Skimm

"Gilly Macmillan introduces some smart variations on the [missing child] theme in her debut mystery...Macmillan enlivens the narrative with emails, newspaper headlines, passages from professional journals, even transcripts from Inspector Clemo's sessions with a psychotherapist. But her best move is to include vicious blog posts that go viral."
— New York Times Book Review

Praise for The Perfect Girl: "Gilly Macmillan (What She Knew) deftly explores the intricacies of relationships and the bonds that tie families all while ratcheting up the suspense in this page-turning thriller."
— Real Simple magazine

"With tightly drawn characters, a fascinating storyline and absolutely exquisite narration, The Perfect Girl is sure to keep readers up all night. Gilly Macmillan proves once again to be a master of the written word and is quickly becoming one of my go-to authors."
— Mary Kubica, New York Times bestselling author of Pretty Baby

"A wonderfully addictive book with virtuoso plotting and characters -- for anyone who loved Girl on the Train, it's a must read."
— Rosamund Lupton

"As the suspenseful, serpentine tale unreels from the alternating perspectives of several key players, readers will be rooting for the resilient, resourceful Zoe all the way to the perfectly executed final twists."
— Publishers Weekly (starred review)

PRAISE FOR THE PERFECT GIRL: "A compelling read for fans of psychological suspense."
— Library Journal review

"I DEVOURED The Perfect Girl. An incredible page turner with awesome characters and suspense. Bravo."
— Kate White, New York Times bestselling author

"Macmillan captivates readers with a story just as addictive as her first… [and] shines when exploring the intricacies of relationships… Fans of Tana French, Ruth Ware, and Gillian Flynn will become completely entrenched in the unfolding details."
— BookPage

"With lovely prose, depth of character and an intelligent narrative, Macmillan lifts the level of suspense with stiletto-like precision: a tiny graze here, a shallow cut there and, eventually, a thrust into the heart. At once profoundly unsettling and richly rewarding."
— Richmond Times-Dispatch

"A very clever, tautly plotted page turned from a terrific new writer"
— Good Housekeeping

"Heart-in-the-mouth excitement from the start of this electrifyingly good debut…an absolute firecracker of a thriller that convinces and captivates from the word go. A must read."
— Sunday Mirror

"Macmillan peppers her debut with subtle red herrings and a variety of potential suspects, ratcheting up the tension slowly but oh so deliciously."
— Booklist

"Tightly focused and fast-paced. You won't rest until you really know what happened."
— Lisa Ballantyne, author of The Guilty One

"One of the brightest debuts I have read this year -- a visceral, emotionally charged story….heart-wrenchingly well told and expertly constructed, this deserves to stay on the bestseller list until Christmas"
— The Daily Mail

"This accomplished, intelligent debut should come with a warning -- it's completely addictive. A nail-biting, sleep-depriving, brilliant read."
— Saskia Sarginson, author of The Twins

"An engaging debut."
— Kirkus Reviews

"Readers will have a tough time putting this one down.
— Publishers Weekly

"A terrific debut"
— Reader's Digest

"What an amazing, gripping, beautifully written debut. WHAT SHE KNEW kept me up late into the night (and scared the life out of me)."
— Liane Moriarty, New York Times bestselling author

"A nuanced, completely addictive debut."
— People

"This accomplished, intelligent debut should come with a warning--it's completely addictive. A nail-biting, sleep-depriving, brilliant read."
— Saskia Sarginson, author of The Twins

"Subtle, nuanced writing and a compelling, timely story taut with tension—Odd Child Out is a hugely satisfying and thrilling read. Highly recommended!"

— Shari Lapena, New York Times bestselling author of The Couple Next Door

""In this engrossing novel... the action builds to a shattering conclusion."
— Publishers Weekly

"Macmillan excels at getting into the minds of terrified, brokenhearted parents... This mix of police procedural and thriller will satisfy fans of the author's previous work as well as those looking for something after Tana French."
— Booklist

"With characters who are sympathetic and believable, Macmillan's latest will keep readers in suspense to the very end. Highly recommended."
— Library Journal (starred review)

"The story is emotionally compelling and Macmillan nails the complexity of adolescent friendship…"
— Kirkus Reviews

"This is a fascinating book focusing on the aftermath of the Somalian concentration camps and the effect it held on those who were involved… Macmillan changes the course of direction of the story several times, which makes for interesting reading. The characterizations are vivid and come alive on the page."
— RT BOOKReviews

"hard to put down the book... The storyline is intriguing, full of twists and turns, and readers will become fully invested in these characters, all of whom are interesting in their own right."
— Bookreporter.com

"[A] taut psychological thriller"
— Birmingham magazine

"intricately worked out and impossible to put down"
— Sullivan County Democrat