Baby, You're Gonna Be Mine: Stories (Paperback)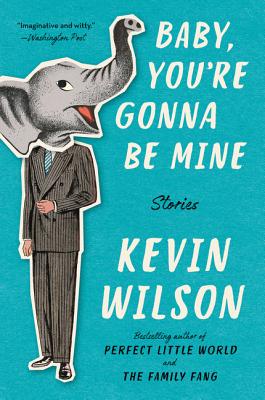 Description
---
"Hands down my favorite book of the year." -- Ann Patchett
"Wildfire Johnny" is the story of a man who discovers a magic razor that allows him to travel back in time. "Scroll Through the Weapons" is about a couple taking care of their underfed and almost feral nieces and nephews. "Signal to the Faithful" follows a boy as he takes a tense road trip with his priest. And "Baby, You're Gonna Be Mine," the title story, is about a narcissistic rock star who moves back home during a rough patch. These stories all build on each other in strange and remarkable ways, showcasing Wilson's crackling wit and big heart.
Filled with imagination and humor, Baby, You're Gonna Be Mine is an exuberant collection of captivating and charmingly bizarre stories that promise to burrow their way into your heart and soul.
About the Author
---
Kevin Wilson is the author of the novels The Family Fang, a New York Times bestseller and a best book of the year in Time, People, Salon, and Esquire; and Perfect Little World. His story collection, Tunneling to the Center of the Earth, received an Alex Award from the American Library Association as well as the Shirley Jackson Award. He teaches fiction at the University of the South in Sewanee, Tennessee, where he lives with his wife and two sons.
Praise For…
---
"Hands down my favorite book of the year."
— Ann Patchett

"There's a lot of Salinger in Wilson's writing — the wit, the vulnerability and the cosmic sadness. And, these new stories of Wilson's are something else; they're funny, raw and beautiful and, for sure, they killed me."
— Maureen Corrigan, Fresh Air

"The versatile Wilson inspires tears and laughter, and crafts memorable phrases that may unexpectedly pop up in the reader's mind weeks later."
— Atlanta Journal-Constitution

"A welcome event, seeing as how Wilson is a master of the form. . . . Within each story, Wilson shows his sharp wit and expansive empathy for the weirdest corners of the human condition."
— Nylon Magazine

"Saying it's as good as Tunneling to the Center of the Earth doesn't do it justice. . . . Wilson never moralizes, much less sensationalizes, any predicament he sketches; rather he makes us feel and wonder at the slings and arrows of outrageous fortune."
— Booklist (starred review)

"Wilson triumphantly returns to short stories. . . . Evocative, compassionate, and exquisitely composed stories about the human condition."
— Kirkus Reviews (starred review)

"Darkly funny. . . . [The stories] stick with the reader and show a terrible world made less so, sometimes, by human contact, even though humans were usually the problem in the first place."
— Publishers Weekly

PRAISE FOR PERFECT LITTLE WORLD:
— //

"A novel you keep reading for old-fashioned reasons—because it's a good story and you need to know what happens. But you also keep reading because you want to know what a good family is.  Everyone wants to know that."
— John Irving, The New York Times Book Review

"Wild. . . . Wilson neatly dissects the meaning of 'family values' in this provocative read."
— People

"The sheer energy of imagination in Wilson's work makes other writers of realistic fiction look lazy."
— Newsday

"[A] rich tapestry of relationships that bind in unexpected ways. . . . Wilson's deliciously breezy style reels you in and holds you tight."
— Denver Post

"Persistently compassionate. . . . Wilson's best moments are funny and earnest. . . . [His] crisp language and smart plotting make Perfect Little World immensely likable and absolutely enjoyable."
— GQ

"Charming. . . . Wilson pulls off his sweet-and-tart tone. . . . The novel delights in the project's Willy Wonkaesque sense of antic chaos."
— Washington Post

"Quirky. . . . Wilson's Perfect Little World finds its bliss in the vast disconnect between people's best intentions and where they land."
— Entertainment Weekly