Perfect Little World: A Novel (Paperback)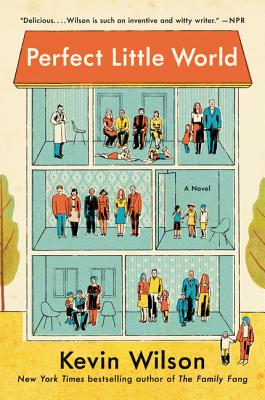 $16.99

Usually Ships in 4-7 Days
Staff Reviews
---
Recent high school graduate Izzy Poole is pregnant with her art teacher's baby, but when their relationship ends, Izzy turns to the Infinite Family Project—a 10-year research venture—for the opportunity to give her child the best life she can. This is an achingly genuine, strange story of misfits who come together to build a family. Wilson's work is intimately odd, oddly intimate. He writes in a minor key, but no note is without warmth. He'll carve a space in your heart so uniquely shaped, nothing else could ever quite fit.
— Mary Cate
February 2017 Indie Next List
---
"Izzy Poole is 18, pregnant with her erratic art teacher's baby, and without any family or money to help her raise her child. Dr. Preston Grind is tragically widowered and estranged from his parents, who raised him using unconventional and unhealthy methods in the name of science. Dr. Grind invites Izzy and nine other couples also expecting their first child to join the Infinite Family Project, an experiment in communal parenting and an attempt to rebuild Dr. Grind's broken family. This is a fascinating and touching exploration of what makes or breaks a family."
— Marisa Langlois (E), Northshire Bookstore, Manchester Center, VT
Description
---
Wilson's ambition alone is exciting. . . . [His] writing has a Houdini-like perfection, wherein no matter how grim the variables, each lovely sentence manages to escape with all its parts intact." —Boston Globe
The eagerly-anticipated follow-up to the New York Times bestseller The Family Fang—a warm-hearted and moving story about a young woman making a family on her own terms.
When Isabelle Poole meets Dr. Preston Grind, she's fresh out of high school, pregnant with her art teacher's baby, and totally on her own. Izzy knows she can be a good mother but without any money or relatives to help, she's left searching.

Dr. Grind, an awkwardly charming child psychologist, has spent his life studying family, even after tragedy struck his own.  Now, with the help of an eccentric billionaire, he has the chance to create a "perfect little world"—to study what would happen when ten children are raised collectively, without knowing who their biological parents are.  He calls it The Infinite Family Project and he wants Izzy and her son to join.
This attempt at a utopian ideal starts off promising, but soon the gentle equilibrium among the families disintegrates: unspoken resentments between the couples begin to fester; the project's funding becomes tenuous; and Izzy's growing feelings for Dr. Grind make her question her participation in this strange experiment in the first place.

Written with the same compassion and charm that won over legions of readers with The Family Fang, Kevin Wilson shows us with grace and humor that the best families are the ones we make for ourselves.
About the Author
---
Kevin Wilson is the New York Times bestselling author of the novels Nothing to See Here, which was a Read with Jenna book club selection; The Family Fang, which was adapted into an acclaimed film starring Nicole Kidman and Jason Bateman; and Perfect Little World; as well as the story collections Tunneling to the Center of the Earth, winner of the Shirley Jackson Award; and Baby, You're Gonna Be Mine. His fiction has appeared in Ploughshares, Southern Review, One Story, A Public Space, and Best American Short Stories. He lives in Sewanee, Tennessee, with his wife and two sons.
Praise For…
---
"A good story, and even better storytelling." — John Irving, The New York Times Book Review
"Wild. . . . [A] provocative read." — People
"Charming. . . . Wilson pulls off his sweet-and-tart tone. . . . The novel delights in the project's Willy Wonkaesque sense of antic chaos." — Washington Post
"Delicious. . . . Wilson is such an inventive and witty writer. . . . [His] 'perfect little world' of a novel pretty much lives up to its title." — NPR
"Persistently compassionate. . . . Wilson's best moments are funny and earnest. . . . [His] crisp language and smart plotting make Perfect Little World immensely likable and absolutely enjoyable." — GQ
"Quirky. . . . Wilson's Perfect Little World finds its bliss in the vast disconnect between people's best intentions and where they land." — Entertainment Weekly
"The sheer energy of imagination in Wilson's work makes other writers of realistic fiction look lazy. . . . The novel's grand finale . . . reminds us that not everything unpredictable is painful or bad, and that conventional arrangements have no monopoly on the profound connections that make family." — Newsday
"Family is far more than a biological bond; that's not a groundbreaking idea. But Wilson has found a lovely new way of telling readers something they know by heart." — Houston Chronicle
"The compensation is a greater richness in the characters, and a refreshingly un-ironic attitude toward love — Knoxville News-Sentinel
"Wilson does an incredible job of telling a compelling story while addressing important social issues. . . . Thought-provoking. — Deep South Magazine
"In light and lively prose that practically tap dances on the page, Wilson shrewdly probes the intricate tensions and machinations that lie at the core of this eccentric family unit. . . . A provocative and uplifting read." — Bookpage
"Stellar. . . . Compelling. . . . Realer and wiser and sadder and eventually reassuring about human nature than dozens of other novels." — Booklist, Starred Review
"Bittersweet. . . . Wilson delves into the drama and tensions inherent in this strange aquarium. . . . A moving and sincere reflection on what it truly means to be a family — Kirkus, Starred Review
"Sweet and thoroughly satisfying. . . . Wilson grounds his premise in credible human motivations and behavior, resulting in a memorable cast of characters." — Publishers Weekly
"[A] moving novel about love, parenting, and the families we create for ourselves." — Library Journal