Love, Jacaranda (Hardcover)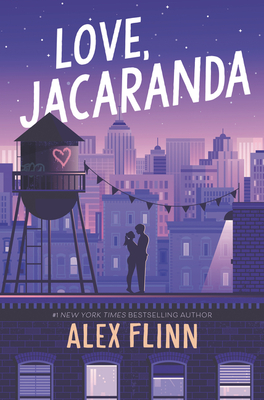 Staff Reviews
---
Alex Flinn's newest novel features a young foster kid with an unfortunate past, Jacaranda, who is discovered when a video of her talented singing goes viral. After a benefactor hears her singing, Jacaranda is offered a full scholarship to attend a boarding school for the arts across the country. Jacaranda chronicles her experience as an outsider in a world of wealth in e-mails to her benefactor, updating him daily on everything about her school, new social life, and even her new romantic interest! This book has a balance of a fresh-fame story and a romance and took turns between these two elements to keep it engaging. The characters were very strong and showed nice development that enhanced the plot. I really enjoyed this book and I thought that it was a nicely-paced realistic, light read that was entertaining and easy to follow. I also enjoyed Jacaranda, as I feel that she was a multi-faceted character who had a kind heart and just wanted to make the right choices; and her actions added to the story accordingly. I'd recommend this book for anyone looking for a low-stress read with lots of swoon-worthy moments!
— Gabriella T.
Description
---
From the #1 New York Times bestselling author of Beastly, Alex Flinn, comes a new contemporary novel about one girl's journey to find her voice and let love in.
"A delicious bonbon of a love story."—New York Times bestselling and award-winning author Nancy Werlin
Jacaranda Abbott has always tried to keep her mouth shut. As a foster kid, she's learned the hard way that the less she talks about her mother and why she's in jail, the better.
But when a video of Jacaranda singing goes viral, a mysterious benefactor offers her a life-changing opportunity—a scholarship to a prestigious boarding school for performing arts. Eager to start over somewhere new, Jacaranda leaps at the chance, and she pours her heart out in emails to the benefactor she's never met.
Suddenly she's swept up into a world of privilege where the competition is fierce and the talent is next level. As Jacaranda—Jackie to her new friends—tries to find her place, a charming boy from this world of wealth catches her eye. She begins to fall for him, but can he accept her for who she really is?
About the Author
---
Alex Flinn loves fairy tales and is the author of the #1 New York Times bestselling Beastly, a spin on Beauty and the Beast that was named a VOYA Editor's Choice and an ALA Quick Pick for Reluctant Young Adult Readers. Beastly is now a major motion picture starring Vanessa Hudgens. Alex also wrote A Kiss in Time, a modern retelling of Sleeping Beauty; Cloaked, a humorous fairy-tale mash-up; Bewitching, a reimagining of fairy-tale favorites, including Hansel and Gretel, Cinderella, The Princess and the Pea, and The Little Mermaid, all told by Kendra, the witch from Beastly; Towering, a darkly romantic take on Rapunzel; and Mirrored, a fresh spin on Snow White. Her other books for teens include Breathing Underwater, Breaking Point, Nothing to Lose, Fade to Black, and Diva. She lives in Miami with her family. Visit her online at www.alexflinn.com.
Praise For…
---
"A delicious bonbon of a love story." — Nancy Werlin, New York Times bestselling and award-winning author
"Jacaranda's voice is quick, witty, and frank, making her an easy…character to root for. Her relationships with her new peers…provide fertile ground for some convincing points about class and stigma. Jacaranda's romance with Jarvis…is a sweet one… An engaging…tale of underdog triumph."  — Kirkus Reviews
"If you're looking for a swoonworthy, sweet romance, you need Love, Jacaranda. Well-crafted. Emotional. Good."
— Melissa Marr, # 1 New York Times bestselling author of the Wicked Lovely series

"Female-centric teen theater novels are surprisingly uncommon; this one offers a satisfying journey to self-acceptance, a sweet, sincere romance, and a bit of mystery…" — Booklist