Wedgie & Gizmo (Hardcover)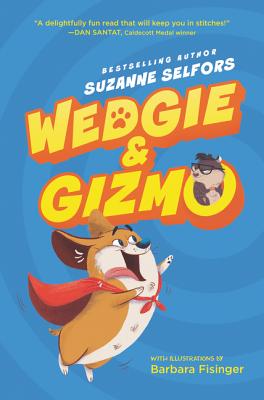 $13.99

Usually Ships in 4-7 Days
Other Books in Series
This is book number 1 in the Wedgie & Gizmo series.
Staff Reviews
---
Wedgie, a Corgi, and Gizmo, a guinea pig, are the pets of a newly blended family. Wedgie is delighted with everything in his life from the half a waffle he just ate to the Squirrel Tree in the yard. Gizmo, however, is disgusted with his new lot in life. Since his EcoHabitat broke in the move, he's now living in Jasime's Barbie Dream House. Wedgie and Gizmo's observations told in alternating chapters offer a hilarious behind the scenes look at this family. Great for grades 3 and up.
— Cathy
Description
---
Fans of Stick Dog and My Big Fat Zombie Goldfish will love Suzanne Selfors's hilarious new illustrated series about the growing pains of blended families and the secret rivalry of pets.
"A delightfully fun read that will leave you in stitches!"—Caldecott Medalist Dan Santat
When a bouncy, barky dog and an evil genius guinea pig move into the same house, the laughs are nonstop! Wedgie is so excited, he can't stop barking. He LOVES having new siblings and friends to protect. He LOVES guinea pigs like Gizmo! He also LOVES treats!
But Gizmo does not want to share his loyal human servant with a rump-sniffing beast! He does not want to live in a pink Barbie Playhouse. Or to be kissed and hugged by the girl human. Gizmo is an evil genius. He wants to take over the world and make all humans feel his wrath. But first he must destroy his archenemy, Wedgie, once and for all!
About the Author
---
Bestselling author Suzanne Selfors lives on a mysterious island in the Pacific Northwest, where she spends most of her time making up stories, which is her very favorite thing to do. She has a dog and a cat, and is seriously considering getting an Evil Genius guinea pig. You can visit her at www.suzanneselfors.com
Barbara Fisinger is an illustrator, character designer, and visual development artist. Her books include the Wedgie & Gizmo series. You can visit her on Tumblr at www.barbarafisinger.tumblr.com.
Praise For…
---
"A delightfully fun read that will keep you in stiches!" — Dan Santat, Caldecott Medal Winner for THE ADVENTURES OF BEEKLE: THE UNIMAGINARY FRIEND
"Readers will love Wedgie and Gizmo's distinct and hilarious voices and Barbara Fisinger's adorable and eye-catching illustrations!" — John Schumacher (aka Mr. Schu), Ambassador for School Libraries
"This first installment is great for one-on-one sharing or independent reading. A solid purchase for libraries looking for early chapter books." — School Library Journal
"Amusing and imaginative." — Kirkus Reviews
"A delightfully comedic look at the chaos that is family life… There's plenty of warmth and humor, with a bit of sardonic bite from Gizmo, and readers of Jamieson's The Great Pet Escape will find much to love here." — Bulletin of the Center for Children's Books
"Comical illustrations and lighthearted text combine to captivate middle-grade readers as a guinea pig evil genius and a corgi canine superhero match wits and win reader's hearts." — Mary Burkey, independent library consultant, Booklist Reader
"Selfors has written a hilarious tale of two families becoming one-from the point of view of the pets. This peek into the secret lives of pets will be irresistible to animal-loving early readers." — Tegan Tigani, children's book buyer, Queen Anne Book Company, Seattle
"I truly adored this book! It's super and genius . . . and not a bit evil. The author is a hero! Who will win out in the rivalry between this cagey Cavy and capewearing Corgi? The readers!" — Starr Latronica, Director, Brooks Memorial Library, Brattleboro, VT
Praise for the Imaginary Veterinary series: "The best books are those in which imaginary creatures leap off the page and into our world--just one of the reasons why this book is a ton of fun. I can't wait for more adventures." — Wendy Mass, NYT bestselling author
"An entertaining story that will pique readers' interest from the first dragon sighting. Ben is a relatable main character, and daring, outspoken Pearl is the perfect partner in crime." — Publishers Weekly
"Selfors kicks off her Imaginary Veterinary series with a solid, entertaining opener. Ben and Pearl are Everykids that readers will relate to, and the adults of Buttonville are often delightfully weird and clueless. More hijinks adventure than mystery, this is sure to win an audience." — Kirkus Reviews
Praise for SMELLS LIKE DOG: * "Selfors offers up an adventure tale that features a humorous, high-stakes mystery and a lovable hero. ...Peppered with funny dialogue, this joyous romp is a page-turning adventure that will appeal to enthusiastic and reluctant readers alike." — Kirkus Reviews (starred review)
"Full of fantasy, fun and humorous dialogue, this will attract dog lovers, mystery enthusiasts, adventure addicts, and reluctant readers. A thoroughly enjoyable read." — Voice of Youth Advocates (VOYA)
"Fans who enjoy the editorializing and over-the-top humor in Wendelin Van Draanen's Gecko and Sticky series will take pleasure in this misfit duo's quirky adventures." — Booklist
"A whimsical narration and sometimes comical dialogue add a light touch." — School Library Journal
Praise for SMELLS LIKE TREASURE: * "A funny, suspenseful adventure that stretches the borders of readers' imaginations." — School Library Journal (starred review)
"The suspense of the challenge will keep readers turning the pages. Fans will love Homer and Dog's return." — Voice of Youth Advocates (VOYA)
"It is the perfect balance of humor, peril, sadness, excitement and adventure." — Time for Kids
"There is plenty of rip-roaring fun here; fans will applaud Homer and Dog's return." — Kirkus Reviews
"Quirky characters and over-the-top humor" — Booklist