Cinnamon Girl: letters found inside a cereal box (Paperback)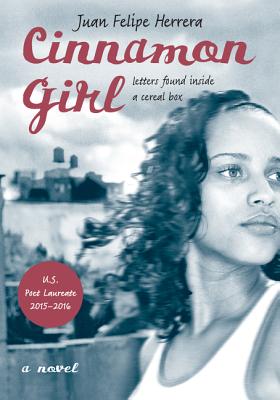 Description
---
From U.S. Poet Laureate Juan Felipe Herrera comes the story of one teen's emotional journey in the days after 9/11, and a personal look at the culture of Loisaida, the Lower East Side of Manhattan. This emotional and stirring novel won the Américas Award and is written in a unique and arresting style.
When the Twin Towers fell, New York City was blanketed by dust. On the Lower East Side, Yolanda, the cinnamon girl, makes her manda, her promise. She vows to gather as much of the dust as she can. Maybe if she can return it to Ground Zero, she can comfort all the voices. Maybe that will help Uncle DJ open his eyes again. As tragedies from her past mix in the air of an unthinkable present, Yolanda searches for hope. Maybe it's buried somewhere in the silvery dust of Alphabet City.
About the Author
---
Juan Felipe Herrera is the U.S. Poet Laureate and was inspired by the fire-speakers of the early Chicano Movement and by heavy exposure to various poetry, jazz, and blues performance streams. His published works include 187 Reasons Mexicanos Can't Cross the Border: Undocuments 1971–2007; Border-Crosser with a Lamborghini Dream; Mayan Drifter: Chicano Poet in the Lowlands of the Americas; Thunderweavers/Tejedoras de Rayos; Laughing Out Loud, I Fly, a Pura Belpré Honor Book; Américas Award winners Crashboomlove and Cinnamon Girl; Calling the Doves, which won the Ezra Jack Keats Award; and Upside Down Boy, which was adapted into a musical. He has received the National Book Critics Circle Award in poetry as well as a Guggenheim Fellowship and previously served as California Poet Laureate. He has taught at both California State University, Fresno and University of California, Riverside and held the Tomás Rivera endowed chair in creative writing. He lives in Fresno, California.