Egg (Hardcover)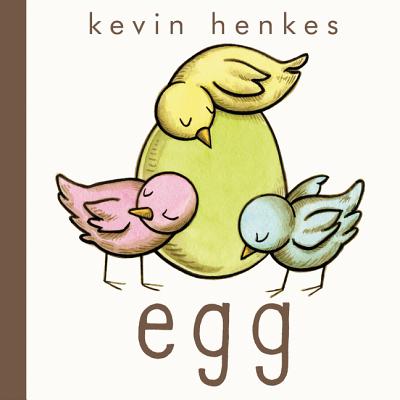 Staff Reviews
---
This adorable picture book begins with four eggs, each in their own frame. Three of them crack fairly quickly and reveal newly hatched birds. But the fourth egg takes its time, and, after much pecking by the birds, delivers a surprise for them as well as the reader. Spare in its words and with a spring-like palate familiar to Houstonians who haven't seen winter in some time, this is a lovely picture book for ages 3 and up.
— Cathy
Description
---
Egg is a graphic novel for preschoolers about four eggs, one big surprise, and an unlikely friendship, by Caldecott Medalist and New York Times-bestselling author Kevin Henkes. Egg is not only a perfect Easter gift, but also a classic read-alone and read-aloud that will appeal all year long.
This masterful and stylistically original picture book introduces young children to four eggs. One is blue, one is pink, one is yellow, and one is green. Three of the eggs hatch, revealing three baby birds who fly away. But the green egg does not hatch. Why not? When the three birds return to investigate, they're in for a big surprise! What will happen next? With a compelling mix of comic-like panels, wordless pages and spreads, and a short text featuring word repetition, surprise, and suspense, Egg is an ideal book for emergent readers, as well as for sharing in a group. Egg is sure to inspire creativity and storytelling in preschoolers, as they anticipate the page turns and determine their own endings! Kevin Henkes is the bestselling author of Lilly's Purple Plastic Purse, Waiting, and Kitten's First Full Moon, among many other beloved titles.
Praise For…
---
"Full-page spreads [depict] surprise, wonder, and newfound companionship. ...Another stunner from Henkes, who is able to evoke so much with few words and such seemingly simple illustrations. Gorgeous and thought-provoking."

"Thickly outlined in brown, Henkes's animals exude sweetness and innocence; and a quietly surreal ending, which sees the setting sun morph into an egg and then an orange bird, subtly emphasizes the anything-is-possible potential of storytelling. ...Terrific encouragement for readers to embark on their own narrative experiments."

"Fans...will delight in his use of line, simple forms, and a gentle palette, all of which clearly portray feelings, depict action, and suggest character. The concise text and straightforward illustrations, however, belie a more complicated tale. ...This is a book that readers will want to pore over."

"Picture-book master Henkes...taps into the deepest emotions of preschoolers with the simplest of stories. …Pacing is, as ever, perfect, taking full advantage of the switch from the early, snappy paneled pages to a series of wordless spreads that tell the story of the budding four-way friendship."

"With characteristic understatement, Henkes explores tenderness, acceptance, friendship, and love in this deceptively simple story. ...Henkes's illustrations provide depth and a meaningful sense of the passage of time. ..The open-ended conclusion invites readers to continue the story themselves."

"Four eggs wait to hatch, but their destinies differ. ...executed with gentle mirth and invitingly minimal text. ...[youngsters will] appreciate it as a tale of adorable little birds finding an unexpected sibling."

"Kevin Henkes reprises the delicious milk-chocolate and sugared-pastel color sceme of 2015's Waiting in Egg. Part preschool comedy routine, part word primer…children will learn the words 'alone,' 'said' and 'lonely' before the tale takes a conciliatory turn with the making of 'friends.'"