The Gentleman's Guide to Vice and Virtue (Hardcover)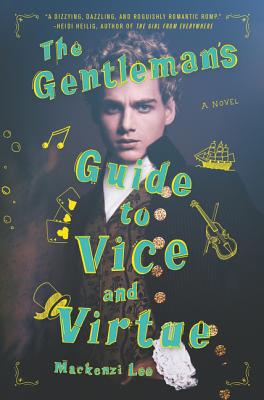 Staff Reviews
---
Henry Montague is about to embark on his Grand Tour, what was essentially a gap year in the 18th Century. Accompanying him are his best friend, Percy, who is biracial, and his surly younger sister, Felicity, who is unhappy with her fate of being sent to finishing school. Monty and Percy will travel and see the finest art and culture that the Continent has to offer. What could go wrong? Except maybe highwaymen. And accidental theft from a mad scientist. And pirates. And the fact that Monty's father has threatened to cut him off if he doesn't stop "mucking around with boys," and he may just be in love with Percy. This is a wonderful book of exploring identities, facing adversity, and being brave enough to become our true selves. Recommended to the moon and back.
— Madeline
Description
---
A Kirkus Prize nominee and Stonewall Honor winner with 5 starred reviews! A New York Times bestseller!
Named one of the best books of 2017 by NPR and the New York Public Library!
"The queer teen historical you didn't know was missing from your life."—Teen Vogue
"A stunning powerhouse of a story."—School Library Journal
"A gleeful romp through history."—ALA Booklist
A young bisexual British lord embarks on an unforgettable Grand Tour of Europe with his best friend/secret crush. An 18th-century romantic adventure for the modern age written by This Monstrous Thing author Mackenzi Lee—Simon vs. the Homo Sapiens Agenda meets the 1700s.
Henry "Monty" Montague doesn't care that his roguish passions are far from suitable for the gentleman he was born to be. But as Monty embarks on his grand tour of Europe, his quests for pleasure and vice are in danger of coming to an end. Not only does his father expect him to take over the family's estate upon his return, but Monty is also nursing an impossible crush on his best friend and traveling companion, Percy.
So Monty vows to make this yearlong escapade one last hedonistic hurrah and flirt with Percy from Paris to Rome. But when one of Monty's reckless decisions turns their trip abroad into a harrowing manhunt, it calls into question everything he knows, including his relationship with the boy he adores.
Witty, dazzling, and intriguing at every turn, The Gentleman's Guide to Vice and Virtue is an irresistible romp that explores the undeniably fine lines between friendship and love.
Don't miss Felicity's adventures in The Lady's Guide to Petticoats and Piracy, the highly anticipated sequel! 
Praise For…
---
★ "The book's exquisite, bygone meter and vernacular sit comfortably on a contemporary shelf. And the friction of racism, tyrannical entitled politicians, and misguided disapproval of homosexuality also have a relevance rooted in current culture's xeno- and homophobia. Austen, Wilde, and Indiana Jones converge in this deliciously anachronistic bonbon."

★ "Tongue-in-cheek, wildly entertaining, and anachronistic in only the most delightful ways, this is a gleeful romp through history. Monty is a hero worthy of Oscar Wilde."

★ "This is a witty, romantic, and exceedingly smart look at discovering one's place in the world. A stunning powerhouse of a story for every collection."

★ "A gloriously swashbuckling affair."

★Mackenzi Lee (This Monstrous Thing) combines her knowledge of European history with a contemporary, comic sensibility to create an over-the-top romantic adventure complete with cliff-hanging chapter endings and sometimes outrageous narration. Monty is a licentious, flawed and engaging 18th-century hero.

"Monty is pitch-perfect as a yearning, self-destructive, oblivious jerk of a hero who inspires equal parts sympathy, frustration, and adoration from reader. A genre tribute, satire, and exemplar in one."

"If you've ever mentally shouted 'NOW KISS' at a pair of fictional male best friends, this is the book for you."

"Gentleman's Guide to Vice and Virtue is the queer teen historical you didn't know was missing from your life." ("Best Queer Books to Celebrate Pride 2017")

"A rollicking ride that also turns a keen eye to issues like class, racism, homosexuality, and identity."

"Careening from fete to fiasco on a Grand Tour of 18th century Europe, THE GENTLEMEN'S GUIDE TO VICE AND VIRTUE is a dizzying, dazzling, and roguishly romantic romp. This book makes me want to unrequite my own love so I can requite him all over again."

"Don't read this book unless you like adventure, hijinks, and forbidden romance, and if you do, then read it twice."

"An outrageously fun, witty, fascinating, and romantic adventure, starring a memorable trio I'd happily travel with for ages. Lee is a definite force in diverse historical YA."

"The Gentleman's Guide to Vice and Virtue is a Grand Tour all its own. Hilarious and romantic, adventurous and scandalous, Monty's adventures are just as delightful as Monty himself. I adored this book!"

"Sweet, smart, and powerful, Gentleman's Guide tackles timely topics that will resonate profoundly with readers--all wrapped up in a truly epic road trip. Prepare to laugh, gasp, swoon, and cheer."

"A delightful romp of a road-trip through eighteenth century Europe, packed with witty dialog, razor-sharp pacing, and the perfect amount of swoon. You should abso-bloody-lutely read this book."

"Vice has never been more charming and virtue never more daring than in Mackenzie Lee's superbly written globetrotting adventure. Not since Hamilton the musical has the 18th century been this much fun."

"An incomparably delightful historical romp. I was swept away by Monty's incorrigible voice from the very first page, and the rest of this confident adventure tale did not disappoint. Lee's sophomore novel has heart, depth, and an abundance of wisecracks from a protagonist you can't help but adore."

"Simultaneously harrowing and hilarious, everything about this book from the serious questions posed about sexuality, chronic illness, and social inequality to the extraordinary journey Monty, his best friend, and his sister find themselves on make Mackenzi Lee's latest the kind of book you'd be a fool to miss."

"Monty and Percy are insanely shippable from page one, and quickly became one of my favorite YA couples of all time."

"The John Hughes of queer 18th century adventure novels with an alchemical heart at its center. Lee perfectly captures teen humor and angst. I can't wait to see what she writes next!"

"I can't wait to get this book in my store—I know my customers looking for historical fiction and LGBTQ stories will adore GENTLEMAN'S GUIDE as much as I have!"

"Filled with highwaymen, pirates, and heart pounding exploits of a romantic nature, this is the summer road-trip adventure you've been waiting for."

"With roguish charm, sly wit, and tender heart, THE GENTLEMAN'S GUIDE TO VICE AND VIRTUE is a shameless flirt of a novel. If Monty and Percy hadn't already stolen my heart, I would surrender it to them gladly."

"Wonderfully refreshing. A delightful, thoughtful, hilarious read."

"An adventurous romp through 18th-century Europe with a trio of unforgettable characters. Lee weaves together the fun and the fantastical with a conversation on historical privilege that will resonate with modern readers. Perfect for fans of LA Meyer's Bloody Jack series. Expect to fall in love with this book!"

An elegant, colorful, swashbuckling good time of a read and a beautiful addition to the LGBTQ+ genre. This is a great novel for upper YA readers and a great adult cross-over title. I definitely have a book hangover after finishing this gem.

"A Marauder's Map of the heart, full of pirates, highwaymen, humor and romance. Mischief managed brilliantly!"

"Delicious."