I Love You Like a Pig (Hardcover)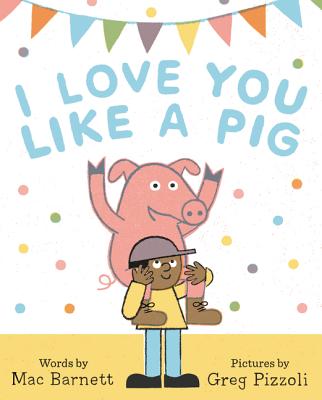 $17.99

Usually Ships in 4-7 Days
Staff Reviews
---
Celebrating the many ways people love each other, Barnett and Pizzoli collaborate on a very fun picture book for any age. From "I love you like a pig" to "you're funny like a fossil," readers of all ages can explore absurdist humor and make up their own expressions. A great read aloud that will have everyone giggling.
— Cathy
Description
---
From the acclaimed bestselling author of Extra Yarn and Sam and Dave Dig a Hole, Mac Barnett, and award-winning illustrator Greg Pizzoli comes a new classic picture book that celebrates the tender and silly moments of our lives.
I like you like a tree.
You're funny like a fossil.
I love you like a pig.
Oink! Oink! Oink!
The whimsical pairing of the text and art make for interactive read-aloud fun with little ones.
About the Author
---
Mac Barnett is a New York Times bestselling author whose books have been translated into more than thirty languages. His picture books include two Caldecott Honor–winning collaborations with Jon Klassen: Sam & Dave Dig a Hole and Extra Yarn. Among his other popular books are I Love You Like a Pig, illustrated by Greg Pizzoli, and The Magic Word, illustrated by Elise Parsley. He lives in Oakland, California. You can visit him online at www.macbarnett.com.
Greg Pizzoli is the author and illustrator of several books, including the Geisel Award-winning The Watermelon Seed, as well as Tricky Vic: The Impossibly True Story of the Man Who Sold the Eiffel Tower and Good Night Owl. He lives in Philadelphia. Visit him online at www.gregpizzoli.com
Praise For…
---
"Encourages big, imaginative thinking." — Publishers Weekly (starred review)
"This nutty ode to affection has echoes of Ruth Krauss in its sensible absurdity." — Kirkus Reviews
"Love, joy, and ridiculous similes come together in this confectionary absurdity from noted talents Barnett and Pizzoli." — Bulletin of the Center for Children's Books
Praise for THE MAGIC WORD: "The stuff of kids' wildest dreams" — Kirkus Reviews
Praise for THE MAGIC WORD: "A subversive take on the topic of manners that still manages to deliver a message about human decency." — The Horn Book
Praise for THE MAGIC WORD: "[A] wild, relatable fantasy...This telling will resonate with (and tickle) the intended audience." — Booklist
Praise for THE MAGIC WORD: "Barnett's narration hits all the right wry notes…while Parsley's expressive, exaggerated drawings give the story the tight narrative arc, visual breeziness, and snappy comic rhythms." — Publishers Weekly
Praise for EXTRA YARN: "Understated illustrations and prose seamlessly construct an enchanting and mysterious tale." — Publishers Weekly (starred review)
Praise for EXTRA YARN: "Klassen's deadpan, stylized illustrations impeccably complement Barnett's quirky droll writing." — School Library Journal (starred review)
Praise for EXTRA YARN: "There's nothing to say but perfect." — Lane Smith, New York Times bestselling author of IT'S A BOOK
Praise for RULES OF THE HOUSE: "Barnett and Myers have created a winning tale of sibling rivalry and, ultimately, loyalty. Barnett's trademark dry humor appears in full force, and Myers' illustrations are wonderfully detailed." — Booklist (starred review)
Praise for RULES OF THE HOUSE: "Readers will (probably) agree that even the most irritating siblings don't deserve to be cooked and eaten. As a rule." — Kirkus Reviews (starred review)
Praise for SAM AND DAVE DIG A HOLE: "A clever second collaboration between Barnett and Klassen... The prose is deadpan; the joke's all in Klassen's winsomely smudgy illustrations." — New York Times Book Review
Praise for SAM AND DAVE DIG A HOLE: "Mind-blowing in the best possible way." — Horn Book (starred review)
Praise for SAM AND DAVE DIG A HOLE: "When Sam and Dave dig a hole, readers get 'something spectacular.'…Lucky readers — Kirkus Reviews (starred review)
Praise for SAM AND DAVE DIG A HOLE: "Barnett's comic voice is at its driest as he recounts that quintessential American childhood activity—the digging of the giant hole." — Publishers Weekly (starred review)
Praise for THE SKUNK: "Gives off a deliciously Hitchockian air of high style and deep-seated dread. . . a story that speaks to the urbane existentialist/absurdist lurking in the heart of every reader." — Publishers Weekly (starred review)
Praise for THE SKUNK: "Clever visual motifs, sly storytelling, and tight pacing make this a picture book that will be enjoyed by both children and their grown-ups." — School Library Journal (starred review)
Praise for THE SKUNK: "McDonnell's graceful and simple cartoonlike illustrations mitigate the notes of paranoia and obsession in Barnett's deadpan text." — Horn Book (starred review)
Praise for THE SKUNK: "A daffy yet stylish readaloud with surprising performance possibilities." — Bulletin of the Center for Children's Books (starred review)