Carve the Mark (Hardcover)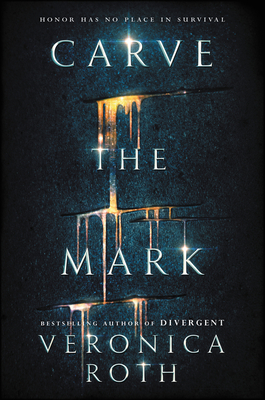 $22.99
Usually Ships in 1-5 Days
Staff Reviews
---
In a world where life is centered on the current (similar to the force in STAR WARS) every person has a "currentgift," a power that generally an extension of themselves in some way. Some people are also "fated," having a fate predicted by oracles that cannot be avoided. Akos and Cyra are teens living in warring cultures. Akos is trying to reunite his family, and Cyra is forced to do terrible things for hers. When their lives become entangled and their missions clash, Akos and Cyra must decide what is really worth fighting for.
— Madeline
Description
---
Globally bestselling Divergent author Veronica Roth delivers a breathtaking fantasy featuring an unusual friendship, an epic love story, and a galaxy-sweeping adventure.
#1 New York Times bestseller * Wall Street Journal bestseller * USA Today bestseller * #1 IndieBound bestseller
Praise for Carve the Mark:
"Roth skillfully weaves the careful world-building and intricate web of characters that distinguished Divergent." —VOYA (starred review)
"Roth offers a richly imagined, often brutal world of political intrigue and adventure, with a slow-burning romance at its core." —ALA Booklist
Cyra Noavek and Akos Kereseth have grown up in enemy countries locked in a long-standing fight for dominance over their shared planet. When Akos and his brother are kidnapped by the ruling Noavek family, Akos is forced to serve Cyra, the sister of a dictator who governs with violence and fear. Cyra is known for her deadly power of transferring extraordinary pain unto others with simple touch, and her tyrant brother uses her as a weapon against those who challenge him. But as Akos fights for his own survival, he recognizes that Cyra is also fighting for hers, and that her true gift—resilience—might be what saves them both.
When Akos and Cyra are caught in the middle of a raging rebellion, everything they've been led to believe about their world and themselves must be called into question. But fighting for what's right might mean betraying their countries, their families, and each other.
When the time comes, will they choose loyalty or love?
And don't miss The Fates Divide, Veronica Roth's powerful follow-up novel!
Praise For…
---
★ "Roth skillfully weaves the careful world-building and intricate web of characters that distinguished Divergent, with settings that are rich with color, ripe for a cinematographer. Roth fans will cheer this new novel with its power to absorb the reader. Readers will be anxiously awaiting the sequel."

"Brimming with plot twists and highly likely to please Roth's fans."

"This duology offers shades of George Lucas sprawl and influence, Game of Thrones clan intrigue, and a little Romeo & Juliet-style romance.  There are cliffhangers aplenty and dangling plot lines to lure us to the next book."

"Roth fans will rejoice at this new outing that focuses on themes familiar from her Divergent series: identity, individual versus social responsibilities, and ethical quandaries."

"Roth offers a richly imagined, often-brutal world of political intrigue and adventure, with a slow-burning romance at its core. Roth's fans will be happily on board for the forthcoming sequel."

"The Divergent author builds out this new world—one reminiscent of Star Wars, with its discussions of 'the current' and 'currentgifts'—while still presenting the stark brutality of the circumstances both protagonists find themselves in."

"With her talent for action-packed plots and powerful characters, Roth's latest is sure to be much talked-about all of 2017."

"Roth's worldbuilding is commendable; each nation is distinct, interacting with the current in ways that give insight into her characters' motivations. Readers will eagerly await a second installment."