Endling #2: The First (Paperback)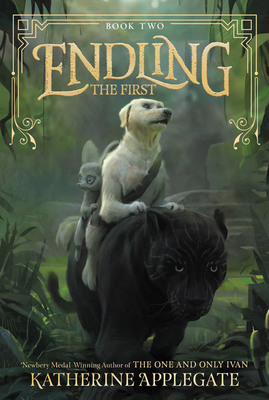 Other Books in Series
This is book number 2 in the Endling series.
Staff Reviews
---
Stakes are raised and the world enlarged in this second installment of the Endling series. When Byx the dairne journeys outside her homeland of Nedarra to search for more of her kind, she and her friends soon become entangled in the buildup to a costly war. It's full of fast-paced fantasy action and adventure, moments of humor to balance the hardship, and plenty of character development for each of the main players—and it sets things up nicely for an epic finale in book three. Through it all, Applegate incorporates characteristic themes of tolerance and environmental stewardship. Another rock-solid effort for ages 9 and up from the 2013 Newbery medalist (The One and Only Ivan).
— Noah
Description
---
Endling #2: The First is the second book in an epic middle grade animal fantasy series by Katherine Applegate, Newbery Medal-winning and #1 New York Times bestselling author of The One and Only Ivan, Wishtree, and Crenshaw! This middle grade novel is an excellent choice for tween readers in grades 5 to 6, especially during homeschooling. It's a fun way to keep your child entertained and engaged while not in the classroom.
To learn if she truly is the last dairne in the world—the endling—Byx and her friends must travel into the snow-covered mountains of the country of Dreyland, where they hope to uncover the truth behind the legend of a hidden dairne colony. But the threat of war across the lands continues to grow with each passing day.
As the group confronts untold dangers at every turn, they will ultimately uncover a treacherous plot that involves the other powerful governing species. With both her dreams and all the creatures of Nedarra on the brink of extinction, Byx and her friends are determined to never give up hope.
Soon they find themselves the unlikely leaders in a simmering rebellion that risks everything they hold dear. Byx may be the last of her kind, but will she also be the first to lead the revolution?
In this sequel to the New York Times bestselling first book—which received four starred reviews—Katherine Applegate once again delivers an action-packed middle grade fantasy with a unique setting, enthralling characters, and gripping adventure that is perfect for fans of Rick Riordan, Brian Jacques, and Tui T. Sutherland.
About the Author
---
Katherine Applegate is the Newbery Medal–winning and #1 New York Times bestselling author of numerous books, including The One and Only Ivan, The One and Only Bob, Crenshaw, Wishtree, the Endling series, the Roscoe Riley Rules chapter book series, and the Animorphs series, which she coauthored with her husband, Michael Grant. Katherine lives with her husband and their children in California. You can visit her online at www.katherineapplegate.com or visit www.theoneandonlyivan.com.
Praise For…
---
Praise for Endling #2: ★ "Themes of conservation, war, and human trafficking are skillfully interwoven into a world of magic and wonder. This second installment will have readers salivating for a third. Simply sublime."
— Kirkus Reviews (starred review)

"Themes of truth, sacrifice, and unity are pitted against that of corrupt power fueled by murder and ideas of species superiority. Applegate's commentary on the need for diversity and understanding is clear but not heavy handed. Byx must learn to lead herself—and readers will follow without hesitation."
— ALA Booklist

"Endling: The First has so much to offer: suspense, drama and deep emotion, not to mention high stakes. It's set to be the book of the summer."
— New York Times

Praise for Endling: ★ "Applegate effortlessly constructs her fantasy world, briskly moving readers through its imaginative details while creating winning, unique characters. This epic series starter is a bracing, propulsive read that will be a challenge to keep on the shelf."
— ALA Booklist (starred review)

★ "Fantasy lovers are in for a treat with this smartly paced, enthralling adventure. The heart and courage Byx and her companions must find as they stand up against unimaginable odds will inspire and delight. A sweeping fantasy epic that will have readers clamoring for a follow-up."
— School Library Journal (starred review)

★ "Applegate skillfully builds a fully realized world of intrigue and wonder without ever letting up on the story's quick pace. Themes of genocide, conservation, and magic are interwoven, providing thought-provoking questions for astute readers. A savvy choice for readers of fantasy."
— Kirkus Reviews (starred review)

★ "The gripping first installment of Applegate's new fantasy trilogy assembles a motley crew in a suspenseful, tautly drawn quest. Persuasive emotional underpinnings give depth and urgency to the adventure as the team unites against sinister forces."
— Publishers Weekly (starred review)

"Endling: The Last blends careful and often lovely prose into a wild, fast-paced fantasy. Readers will fall in love with Byx and race with her through Nedarra, breathless and eager, thinking deeply all the way."
— New York Times Book Review

"The first book in a new series, this volume will whet readers' appetites for more of Byx's fascinating world and the next stage of her quest. Give this to lovers of animal fantasies and environmentally minded readers."
— Bulletin of the Center for Children's Books

Praise for The One and Only Ivan: ★ "Will capture readers' hearts and never let go. A must have."
— School Library Journal (starred review)

★ "Exemplifies everything youngsters need to know about courage."
— Kirkus Reviews (starred review)

★ "Animal-loving youngsters and their adults will find plenty of food for thought in Ivan's extraordinary story."
— Bulletin of the Center for Children's Books (starred review)