The Last Ballad: A Novel (Hardcover)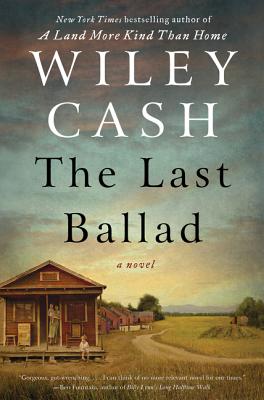 $26.99
Usually Ships in 1-5 Days
Staff Reviews
---
Ella Mae Wiggins is a struggling single mother with four children to support. She lives in poverty alongside her black friends in Stumptown, who work at the same factory. When Ella Mae joins the union in order to fight for better working conditions, she is targeted as a Bolshevik and worse. When she composes a song that takes the movement by storm, she has no chance. Based on the real life story of this courageous women, Cash imbues this Appalachian story with warmth, a sense of real danger, and love.
— Valerie
Description
---
Named a Best Book of 2017 by the Chicago Public Library and the American Library Association
"Wiley Cash reveals the dignity and humanity of people asking for a fair shot in an unfair world."
- Christina Baker Kline, author of A Piece of the World and Orphan Train
The New York Times bestselling author of the celebrated A Land More Kind Than Home and This Dark Road to Mercy returns with this eagerly awaited new novel, set in the Appalachian foothills of North Carolina in 1929 and inspired by actual events. The chronicle of an ordinary woman's struggle for dignity and her rights in a textile mill, The Last Ballad is a moving tale of courage in the face of oppression and injustice, with the emotional power of Ron Rash's Serena, Dennis Lehane's The Given Day, and the unforgettable films Norma Rae and Silkwood.
Twelve times a week, twenty-eight-year-old Ella May Wiggins makes the two-mile trek to and from her job on the night shift at American Mill No. 2 in Bessemer City, North Carolina. The insular community considers the mill's owners—the newly arrived Goldberg brothers—white but not American and expects them to pay Ella May and other workers less because they toil alongside African Americans like Violet, Ella May's best friend. While the dirty, hazardous job at the mill earns Ella May a paltry nine dollars for seventy-two hours of work each week, it's the only opportunity she has. Her no-good husband, John, has run off again, and she must keep her four young children alive with whatever work she can find.
When the union leaflets begin circulating, Ella May has a taste of hope, a yearning for the better life the organizers promise. But the mill owners, backed by other nefarious forces, claim the union is nothing but a front for the Bolshevik menace sweeping across Europe. To maintain their control, the owners will use every means in their power, including bloodshed, to prevent workers from banding together. On the night of the county's biggest rally, Ella May, weighing the costs of her choice, makes up her mind to join the movement—a decision that will have lasting consequences for her children, her friends, her town—indeed all that she loves.
Seventy-five years later, Ella May's daughter Lilly, now an elderly woman, tells her nephew about his grandmother and the events that transformed their family. Illuminating the most painful corners of their history, she reveals, for the first time, the tragedy that befell Ella May after that fateful union meeting in 1929.
Intertwining myriad voices, Wiley Cash brings to life the heartbreak and bravery of the now forgotten struggle of the labor movement in early twentieth-century America—and pays tribute to the thousands of heroic women and men who risked their lives to win basic rights for all workers. Lyrical, heartbreaking, and haunting, this eloquent novel confirms Wiley Cash's place among our nation's finest writers.
Praise For…
---
"A powerful book that speaks to contemporary concerns through historical injustice… Cash vividly blends the archival with the imaginative… With care and steadiness, (Cash) has pulled from the wreckage of the past a lost moment of Southern progressivism. Perhaps fiction can help us bear the burden of Southern history."

"Wiley Cash reveals the dignity and humanity of people asking for a fair shot in an unfair world. Fraught with the turmoil of social change, The Last Ballad moves inexorably toward a devastating moment of reckoning. A timely and topical portrait of a community in crisis."

"Cash pulls no punches in this gorgeous, gut-wrenching novel, and that's entirely as it should be for a story of desperate people. In an era when American workers are besieged as they haven't been since the Great Depression, I can think of no more relevant novel for our times."

"Inspired by the events of an actual textile-mill strike in 1929, Cash creates a vivid picture of one woman's desperation. . . . A heartbreaking and beautifully written look at the real people involved in the labor movement."

"Told with grace and compassion, The Last Ballad is an enthralling narrative and a powerful reminder of the immense sacrifices made for workers in the United States."

"Elegantly and movingly woven ... The Last Ballad is simultaneously the evocation of an exemplary individual and the portrait of an era."

"It's impossible not to hear echoes of Steinbeck in Cash's sprawling, multi-voiced account of a battered, hopeless woman who rises up to become the symbol of a movement… Ella May Wiggins, it seems, sings not only of the forgotten past, but for our time too."

"Beautifully and courageously told. Wiley Cash dares give voice to people lost in the margins of history, and he brings to life their inspiring fight for justice with graceful prose, honesty and intensity, and best of all, a wonderful bigness of heart."

"This suspenseful, moving novel is a story of struggle and personal sacrifice for the greater good that will resonate with readers of John Steinbeck or Ron Rash."

"Beautifully and evocatively written, The Last Ballad should take a place on the honor roll of Southern fiction that will stand the test of time… Cash deftly builds the suspense and tension about what will happen, and why and when… One powerful and haunting story."

"Cash honors his subjects… in his telling of their bravery at the forefront of societal and economic changes that would in time reshape our American lives. But Cash's tale is foremost a cautionary one, a reminder of just how precarious liberties are… Heartrending."

"Resonates with pain, love, the struggle of life and the gross injustices of the world. I hated leaving Ella May's world, reveled in watching her bravery against unspeakable odds and her unending support of racial equality… A riveting story."

"With his vibrant imagination, vigorous research, and his architectural skill in structuring this novel, Wiley Cash has lifted the events of the past into the present and immortalized a time that holds valuable lessons for our country today."

 "Wiley Cash's third novel is a sweeping, old-fashioned saga with an inspirational but ill-fated heroine at its center… Ella May is such a rich, sympathetic character… Powerful and moving, exploring complex historical issues that are still with us today."

"Here, a time and a place and a tragedy written about many times before is rendered anew in vivid, devastating detail. Cash's tightly wound and heavily researched novel is all the more heartbreaking because these struggles remain so resonant today."  

"This is the very best kind of historical novel…  Cash is a fine and subtle writer, who tells an American story … replete with personal, political, sexual, racial and class strife, yet redeemed by gritty individual and community faith in a better, fairer world."