King's Cage (Red Queen #3) (Paperback)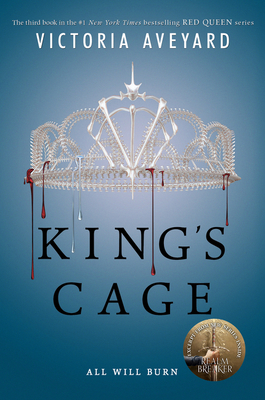 $12.99

Usually Ships in 4-7 Days
Other Books in Series
This is book number 3 in the Red Queen series.
Description
---
The third book in the thrilling #1 New York Times bestselling series!
In this breathless third installment to Victoria Aveyard's #1 New York Times bestselling Red Queen series, rebellion is rising and allegiances will be tested on every side. Perfect for fans of George R.R. Martin's Game of Thrones series.
Mare Barrow is a prisoner, powerless without her lightning, tormented by her lethal mistakes. She lives at the mercy of a boy she once loved, a boy made of lies and betrayal. Now a king, Maven Calore continues weaving his dead mother's web in an attempt to maintain control over his country—and his prisoner.
As Mare bears the weight of Silent Stone in the palace, her once-ragtag band of newbloods and Reds continue organizing, training, and expanding. They prepare for war, no longer able to linger in the shadows. And Cal, the exiled prince with his own claim on Mare's heart, will stop at nothing to bring her back.
When blood turns on blood, and ability on ability, there may be no one left to put out the fire—leaving Norta as Mare knows it to burn all the way down.
Discover more wonders in the world of Red Queen with Broken Throne: A Red Queen Collection, a companion novel with stories from fan favorites and new voices, featuring never-before-seen maps, flags, bonus scenes, journal entries, and much more exclusive content!
Plus don't miss Realm Breaker! Irresistibly action-packed and full of lethal surprises, this stunning fantasy series from Victoria Aveyard, #1 New York Times bestselling author of the Red Queen series, begins where hope is lost and asks: When the heroes have fallen, who will take up the sword?
About the Author
---
Victoria Aveyard was born and raised in East Longmeadow, Massachusetts, a small town known only for the worst traffic rotary in the continental United States. She moved to Los Angeles to earn a BFA in screenwriting at the University of Southern California. She currently splits her time between the East and West coasts. As an author and screenwriter, she uses her career as an excuse to read too many books and watch too many movies. She is the author of the New York Times bestselling Red Queen series, and you can visit her online at www.victoriaaveyard.com.
Praise For…
---
"Another devastating cliff-hanger ending will leave readers hungry for the final volume." — Booklist
"Aveyard's 'little lightning girl' remains a relatable and deeply flawed heroine... Aveyard adeptly sets the scene for a fourth book to follow, amid a war not yet won." — Publishers Weekly
"Simmering with internal conflict and well-devised courtly scheming." — Kirkus Reviews
PRAISE FOR GLASS SWORD: "High-stakes excitement and sharp plot twists…make this a fast-paced, exciting read and a thrilling sequel." — Booklist
"Aveyard certainly has a flair for the dramatic, which teens will eat up. The action hits the ground running and doesn't stop until after the last page is turned." — School Library Journal
"Fast-paced and action packed, Glass Sword is compelling and strong, guaranteed to gratify anxious readers of the series and fans of dystopian and fantasy literature." — Voice of Youth Advocates (VOYA)
PRAISE FOR RED QUEEN: "A sizzling, imaginative thriller, where romance and revolution collide, where power and justice duel. It's exhilarating. Compelling. Action-packed. Unputdownable." — USA Today
"Aveyard weaves a compelling new world of action-packed surprises... inventive, character-driven." — Kirkus Reviews
"A volatile world with a dynamic heroine." — Booklist
"Breakneck pace and engaging characters." — School Library Journal
"[Aveyard] sets her audience up for a gaspworthy twist that reconfigures nearly every character's role and leaves Mare with no one to trust but herself... This blend of fantasy and dystopia will be an unexpected and worthy addition to many genre fans' reading list." — Bulletin of the Center for Children's Books
"Fascinating world building... Readers will be intrigued by a world that reflects today's troubling issues concerning ethnic inequality, unfair distribution of wealth, pollution, warfare, political corruption, and the frightening power of the media." — Voice of Youth Advocates (VOYA)