The Promise of Amazing (Paperback)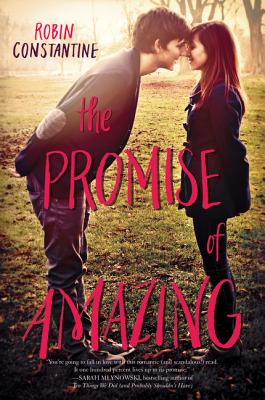 $11.99

Usually Ships in 4-7 Days
Staff Reviews
---
Wren Caswell is your average girl, not a trouble maker like her older brother or brilliant like her sister. She's struggling with being the quiet one and wants to make a change. Grayson Barrett was once the king of his private school until he got caught ghost writing term papers and was expelled. They meet one night at her family's Arthurian-themed catering hall, and what follows is a sweet, tender, funny and realistic look at a high school romance. Authentic voices for both Wren and Gray make this ring so true. For grades 8 and up.
— Cathy
Description
---
Robin Constantine's New Jersey romance The Promise of Amazing is a sexy, poignant, funny, and authentic debut novel that will appeal to fans of books by Stephanie Perkins, Sarah Mlynowski, and Jennifer E. Smith.
Wren Caswell is average. Ranked in the middle of her class at Sacred Heart, she's not popular, not a social misfit. Wren is the quiet good girl who's always done what she's supposed to—only now, in her junior year, this passive strategy is backfiring. She wants to change but doesn't know how.
Grayson Barrett was the king of St. Gabe's: star of the lacrosse team, top of his class, and on the fast track to a brilliant future—until he was expelled for being a "term-paper pimp." Now Gray is in a downward spiral and needs to change but doesn't know how.
One fateful night, their paths cross at Wren's family's Arthurian-themed catering hall. What follows is the complicated, awkward, hilarious, and tender tale of two teens shedding their pasts, figuring out who they are—and falling in love.
About the Author
---
Robin Constantine is the author of The Promise of Amazing and The Secrets of Attraction. A born-and-raised Jersey girl who moved south so she could wear flip-flops year round, she spends her days dreaming up stories where love conquers all, eventually, but not without a lot of peril, angst, and the occasional kissing scene. You can visit Robin online at www.robinconstantine.com.
Praise For…
---
"You're going to fall in love with this romantic (and scandalous!) read. It 100% lives up to its promise." — Sarah Mlynowski, bestselling author of Ten Things We Did (and Probably Shouldn't Have)
"Filled with action, passion, and adolescent angst, Constantine's novel introduces two believable characters with strong, honest voices who work to find themselves as they chart new territory together." — Publishers Weekly
"Enjoyable and sometimes surprising…for readers who like a little more heft than the average teen romance novel." — School Library Journal
"Will have you rooting for the bad boy to find his inner good, and for the good girl to open up her heart to love again." — The Bookish Daydreamer
"I was instantly hooked." — YA Love