Reboot (Hardcover)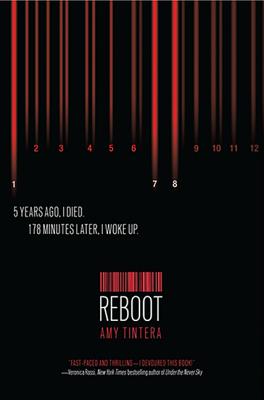 Other Books in Series
This is book number 1 in the Reboot series.
Staff Reviews
---
The KDH virus plaguing the Republic of Texas has devastated the nation's population but also causes the young and strong to come back to life or "reboot" as faster, more powerful, colder, less emotional versions of themselves. The longer humans are dead before "rebooting," the deadlier they are as a Reboot. The Human Advancement and Repopulation Corporation (HARC) uses Reboots to hunt down and kill infected humans as well as human criminals.
Wren 178 is HARC's top soldier and top Reboot trainer until she takes on Callum, her new, almost human trainee. Callum reawakens Wren's humanity, causing her to question the world she has, up until now, embraced.
Dystopia, suspense, action, friendship, and a little romance make for a satisfying read that promises a sequel.
Perfect for those waiting impatiently for Allegiant!
— Jennifer
Description
---
In this fast-paced dystopian thrill ride from New York Times–bestselling author Amy Tintera, perfect for fans of The Hunger Games, Legend, and Divergent, a seventeen-year-old girl returns from death as a Reboot and is trained as an elite crime-fighting soldier . . . until she is given an order she refuses to obey.
Wren Connolly died five years ago, only to Reboot after 178 minutes. Now she is one of the deadliest Reboots around . . . unlike her newest trainee, Callum 22, who is practically still human. As Wren tries to teach Callum how to be a soldier, his hopeful smile works its way past her defenses. Unfortunately, Callum's big heart also makes him a liability, and Wren is ordered to eliminate him. To save Callum, Wren will have to risk it all.
Wren's captivating voice and unlikely romance with Callum will keep readers glued to the page in Amy Tintera's high-stakes alternate reality, and diving straight into its action-packed sequel, Rebel.
Don't miss Amy Tintera's new fantasy series, Ruined—full of epic stakes, sweeping romance, hidden identities, and scheming siblings.
About the Author
---
Amy Tintera is the author of the Ruined trilogy as well as the duology Reboot and Rebel. She has degrees in journalism and film and can usually be found staring into space, dreaming up ways to make her characters run for their lives. She lives in Austin, Texas. You can visit her online at www.amytintera.com.
Praise For…
---
"Fast paced and thrilling…I devoured this book!" — Veronica Rossi, NEW YORK TIMES bestselling author of UNDER THE NEVER SKY
"I don't know what left me more breathless—the breakneck pace or the heart—stopping romance! I loved it!" — Sophie Jordan, NEW YORK TIMES bestselling author of FIRELIGHT
"A bone–breaking heroine fights for her life, her love, and what remains of her humanity in this fresh take on a world gone wrong." — Lissa Price, international bestselling author of STARTERS
"Riveting, fast–paced, and full of heart—I simply couldn't put it down." — C. J. Redwine, author of DEFIANCE
"Compulsively readable…Superb concepts and plotting will hook readers from the start." — Kirkus Reviews
"A fascinating premise, delivered in gory and glorious cinematic detail—and with a healthy dose of romance…The quick pace, familiar yet altered setting, and strong humanitarian message will draw Hunger Games fans." — ALA Booklist
"A riveting premise, a romance with substance, and the urgent narrative voice lend [REBOOT] a burst of fresh energy." — Publishers Weekly
"The combination of wicked chase scenes, a sweet romance, and a dystopian world make this a welcome recommendation to readers awaiting the final installment to Roth's DIVERGENT (BCCB 5/11) or the next Hunger Games movie. — Bulletin of the Center for Children's Books