Since We Fell: A Novel (Hardcover)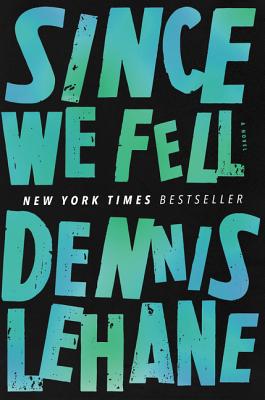 $27.99
Usually Ships in 1-5 Days
Staff Reviews
---
I will start by saying I love Dennis Lehane's books, all of them. His latest novel is no exception. It begins examining the life of Rachel Childs, daughter of a famous author whose bestseller dealt with relationships. Sadly, Rachel's mother is notoriously bad at relationships and withholds the identity of her father from her --always using it as a cudgel. Rachel spends her early adult years searching her father's identity while building her career as a respected journalist and marrying a seemingly ideal man.
Rachel has an on-air meltdown while reporting from Haiti. The backlash in the social media era is swift and complete. Her career, marriage and confidence are shattered and she slowly recedes from life and becomes a virtual shut-in. On an extremely rare outing, Rachel reconnects with Brian, a man she first engaged as a private investigator to find her father. Over the following years, they maintained contact but were never in sync. The chance meeting re-kindles their relationship and begins to spark Rachel's slow recovery. Her life seems just about as good as it can get when she chances upon a man who looks exactly like Brian when Brian is supposed to be out of the country.
Rachel can't seem to shake the nagging suspicion that something really is not as it should be--how well does she really know her perfect husband? So begins the return of Rachel the dogged investigative reporter. How much of her life and her husband's life is real? You will have to turn the pages as fast as I did to find the answer to Lehane's novel that is as much a character-driven drama as it is psychological thriller and a truly fun summer read.
— Julie
Description
---
NEW YORK TIMES BESTSELLER
Barnes and Noble Best Book of the Year
Bookpage Best of 2017
Booklist Best Crime Novel
PopSugar Best Book of 2017
The new novel from New York Times bestseller Dennis Lehane, author of Mystic River and Shutter Island
"Lehane is the master of complex human characters thrust into suspenseful, page-turning situations." —Gillian Flynn
Since We Fell follows Rachel Childs, a former journalist who, after an on-air mental breakdown, now lives as a virtual shut-in. In all other respects, however, she enjoys an ideal life with an ideal husband. Until a chance encounter on a rainy afternoon causes that ideal life to fray. As does Rachel's marriage. As does Rachel herself. Sucked into a conspiracy thick with deception, violence, and possibly madness, Rachel must find the strength within herself to conquer unimaginable fears and mind-altering truths. By turns heart- breaking, suspenseful, romantic, and sophisticated, Since We Fell is a novel of profound psychological insight and tension. It is Dennis Lehane at his very best.
Praise For…
---
"Endlessly surprising. . . . [A] twisty tale."

"[Lehane] remains one of the great, diabolical thriller kings who seems intimately acquainted with darkness and can make it seep from the page."

"A pleasantly twisted character study and a love story. . . . Lehane is in command of what he's doing."

"A pleasantly twisted character study and a love story. . . . Lehane is in command of what he's doing."

"Lehane has written two books-one, an insightful examination of the search for identity and belonging, and two, a thriller that constantly leaves you guessing-and then smashed them together into one terrific read."

"A riveting exercise in psychological suspense."

"Lehane writes expert, compelling thrillers. . . . He's one of the game changers who smashed the imaginary boundary between genre and literature, proving that we can have the best of both at once."

"Make no mistake, Since We Fell is crime fiction, filled with con men, murder, greed and revenge. But the love story gives this novel its heart."

"[Lehane's] work always combines pulp thrills with literary heart and sophistication."

"The most thrilling novel I'll read all year. Since We Fell is simmering with emotion, menace, and humor. I loved it."

"Complex, tense, compelling, and an emotional and strategic hall of mirrors, where nothing is what it seems—but I would follow Dennis Lehane anywhere."

"Another winner from the author of Mystic River. . . . A raucous mix of lust, greed, and betrayal."

"The surfeit of plot twists and emotional baggage are buoyed by Lehane's hard-boiled lyricism and peerless feel for New England noir."

"One doesn't 'read' Since We Fell so much as plunge and tumble through its pages like a raft in white water. A sweet bullet of a book."

"Once you pick up a Dennis Lehane novel, you're hooked. It's just that simple. Since We Fell is a complex, compelling, page-turner of a novel from a master storyteller at the top of his game."

"[Since We Fell] should have crime fiction fans busting out the bottle rockets and champagne. . . . It's impossible not to succumb."

"With sharply acute characterization, this is classic Lehane."

"A ride you won't want to miss."

"The mystery and intrigue never let go; the twists and turns are engaging and unexpected all the way down the track."