Split Second (Pivot Point #2) (Hardcover)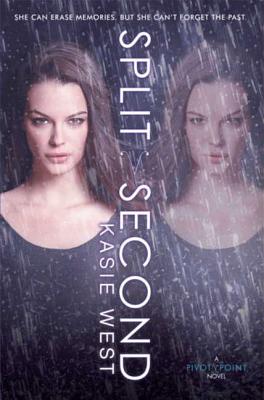 Other Books in Series
This is book number 2 in the Pivot Point series.
Description
---
Kasie West delivers nail-biting suspense and heart-pounding romance in the thrilling sequel to Pivot Point.
Addie has always been able to see the future when faced with a choice, but that doesn't make her present any easier. Her boyfriend used her. Her best friend betrayed her. So when Addie's dad invites her to spend her winter break with him in the Norm world, she jumps at the chance. There she meets the handsome and achingly familiar Trevor. He's a virtual stranger to her, so why does her heart do a funny flip every time she sees him? But after witnessing secrets that were supposed to stay hidden, Trevor quickly seems more suspicious of Addie than interested in her. She wants to change that.
Laila, her best friend, has a secret of her own: she can restore Addie's memories . . . once she learns how. But there are powerful people who don't want this to happen. Desperate, Laila tries to manipulate Connor, a brooding bad boy from school—but he seems to be the only boy in the Compound immune to her charms. And the only one who can help her.
About the Author
---
Kasie West lives with her family in central California, where the heat tries to kill her with its 115-degree stretches. She graduated from Fresno State University with a BA degree that has nothing to do with writing. Visit her online at www.kasiewest.com.
Praise For…
---
Praise for SPLIT SECOND: "A fast, smart thriller populated by lively characters."
— Kirkus Reviews

Praise for PIVOT POINT: "An expertly plotted, deliciously clever story."
— Kiersten White, NEW YORK TIMES bestselling author of PARANORMALCY

Praise for PIVOT POINT: "With superb storytelling, a masterful blend of paranormal and normal, a helping of wit and humor, and a mouthwatering romance, PIVOT POINT is one of the most delicious books I've read."
— Elana Johnson, author of POSSESSION

Praise for PIVOT POINT: "The unique structure, seeing two alternate realities playing out at once, leaves you pleading with the characters—don't answer that phone, don't go in that house, don't talk to that person. PIVOT POINT is at once tense and romantic, challenging and engaging. It's a truly remarkable debut."
— Robison Wells, author of VARIANT

Praise for PIVOT POINT: "West takes [an]… intriguing premise and infuses it with a conclusion that will surprise and please the romantic teen reader."
— Booklist

Praise for PIVOT POINT: "West has created an intricately woven story of two possible futures. This debut novel…is a welcome change."
— School Library Journal