Pivot Point (Paperback)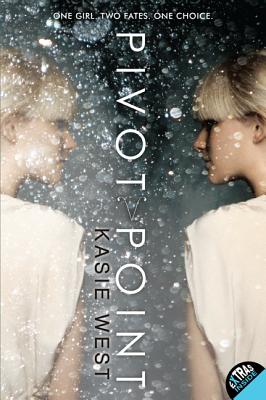 Other Books in Series
This is book number 1 in the Pivot Point series.
Staff Reviews
---
Addie Coleman lives with her parents in the Compound, where everyone has a paranormal gift. Addie has the ability to see the future but with a caveat: she can only see her own futures, not the futures of others, and only those futures dependent on a decision. When her parents divorce, she uses her gift to decide whether to stay with her mother or to leave the Compound with her father to live with the "Normals," those who do not possess paranormal gifts.
These two scenarios unfold in alternating chapters and at first, seem very different. Gradually and menacingly, the two merge, revealing there's more to lose than just a boyfriend.
Slightly reminiscent of the movie Sliding Doors with Gwyneth Paltrow, Pivot Point illuminates how dramatically life can change with one simple choice.
Good fun…Likeable characters, a few unsavory characters, and enough suspense and disequilibrium kept me pleasantly intrigued and looking forward to the sequel Split Second due out early 2014.
for 7th graders and above
— Jennifer
Description
---
Perfect for fans of Sliding Doors, Kasie West's riveting novel Pivot Point follows a girl with the power to see her potential futures.
Addison Coleman's life is one big "What if?" As a Searcher, a special type of clairvoyant, whenever Addie is faced with a choice, she is able to look into the future and see both outcomes. So when her parents tell her they are getting a divorce and she has to pick who she wants to live with, a Search has never been more important.
In one future Addie is living with her mom in the life she's always known and is being pursued by the most popular guy in school. In the other she is the new girl in school, where she falls for a cute, quiet artist. Then Addie finds herself drawn into a murder investigation, and her fate takes a darker turn. With so much to lose in either future, Addie must decide which reality she's willing to live through . . . and who she's willing to live without.
About the Author
---
Kasie West lives with her family in central California, where the heat tries to kill her with its 115-degree stretches. She graduated from Fresno State University with a BA degree that has nothing to do with writing. Visit her online at www.kasiewest.com.
Praise For…
---
"An expertly plotted, deliciously clever story."
— Kiersten White, NEW YORK TIMES bestselling author of PARANORMALCY

"West's premise is a winner, and Addie is the kind of heroine readers would want as a best friend—loyal, unpretentious, and thoughtful.…What truly makes West's story memorable, however, is Addie's wry humor…and the book's fascinating exploration of how life can change with one simple choice."
— Publishers Weekly (starred review)

"With superb storytelling, a masterful blend of paranormal and normal, a helping of wit and humor, and a mouthwatering romance, PIVOT POINT is one of the most delicious books I've read."
— Elana Johnson, author of POSSESSION

"The unique structure, seeing two alternate realities playing out at once, leaves you pleading with the characters—don't answer that phone, don't go in that house, don't talk to that person. PIVOT POINT is at once tense and romantic, challenging and engaging. It's a truly remarkable debut."
— Robison Wells, author of VARIANT

"West's debut showcases riveting storytelling."
— Kirkus Reviews

"West takes [an]… intriguing premise and infuses it with a conclusion that will surprise and please the romantic teen reader."
— Booklist

"West has created an intricately woven story of two possible futures. This debut novel…is a welcome change."
— School Library Journal