MILA 2.0: Renegade (Hardcover)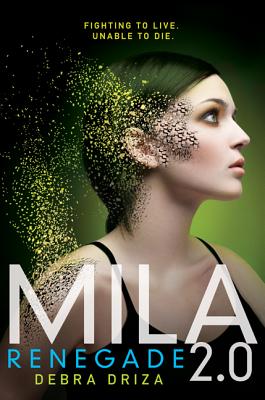 $17.99
Email or call for price
Other Books in Series
This is book number 2 in the MILA 2.0 series.
Description
---
This suspenseful, heart-wrenching follow-up to Debra Driza's MILA 2.0 will leave readers racing to turn the last page.
Mila is back on the run—this time with potential boyfriend Hunter by her side. As they search for a man who might know more about her mysterious past, Mila must rely on her android abilities to protect them from the people who want her dead. But embracing her identity as a machine leads her to question the state of her humanity, as well as Hunter's true intentions.
Fans of books filled with mystery and intrigue, like The Bourne Identity and I Am Number Four, will find everything they're looking for in this exciting series, including several unexpected surprises.
About the Author
---
Debra Driza is the author of MILA 2.0 and MILA 2.0: Renegade. She is a member of the teen lit blogging group the Bookanistas and a former practicing physical therapist who discovered that tormenting her characters was infinitely more enjoyable. These days you can find her at home in California, wrangling one husband, two kids, and an assortment of Rhodesian ridgebacks. You can visit her online at www.debradriza.com.
Praise For…
---
"Driza's skill at creating nail-biting action is impressive, and readers will agree that the suspense and intrigue in these pages rival any thriller on the silver screen. Those who enjoy works like Cinder and This Side of Paradise will enjoy this AI-meets-espionage series."
— Voice of Youth Advocates (VOYA)

"Fans will enjoy learning the secrets of Mila's past and root for her as she struggles to understand herself and to shape her future. Plenty of sci-fi action, a sweet but struggling romance, and a cliffhanger ending will have readers clamoring for Volume 3."
— Kirkus

"Teens will be anxiously awaiting the next installment."
— School Library Journal

Praise for MILA. 2.0: "One part teen love story and two parts super-spy thriller, MILA 2.0 raises plenty of questions of humanity, warfare, and artificial intelligence, but it's the James Bond-esque suspense and formidable heroine that kept me enthralled to the last page."
— Marissa Meyer, New York Times bestselling author of Cinder and Scarlet

"Driza's fast-paced, action-packed debut science fiction thriller about identity, will, artificial intelligence, nature versus nurture, and man versus machine would satisfy fans of the Jason Bourne series, the Hunger Games trilogy, and Jennifer Rush's Altered."
— ALA Booklist

"MILA 2.0 is wonderful, filled with action and drama, a strong female protagonist and intense supporting characters. Readers will be hooked from the first page."
— Romantic Times

"A must-read. Driza enumerates with intriguing clarity the human-versus-android tension that survives within Mila, all the while delivering an electrifying plot."
— Deseret News

"Driza writes a story full of drama, excitement, and sadness with a smooth and complete story arc that nonetheless leaves us eagerly awaiting the next installment."
— New York Journal of Books

"A fast-paced sci-fi adventure complete with artificial intelligence, military intrigue, secret societies and a hint of romance."
— Kirkus

"In this cross between The Bourne Identity and The Adoration of Jenna Fox, Mila's identity crisis and the resulting questions about what it means to be human could be the start of an interesting discussion. The action-packed plot will quickly propel even reluctant readers to the end."
— School Library Journal

"With edge-of-your-seat action and a shadowy government headquarters that puts Hollywood to shame, MILA 2.0 is a delicious, fast-paced read."
— Kathleen Peacock, author of Hemlock

"Action-packed? Absolutely. Tear-jerking? Oh, yes. Lack of boring spells? You bet. Don't brush this one off as just a pretty girl on a cover. There's depth to MILA 2.0 and I can't wait to find out where Debra Driza takes this story."
— Jen at Makeshift Bookmark

"MILA 2.0 was everything I hoped it would be: intense, action-packed, and filled with awesome technology…I promise you that MILA 2.0 is pure Bourne Identity and it's FREAKING AWESOME."
— Ashley at Booknook Young Adult Book Reviews