MILA 2.0 (Paperback)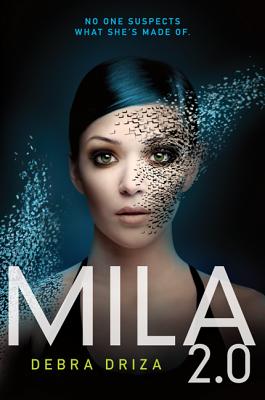 Other Books in Series
This is book number 1 in the MILA 2.0 series.
Spring '13 Kids List
---
"Mila is a teenage girl mourning the death of her father, at odds with her overly protective mother about gaining more independence, noticing boys, and hanging out with her friends. She is just a normal kid, until she finds out she is anything but normal. Instead, she was built in a laboratory and every memory she possesses is false. With knowledge comes danger, and the evil scientist who runs the lab and has the resources of the U.S. government at his disposal is eager to recapture Mila and terminate her. Mila is in a desperate run for her life, without knowing the rules or whom she can trust. Compulsively readable!"
— Deon Stonehouse, Sunriver Books, Sunriver, OR
Description
---
Debra Driza's MILA 2.0 is the first book in a gripping Bourne Identity–style trilogy about a girl who discovers she is actually an android.
Mila was never supposed to remember her past, or know what lurked beneath her synthetic skin. She was never meant to learn that she was "born" in a secret computer science lab and programmed with superhuman skills. But when a group of hooded men show up on her doorstep, hoping to strip her of her advanced technology, she has no choice but to run for her life. In every direction there are dangerous people, hunting her down. They will do whatever it takes to capture Mila, including hurting the people she cares about most.
Filled with secrets, action, and even romance, MILA 2.0 is perfect for readers who love sci-fi thrillers like the Partials series and I Am Number Four.
About the Author
---
Debra Driza is the author of MILA 2.0 and MILA 2.0: Renegade. She is a member of the teen lit blogging group the Bookanistas and a former practicing physical therapist who discovered that tormenting her characters was infinitely more enjoyable. These days you can find her at home in California, wrangling one husband, two kids, and an assortment of Rhodesian ridgebacks. You can visit her online at www.debradriza.com.
Praise For…
---
"One part teen love story and two parts super-spy thriller, MILA 2.0 raises plenty of questions of humanity, warfare, and artificial intelligence, but it's the James Bond-esque suspense and formidable heroine that kept me enthralled to the last page."
— Marissa Meyer, New York Times bestselling author of Cinder and Scarlet

"Driza's fast-paced, action-packed debut science fiction thriller about identity, will, artificial intelligence, nature versus nurture, and man versus machine would satisfy fans of the Jason Bourne series, the Hunger Games trilogy, and Jennifer Rush's Altered."
— ALA Booklist

"MILA 2.0 is wonderful, filled with action and drama, a strong female protagonist and intense supporting characters. Readers will be hooked from the first page."
— Romantic Times

"A must-read. Driza enumerates with intriguing clarity the human-versus-android tension that survives within Mila, all the while delivering an electrifying plot."
— Deseret News

"Driza writes a story full of drama, excitement, and sadness with a smooth and complete story arc that nonetheless leaves us eagerly awaiting the next installment."
— New York Journal of Books

"A fast-paced sci-fi adventure complete with artificial intelligence, military intrigue, secret societies and a hint of romance."
— Kirkus

"Driza's debut is likely to hit the sweet spot for YA fans—it's SF set in the modern world with just enough romance, angst, and action."
— Publishers Weekly

"In this cross between The Bourne Identity and The Adoration of Jenna Fox, Mila's identity crisis and the resulting questions about what it means to be human could be the start of an interesting discussion. The action-packed plot will quickly propel even reluctant readers to the end."
— School Library Journal

"With edge-of-your-seat action and a shadowy government headquarters that puts Hollywood to shame, MILA 2.0 is a delicious, fast-paced read."
— Kathleen Peacock, author of Hemlock

"Action-packed? Absolutely. Tear-jerking? Oh, yes. Lack of boring spells? You bet. Don't brush this one off as just a pretty girl on a cover. There's depth to MILA 2.0 and I can't wait to find out where Debra Driza takes this story."
— Jen at Makeshift Bookmark

"MILA 2.0 was everything I hoped it would be: intense, action-packed, and filled with awesome technology…I promise you that MILA 2.0 is pure Bourne Identity and it's FREAKING AWESOME."
— Ashley at Booknook Young Adult Book Reviews