32 Candles: A Novel (Paperback)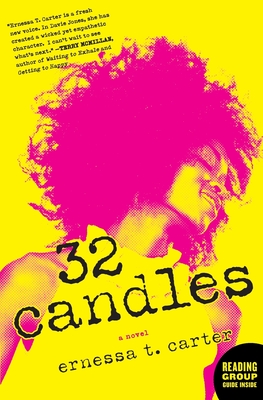 $16.79

Usually Ships in 4-7 Days
Description
---
"32 cheers for Ernessa T. Carter! She's created one of the freshest, funniest characters I've ever read….32 Candles is a charmer."
—Carleen Brice, author of Orange Mint and Honey
32 Candles by exciting newcomer Ernessa T. Carter is the slightly twisted, utterly romantic, and deftly wry story of Davie Jones, who, if she doesn't stand in her own way, just might get the man of her dreams.  For fans of John Hughes's "Sixteen Candles", 32 Candles is a fresh and fun fiction debut for every fan of romantic comedy.
About the Author
---
Nikki Walton is a licensed psychotherapist with a master's degree in psychology from the University of North Carolina and the founder of CurlyNikki.com. Born in St. Louis, she now resides in Pennsylvania.
Coauthor Ernessa T. Carter, a graduate of Smith College with an master of fine arts from Carnegie Mellon, is the author of the novel 32 Candles and the founding editor of FierceandNerdy.com. She lives in Los Angeles.
Praise For…
---
"Ernessa T. Carter is a fresh new voice. In Davie Jones, she has created a wicked yet empathetic character. I can't wait to see what's next." — Terry McMillan, author of Waiting to Exhale and Getting to Happy
"This summer's juiciest beach read. . . . Carter winds up this disarmingly moving tale with not one but many surprises, in which both Davie and you will win." — Essence
"[A] captivating debut. . . . With all the charm of a clever romantic comedy and peopled by appealing, memorable characters, Carter's first novel is a winner on all fronts." — Booklist (starred review)
"A debut tragicomic romance. . . . Potent and well rendered." — Kirkus Reviews
"[Davie's] need for sweet revenge adds a welcome dark edge." — Publishers Weekly
"First-time novelist Ernessa T. Carter has created a quirky and likable character in Davidia 'Davie' Jones." — Network Journal
"First there was Stella and she got her groove back, then there was Bridget Jones and she managed to find love despite her own lovable neuroses. Now there is Davie Jones. 32 Candles, at last, is the answer to the question 'What should I read next?'" — Erica Kennedy, author of Feminista and Bling
"32 cheers for Ernessa T. Carter! She's created one of the freshest, funniest characters I've ever read about. . . . 32 Candles is a charmer." — Carleen Brice, author of Orange Mint and Honey
"I super heart Davie Jones. . . . She's perfectly imperfect, and you won't want her lively, hysterical, what-looks-like-crazy-on-an-ordinary-day story to end. A thoroughly, totally, ridiculously addictive read!" — Denene Millner, coauthor of The Vow
"This is an easy 5 out of 5 stars and one of my top five favorite fiction novels I've ever read in my entire adulthood." — Associated Content Review
"The author creates a heroine that is multifaceted, quirky, humorous and above all, endearing. . . . 32 Candles [is] a laugh-out-loud read. . . . Hang on for the ride." — The Afro-American Newspapers (DC/Baltimore)