Life After Yes: A Novel (Paperback)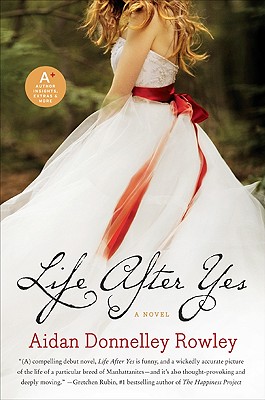 $15.99
Usually Ships in 1-5 Days
Description
---
"[A] funny and a wickedly accurate picture of the life of a particular breed of Manhattanites—and it's also thought-provoking and deeply moving."
—Gretchen Rubin, New York Times bestselling author of The Happiness Project

A young woman deals with the aftermath of her father's death while she struggles to commit to a future with her fiancé in Life After Yes, the poignant, wry, and very accomplished debut novel from Aidan Donnelley Rowley. A story of hope and light in the darkness in the bestselling vein of Juliette Fay, Cecilia Ahearn, and Jacqueline Sheehan, newcomer Rowley has captured all the angst and pain of truly becoming an adult, and has done so with unusual heart and grace, inspiring Julie Buxbaum to rave, "Her flawed and complex characters will stick with you long after Life After Yes's final pages."
Praise For…
---
Aidan Donnelley Rowley's compelling debut novel Life After Yes is funny, and a wickedly accurate picture of the life of a particular breed of Manhattanites – and it's also thought-provoking and deeply moving.

"A must-read modern love story for any woman wondering which man, and which direction, is the right one."

A resounding yes! to Life After Yes—a novel that explores, with charm and humor, life after loss. Readers will root for its endearing narrator, Quinn, as she confronts the road not taken and navigates the conflicting and complicated intersections of head and heart.

Rowley skillfully dissects the myth of having it all in this unputdownable late coming of age story set in rarefied Manhattan. Her flawed and complex characters will stick with you long after Life After Yes's final pages since they are all too human as they struggle with love and loss.