The Princess and the Hound (Paperback)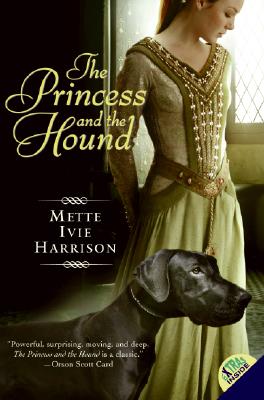 Description
---
He is a prince and heir to a kingdom threatened on all sides, possessor of the forbidden animal magic.
She is a princess from a rival kingdom, the daughter her father never wanted, isolated from all except her hound.
In this lush and beautifully written fairy-tale romance, a prince, a princess, and two kingdoms are joined in the aftermath of a war. Proud, stubborn, and bound to marry for duty, George and Beatrice will steal your heart—but will they fall in love?
About the Author
---
Mette Ivie Harrison has a PhD in Germanic literature and is the author of The Princess and the Hound; Mira, Mirror; and The Monster in Me.
Of The Princess and the Bear, she says, "I never thought there would be a sequel to The Princess and the Hound, but when I read through the galleys, I realized that there was another book waiting in the story of the bear and the hound. In some ways, you might think of it more as a parallel novel than as a sequel, because it stands on its own as a new story. But who knows? Maybe I'll look at these galleys and find another story demanding to be told."
She lives with her family in Utah.
Praise For…
---
"A well-told tale." — Kirkus Reviews
"Well-written and intriguing. Harrison's intelligence and love of language shine through." — KLIATT