Submitted by Blue Willow Con... on Tue, 09/17/2019 - 12:50pm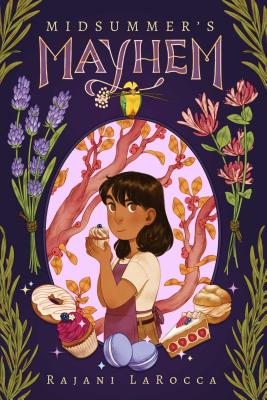 If you know us well, you know that we have some particular favorite things: Baked goods. Shakespeare. And books, obviously. Kids' books bear mentioning, in particular—we've devoted half our store to children's titles, and host three festivals for young readers each year. Imagine our delight, then, when we first caught wind of Rajani Larocca's debut middle grade novel, Midsummer's Mayhem. It's a kids' book that combines elements of Shakespeare with competitive baking, and it's as funny, sweet, and imagninative as anything you've read lately. You needn't just take our word for it—since it debuted earlier this year, it's picked up accolades along the way... a starred review here, a Kids' Indie Next List selection there, and glowing blurbs from some of your very favorite authors.
We're so excited that Rajani will be joining us on October 19 as part of our annual Tweens Read festival for middle grade readers. You'll have a chance to meet her in person and get your book signed then. But October still feels like it's a long ways off. So for now, we've got the next best thing—an exclusive Q&A with the author. Read on!