Tweens Read Author Rex Ogle on Middle School, Comics, and FREE LUNCH
Submitted by Blue Willow Dig... on Fri, 10/11/2019 - 1:32pm
One more week until Tweens Read 2019! Our annual festival for middle grade readers is coming to Pasadena Memorial High School next Saturday, October 19, and we couldn't be more excited. Twenty-three terrific authors will be in attendance, including folks like Jason Reynolds, Julie Murphy, and Lincoln Peirce. It's one of our favorite days of the year, and we strongly encourage you to join us. Not only will you get to meet some of your favorite authors... but you'll discover a few new favorites, too. Like Rex Ogle! His debut middle-grade book, Free Lunch, is a candid and moving memoir about growing up in poverty. It's raw and honest, but also manages to be sweet and hopeful. In short, it's a wonderful book—a window, a mirror, and an all-around empathy machine.
Don't miss your chance to hang out with Rex and the rest of the Tweens Read authors next weekend. (Seriously, don't miss your chance: Rex used to write and edit comic books, is from Texas, and has a fantastic dog. He's a cool guy.) Fill out your Tweens Read registration, then hurry back and check out our exclusive Q&A with the author.
---
Congratulations on your middle-grade debut, Free Lunch! Tell us a bit about the book.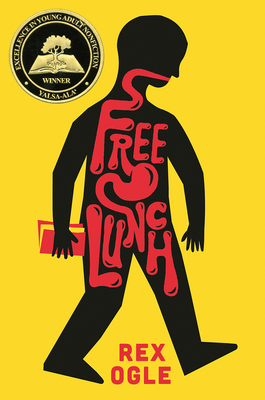 Free Lunch is the real-life story of my first six months in middle school. Like most stories for this age range, it has the usual topics of new friends and where to sit at lunch and wanting to try out for the football team. But my story is a little different, because at the same time, my parents were out of work so money was really tight and tensions were high. My clothes were from secondhand stores and we ended up being kicked out of our apartment. But the big focus, of course, is about me being in the free lunch program. It made me feel like I had to beg for my meals, which was embarrassing. And being in sixth grade, there are already plenty of things to feel humiliated about—so this took it to the next level.
What inspired you to tell your story for middle grade readers? What do you hope readers will take from it?
Growing up, I was always hanging out in libraries looking for books that I could relate to—and there weren't a lot. Of course, this was a long time ago, and now there are so many fantastic books for so many readers. But a few years ago, I noticed there still wasn't a story about being in the Free or Reduced Lunch Program. It really surprised me, especially considering there are over 30 million children in this country today who are in it. So I wanted to write my story.
As for what I want my readers to take away—I want them to find some hope and optimism. I want them to see some light in the dark. Life can be really difficult. Yet even in the hardest times, we can stay positive and try to be a force for good.
You nailed the voice in Free Lunch. How did you remember so many details from that time in your life?
I've always had a really good memory. Even now, I can sit down and draw you a map of almost any building I've been inside, or recall weird little details about movies I saw twenty years ago. I also found that after I got the story down, each time I went back to rewrite a chapter, I could recall more and more little details. Certain smells or sounds or the way people reacted. It's like the more time I spend inside my memory, the more I can remember.
You've worked behind the scenes in publishing as an editor for quite some time. What made you decide to write prose for kids under your own name? And what was it like to be on the other side of the editing process?
After college, I moved to New York City with one goal in mind: I wanted to be a writer. But given my background, I didn't want to be a "starving artist." I knew I needed a job, so I thought what better place than working in stories. I started editing comic books for Marvel and DC, and then switched over to Scholastic and Little Brown. The whole time, I would work all day, and then come home and write every night, because again, I always wanted to write. But, I now realize, I wasn't very good. Luckily, working in publishing, I got to learn firsthand what worked and what didn't work. I made myself like a sponge, soaking up every little bit of information I could.
Working in publishing is so fun, because you're helping to create books and give new titles to the readers of tomorrow. I always aimed to create stories for reluctant readers as well as for diverse children. But all the while, I knew I wanted to be an author one day, so that I could help inspire the present generation with words and stories that might help shape the world and make it a better place.
Can you share some of your favorite books when you were in middle school?
Of course! Middle school was when I embraced my love of scary stories. I read everything from R.L. Stine to Christopher Pike, and Edgar Allen Poe to Stephen King—though some of his work was too mature for me at the time! I also read classics like Little Women, The Chronicles of Narnia, and Lord of the Flies. Sixth grade was when I discovered comics (through my best friend), so I read a lot of X-Men. And on Sundays, I always got the "funnies" section out of the newspaper to read Calvin & Hobbes. I now have the anthology of every single strip and it makes me smile every time I see it on my shelf.
Books:

$17.95

ISBN: 9781324003601
Availability: On Our Shelves Now
Published: Norton Young Readers - September 10th, 2019
Winner of the 2020 YALSA Excellence in Nonfiction Award.
---